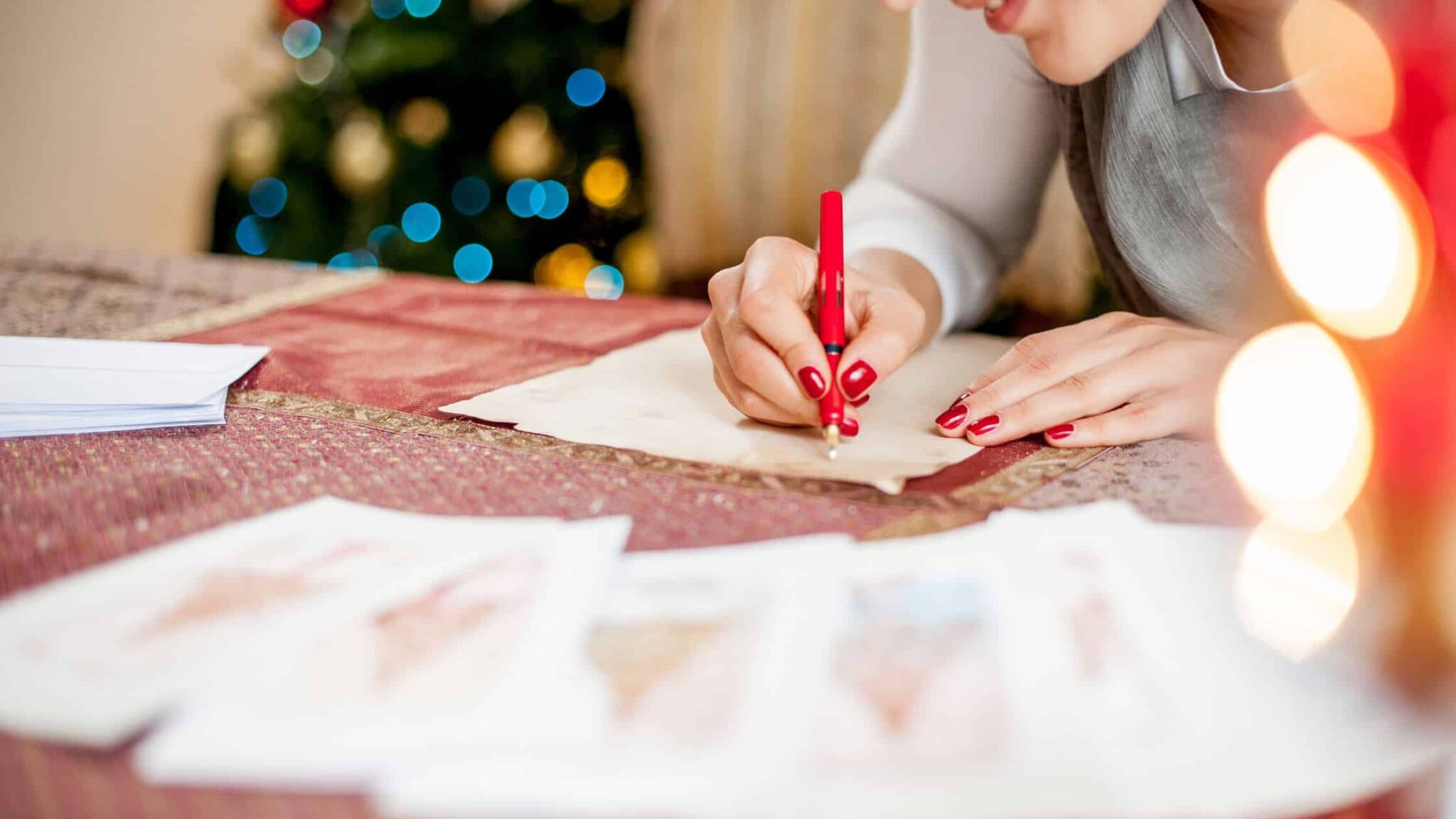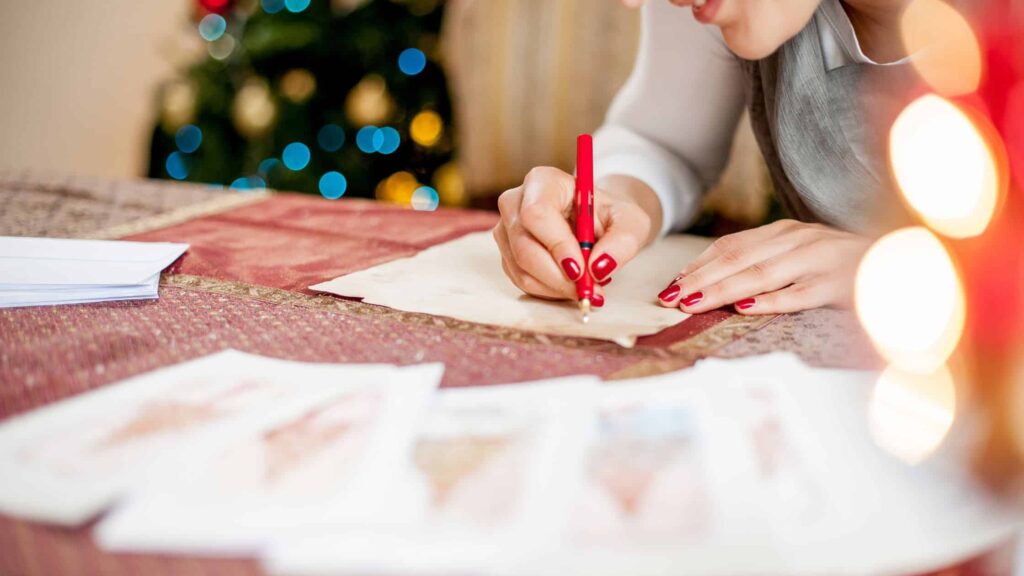 The holidays are a'coming, and so is the mail. In the steady stream of bills, a holiday card can be a very welcome site for the eyes of a customer.
Holiday season is prime time to check in with customers and share a little gratitude. It's why big name companies still send holiday cards, and why local businesses will continue to send holiday cards well into the days when our streets look like something out of Blade Runner.
Still, putting together the perfect holiday cards for businesses is no easy feat. That's why we've decided to put on our holiday hats at Printing for Less, and share our festive insights below.
Why Send Holiday Cards?
Holiday cards aren't just a gimmick, they can be a sincere token to show customers that you value them. Sending a small memento that reminds people they're cared about will always be well received. Just think about the times that you've gotten a card in the mail, it probably made you smile or added a snippet of cheer to your day.
Holiday cards also make good business sense. Emotions play a big part in decision making. By spreading some joy to your customers, they're more likely to remember your brand and associate positive feelings with it. That association is a strong step toward conversions. Likewise, sending a holiday card is a powerful way to stand out against competitors: it's a chance to showcase your brand's personality, build deeper brand loyalty, and highlight your human side.
As a side note, holiday cards have been making a comeback. Millennials are increasingly purchasing and sending holiday cards, embracing the personal touch they carry. Don't assume then, that if you're targeting a younger audience, they won't be interested – holiday cards are in fact, cool.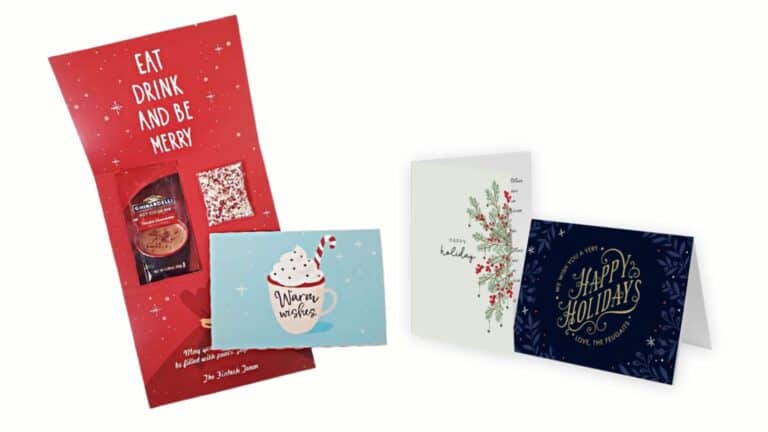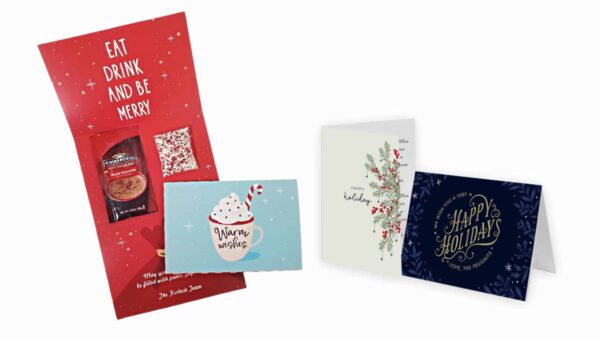 Holiday Card Customization Tips
Like any form of messaging, if you want customers to respond well to your holiday card, you need to ensure time and thought goes into the process. Below are a few tips from our paper professionals about how to make sure your holiday cards are signed, sealed, and delivered with love.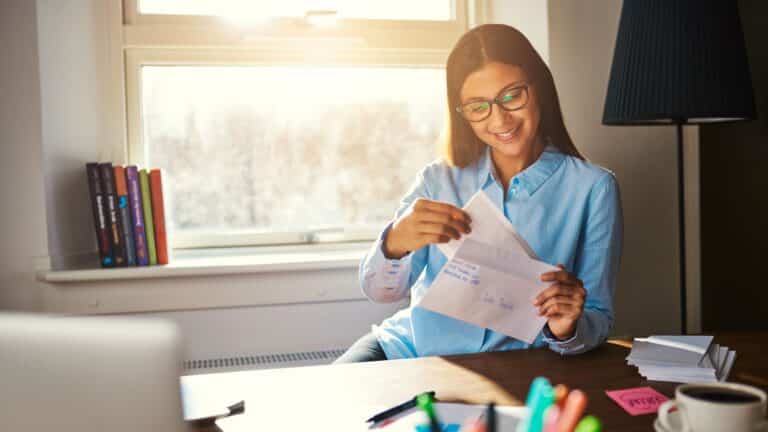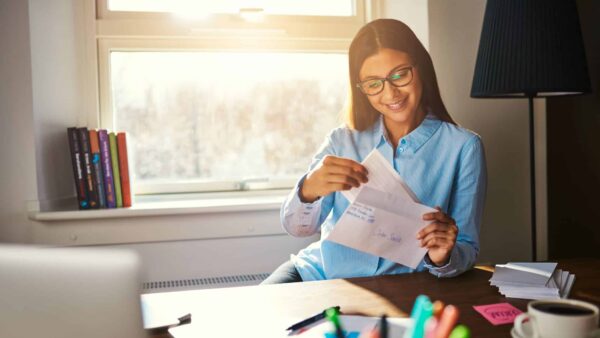 Make It Personal
Our E-commerce Marketing Specialist, Ambre Zachmann, says that personalization is essential for a holiday card campaign. Customers should feel like their card was uniquely designed for them, not just sent out to the masses. How? Well, Printing for Less offers variable data printing, where businesses can change a postcard to say "Hello (name)" and address the person. "We can be really specific with the variable data," says Ambre, "you could include a product someone purchased last year or even state your closest store to someone's address."
Be Prompt
Although it can be tempting to leave your holiday cards to the last minute, doing so can be risky. In the United States alone, nearly 1.3 billion cards are sent every year. The flurry of the holiday season means supply chains can get backed up and deliveries often take longer. To guarantee that your cards arrive in a timely manner, prepare your campaign at least a few months before November.
Katie Younge, Director of Sales at Printing for Less, comments that "the earlier you start your campaign, the better. And, you can always call us to ask about the timelines of production and shipping to clarify dates." A good alternative is to opt for an envelope-free holiday card, as envelopes can slow down the mailing process.
Be Inclusive
Whatever aesthetic you use in your holiday card, remember to be inclusive. The text, images, and overall appearance should speak to everyone. Not all people celebrate in the same way during the holiday season, so select elements that are generally appealing and neutral. A good example is a card that reads "Happy Everything" or "Wishing you joy."
Add a QR Code
Big things come in small packages. And by now, the world is all too familiar with the mighty QR code, so why not incorporate it into your holiday card curation?
Ambre recommends utilizing different mailer sizes. "We're really used to seeing typical sizes for promotions and mailers, but by using a larger sized postcard, you can make your message stand out more." She also suggests adding a QR code to your holiday card, allowing customers to scan the code and immediately access your website – you could even make a special holiday season landing page to send them to.
Elsewhere, James Casey, our Account Executive, says that a simple foil stamp can do wonders for holiday cards, as it brings some sparkle and feels expensive in customers' hands. He also stresses the importance of having a holiday-themed call-to-action. "Include something like 'Find your gifts here' or 'Get your holiday shopping started here' and then point to a street address or a QR code," James adds.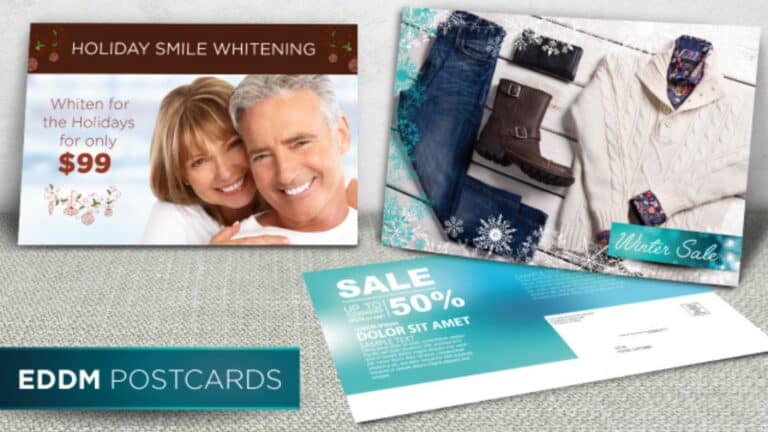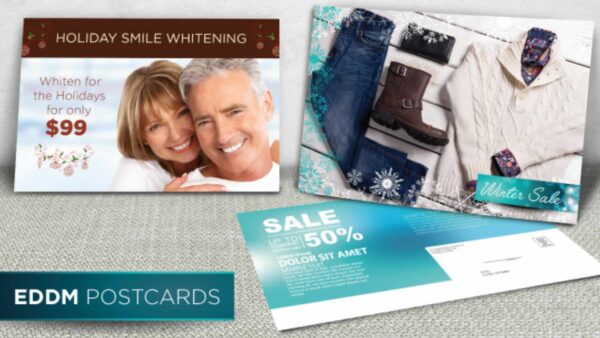 Some Examples We Love
The abundance of holiday cards means there's no shortage of inspiration for your masterpiece.
Brooke Seidel, Sales Manager at Printing for Less, recalls a card that had the family's photo outline printed in shiny material with a foil trim. "Behind the family photo, the rest of the postcard was a matte print, making the family focus really obvious." This attention to detail and strategic placement of the photo is what made the card seem extra personalized, and while you probably won't have photos of your recipients on file, you can highlight things that you know matter to them in the same style.
Ambre also notes that self mailers can strike a particular chord with people around the holidays. "It's a card that's folded together, and you can include something inside the mailer like a peppermint hot chocolate." Any additional gift will go a long way with audiences, especially if it relates to the season and has a certain coziness to it.
There it is, the holiday card code, cracked. Whatever design and campaign you choose, keep it authentic, true to your brand tone, and be considerate of the diverse ways people spend the holidays.
If you're interested in learning more about how we can help you spread holiday cheer to your customers shoot us an email at info@printingforless.com. We'd love to connect.