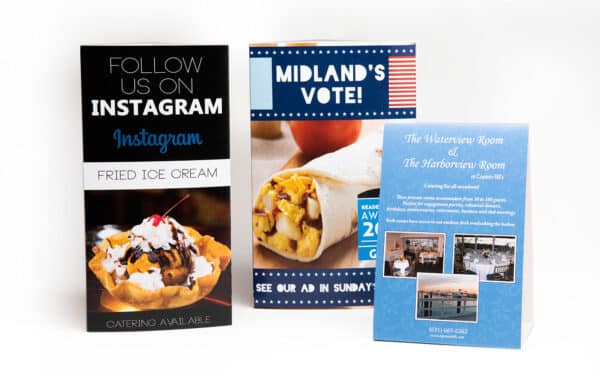 Table Tent Printing
The waiting game goes by a lot faster when you have something left on the table to read. Increase brand awareness and provide information for customers with personalized table tents.
Table Tent Printing Features
3 standard designs (Standard A-Frame, Standing Triangle and Pyramid)
3 paper options, our standard cover stocks
Full color or black on the outside, blank on the inside
Scored and die cut for easy set up, shipped flat
Standard A-Frame Table Tent
Use our 3 standard sizes or create your own:
4″ x 6″ panels
5″ x 6.5″ panels
8″ x 4″ panels
Pyramid Tent
Use our standard sizes or create your own:
3.4″ pyramid (3.4″ diagonals, 3.9″ base edges)
4.25″ pyramid (4.25″ diagonals, 5.1″ base edges)
5″ pyramid (5″ diagonals, 5.7″ base edges)
Find your options – Product Templates
Standing Triangle
Use our 3 standard sizes or create your own:
4″ x 4″ panels
6″ x 4″ panels
8″ x 4″ panels
Paper Options
Thick, high-quality cover stocks:
120# Gloss Cover 14pt
120# Dull/Matte Cover 14pt
100# Uncoated Cover 14pt
Recycled and Custom Papers Available
Find your options – Talk to a Printing Expert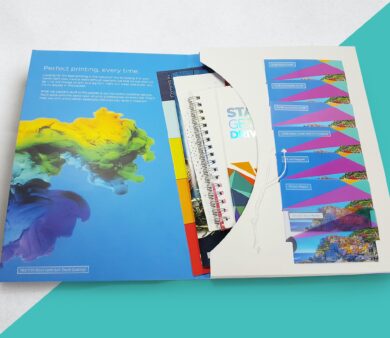 Free Samples
There is no substitute for seeing actual physical examples of what we can print.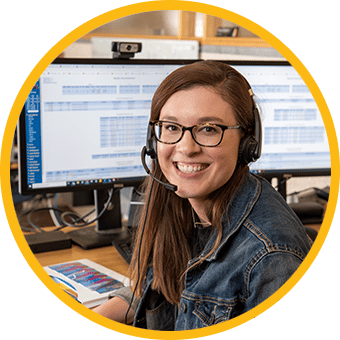 Want to Talk to a Real Person?
We've Got Those!
Want to talk about your project? Want to place an order? Want to know what the weather is like in Montana? (Spoiler: it's beautiful.)
Custom Table Tent Printing Options
Custom table tent printing opens up a world of sizes and configurations and will allow you to customize them to fit your objectives. Even though they already have a unique look, you can enhance that with custom die cutting. You might also want to accentuate your message with foil stamping, embossing or PMS spot colors. The choice is yours. If you can dream it, we can print it with our custom table tent printing options!
In today's highly-competitive business environment, distinctly unique marketing materials enable you to stand apart from your competitors and pique the interest of current and potential customers. Printing for Less pioneered online print ordering for everyday marketing materials, and today more than half of our work is "custom." Our knowledgeable Print Consultants will find the right solution for your custom printing project from a wide selection of products and options to create a look that is as unique as your business.
Get attention-grabbing options for table tents such as: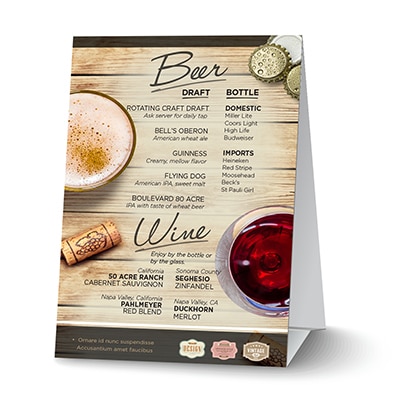 ---
Table Tent Design
Don't have a table tent designed and ready to print? You've got options!
Your Table Tent can stand up and out when you use our Printing for Less design team. Check in with our team to discuss innovative and unusual table tent designs from Printing for Less!
Printing for Less has a team of designers who can create any custom product just for you. You will work one-on-one with your designer to guarantee your vision is realized on paper.
Our graphic designers are highly qualified and experienced (over 50 years combined!). They understand good design principles, and have extensive pre-press knowledge. But more importantly, they create designs that function the way you need them to – helping you grow your business!
Custom design is very affordable – call 800-924-2041 now for a quote on your project!
Table Tent Marketing
Your business is an invited guest at the table with Printing for Less's table tents!
These three-dimensional marketing pieces have become ubiquitous because they're so effective! They have a multitude of uses in many industries. Salons would do well to put their menus on table tents for customers to read while getting their nails done. Trade shows are full of them, on every table you see, directing people to your booth. They're even ideal for real estate agents to highlight specific properties in their office. The potential uses for table tents in your marketing tool kit are nearly limitless.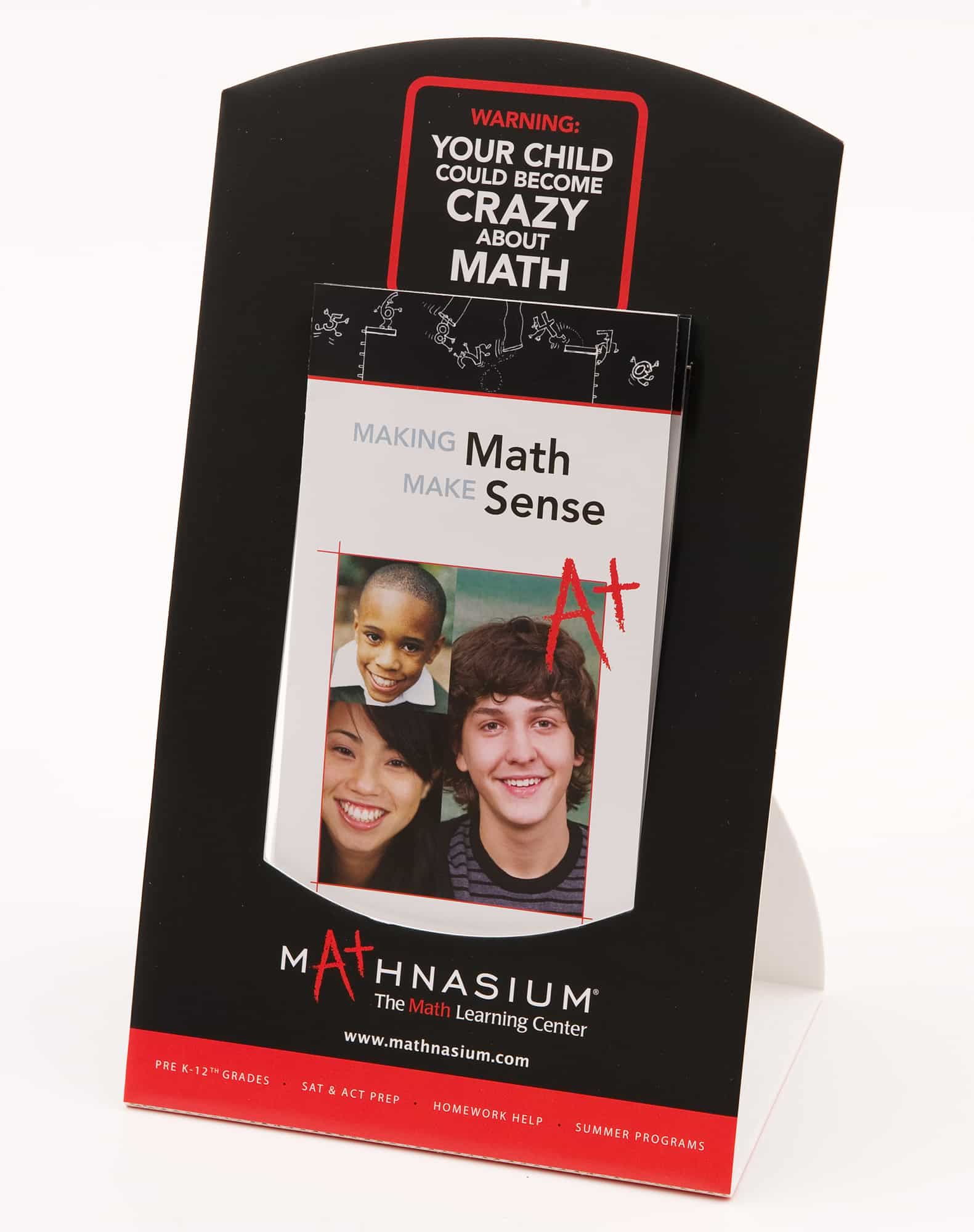 Table Tents – Pitch one for Success
We have all seen them – whether at a favorite deli, restaurant, a bank, when we check into a hotel or at a yearly tradeshow-the ever-present table tent. That tasty dinner special you just ate might have been first noticed on one as you sat at your table. Sometimes called a sign display or table talker, this three-dimensional piece is an effective marketing tool. Table tents are most commonly used at restaurants to promote or highlight dinner, dessert or drink specials, but the table tent is very effective in other types of businesses as well. Let's look at some of the elements of an effective table tent when being used to promote your business, increase sales and keep your customers coming back for more.
A Picture is worth a thousand words. Using high quality photos on your table tent is the best way to capture the attention of patrons and customers. A realistic-looking photo of your famous appetizer or juicy BBQ special will leave your guests wanting more.
What did you say? Don't forget the copy! That picture may stop your potential customer long enough to linger, but reel them in with concise, bold headlines. Keep it short and sweet, and make it irresistible to them. We all like a glossy photo of a delicious dessert, and when we see it is the nightly special, AND homemade, who is going to say no?
No time for hide-and-seek. In real estate, it is all about location, location, location. It is no different with your table tent, and where it is showcased can be as important as the design. No one will seek out that dinner special, low interest rate or one-time seminar if they can't see it easily and quickly.
Position your most profitable offerings or latest special prominently in the center of the table, or on the front of the counter or display area. Additionally, the location of your company name on your table tent is important. Feature it along with your special and that great image to build brand recognition.
Common Industries and Uses for Table Tent Marketing
As you can see, the potential uses for table tents in your marketing tool kit are nearly limitless. Numerous sizes and configurations allow you to customize them to fit your objectives. We have three standard shapes in three sizes each, or can create custom sizes and shapes to your specifications. They all have a unique look and are easy to utilize, allowing you to place them nearly anywhere customers may see them, whether walking by, standing around or seated. Combined with your other marketing pieces such as flyers, brochures and postcards, an eye-catching, well-positioned table tent gives your business a three-dimensional edge over your competition. Are you ready to start getting noticed with table tents?
While table tents are most commonly used in the service industry for advertising in restaurants, bars and nightclubs, don't overlook their usefulness in your businesses. These include:
Salons and spas
Banks and financial offices
Real estate offices
Cafes and coffee shops
Hotels and convention centers
Gyms and health clubs
Year-at-a-glance calendars (company branded)
Tradeshows
Conferences
Special drawings or contests
Seminar announcements
Physician and dentist offices
Visitor centers
Hotels and motels