Top Printing Products
In the age of digital clutter and fatigue, print is alive and well. Printing for Less offers creative ways to get your brand in the hands of customers that matter, and not in their email's spam folder. Whether you're raising awareness for your brand, rewarding returning customers, or just wanting to add that little extra pizzazz, these are a few of our most successful products.
We're Committed to the Success of Your Project From Ideation to Implementation
From visualizing the first ideas of your project, all the way to the delivery, we're committed to the success of your project. That's why we're trusted by some of the biggest brands you know (and independent ones you should!)

Our Sustainability Promise
We're as passionate about sustainability as we are providing the best custom printing solutions for our customers. Our facility is wind-powered, keeping our carbon footprint lower and our quality higher. Our promise to you? Everything we do is as eco-friendly as possible, and we'll keep leading the printing industry in our green practices.
Word On The Street
We've had a great experience with Printing for Less over the years! The Printing for Less Team has always been there for us from initial concepting through final production. It's great to have a local company who can provide an affordable, high-quality product quickly and efficiently. No job has been too big or too small. The service team has always gone the extra mile to provide outstanding service.
– Colt Denny @ Gibson Brands
"Oh, Man!! I have been in the printing industry for almost 35 years, and have owned my own commercial printing shop for 22 years… what incredible quality and service you guys provide!!! I have moved to the digital age, and now do the desktop publishing and broker print jobs for my clients, and I am so glad to have met THE EAGLE TEAM!"
– Larry Patrick @ Enhanced Color Reprographics
"I just wanted to let you know that I am very, very happy with every aspect of my recent printing. I was in the industry for 20 years – in fact I scheduled a 6 color,1/2 web facility for quite some time, so I know something about service and quality. The service was great, as was the quality. And the price was 1/2 of what I could get it done for locally. Not good for printing around here! But good for you, and good for me. You ARE my printer."
– Suzy Quader @ SQ Design
Printing for Less is our go-to company. Easy. Fast. Great Communication. The tags for our spirits turn out great.
– Halee Staskivige @ Willie's Distillery
Printing for Less has helped us grow our business from 2012. Their customer service is top notch, they do what they say they're going to do and we have relied on them to make us look good to our own customers for all of the years in between.
– Derek DeYoung @ DeYoung Studio
We have used Printing for Less to print and mail promotional flyers for our company. We have also used their design services. They have helped us many times with printing of flyers and have helped put together direct mail lists and mailing direct to our customers. The printing quality and output of product always meets our standards and is professional grade. They have Excellent customer service and always completes the job by our deadlines!
– Jim Baker and Amy Burkenpas @ Frontline Ag
As a creative agency, we're always cooking up crazy ideas that include things like foil press, spot varnish and die cuts. Printing for Less is there to make it happen…even when we need it TOMORROW. The Gecko Designs team has been so pleased with Printing for Less's unique and vast paper selection as well as their willingness to go above and beyond. Looking forward to working together for years to come.
– Gabriel Silverman @ Gecko Designs
Printing for Less has been steadfast as trusted partner in helping us to execute our mission to connect caring people to some of the biggest issues facing our community. Thier attention to detail, high quality products, and unwavering dedication to customer service has been instrumental in allowing us to serve the residents of Park County. They might have clients all over the world, but to us they are our friends, our family, and folks we wave to at the grocery store. — Gavin Clark, executive director, Park County Community Foundation.
– Gavin Clark @ Park County Community Foundation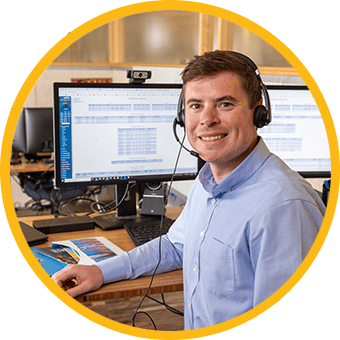 Want to Talk to a Real Person?
We've Got Those!
Want to talk about your project? Want to place an order? Want to know what the weather is like in Montana? (Spoiler: it's beautiful.)