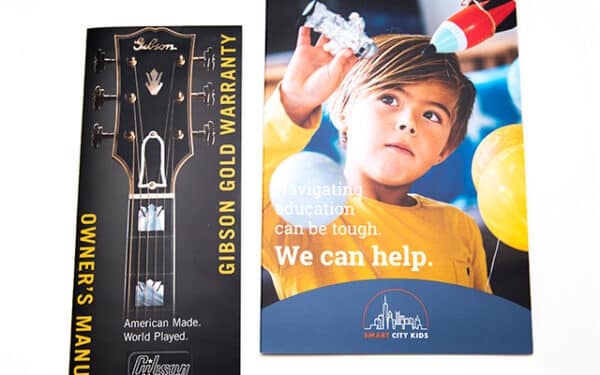 Rack Card Printing Services

Rack cards are the perfect balance between business cards and brochures. Customize your card with your brand's most important information!
Rack Card Printing Features
Paper Options
120# Gloss Cover 14pt
120# Dull/Matte Cover 14pt
100# Uncoated Cover 14pt
160# Gloss Cover 18pt
160# Dull/Matte Cover 18pt
Recycled and Custom Papers
Standard 4″ x 9″, custom sizes available
Full color on front or both sides, or black on back
Optional UV coating for extra shine and durability
Standard 4 day production (rush available)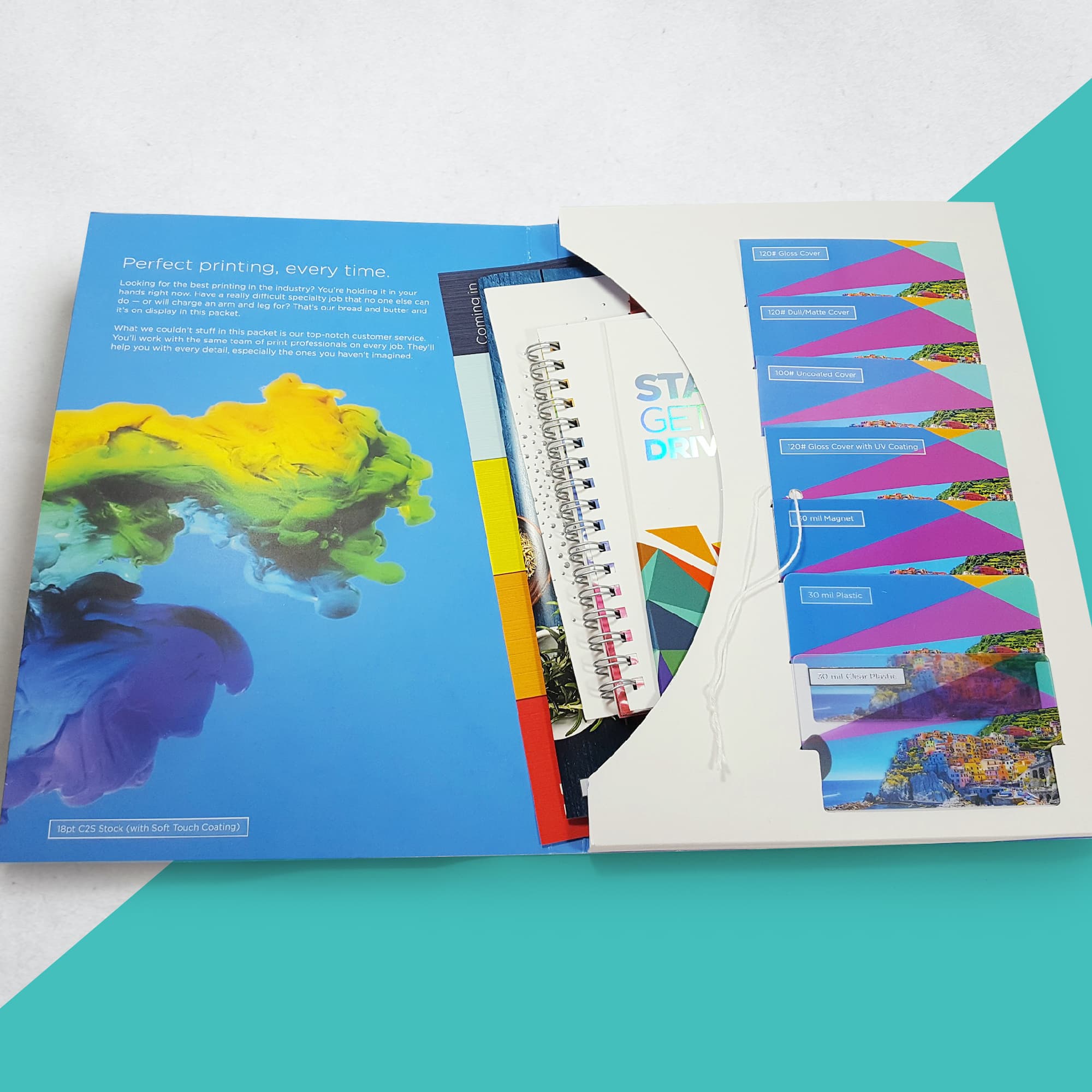 Rack Card Samples
There is no substitute for seeing actual physical examples of what we can print.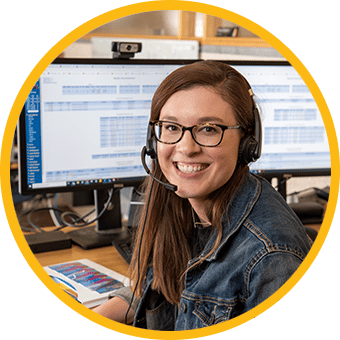 Want to Talk to a Real Person?
We've Got Those!
Want to talk about your project? Want to place an order? Want to know what the weather is like in Montana? (Spoiler: it's beautiful.)
Custom Rack Card Printing Options
Standard rack cards measure 4″ x 9″ and can be ordered in a variety of sturdy cover stocks, including plastic, printed on one or two sides. One way to have yours stand out is to use a slightly non-standard size. Options like rounded corners, embossing, foil stamping and die cutting can really make your card stand out as well. Upgrade to a Soft Touch® or super shiny UV coating. That'll be sure to attract some attention!
In today's highly-competitive business environment, distinctly unique marketing materials enable you to stand apart from your competitors and pique the interest of current and potential customers. Printing for Less pioneered online print ordering for everyday marketing materials, and today more than half of our work is "custom." Our knowledgeable Print Consultants will find the right solution for your custom printing project from a wide selection of products and options to create a look that is as unique as your business.
Get attention-grabbing options for rack cards such as: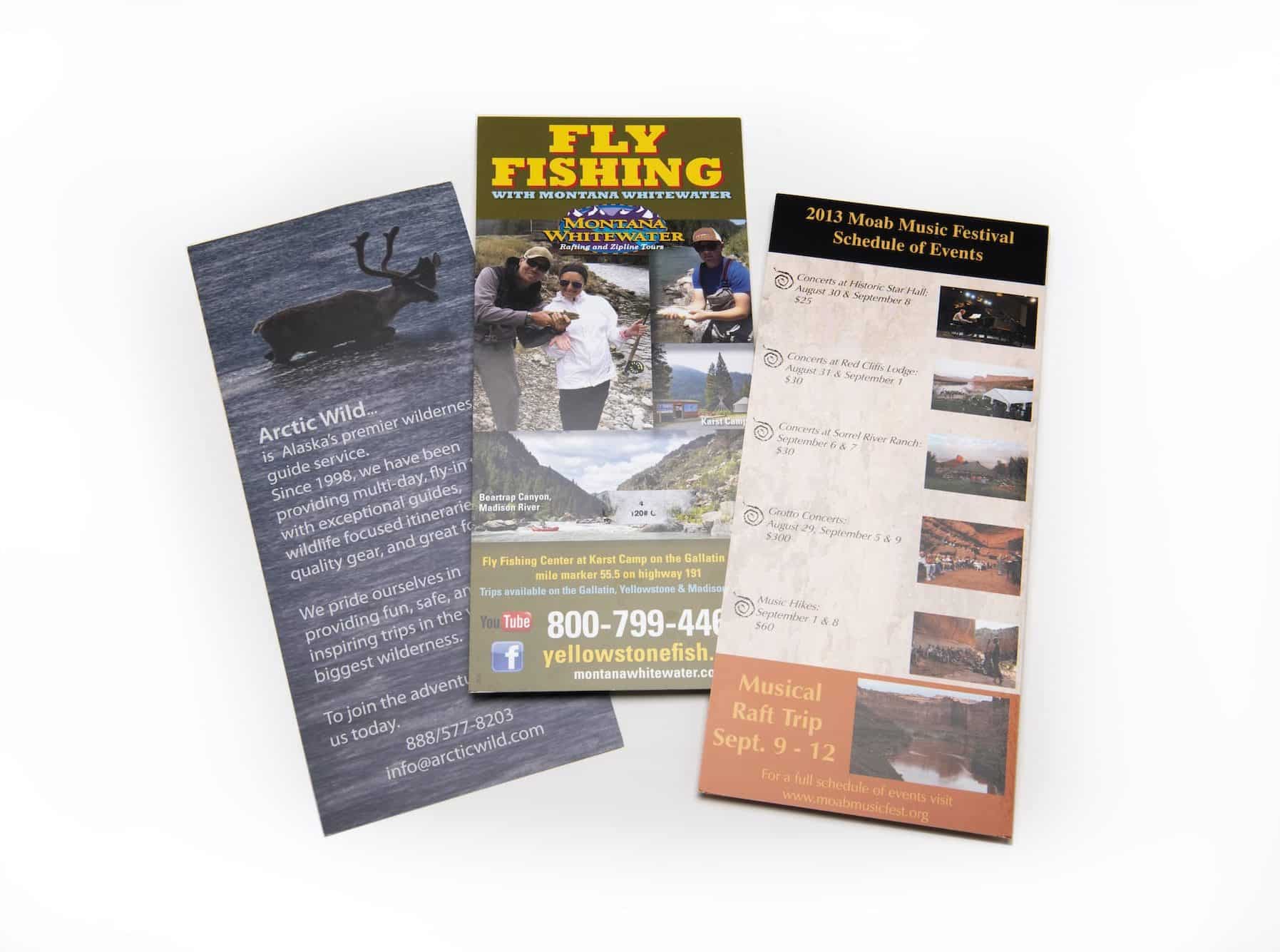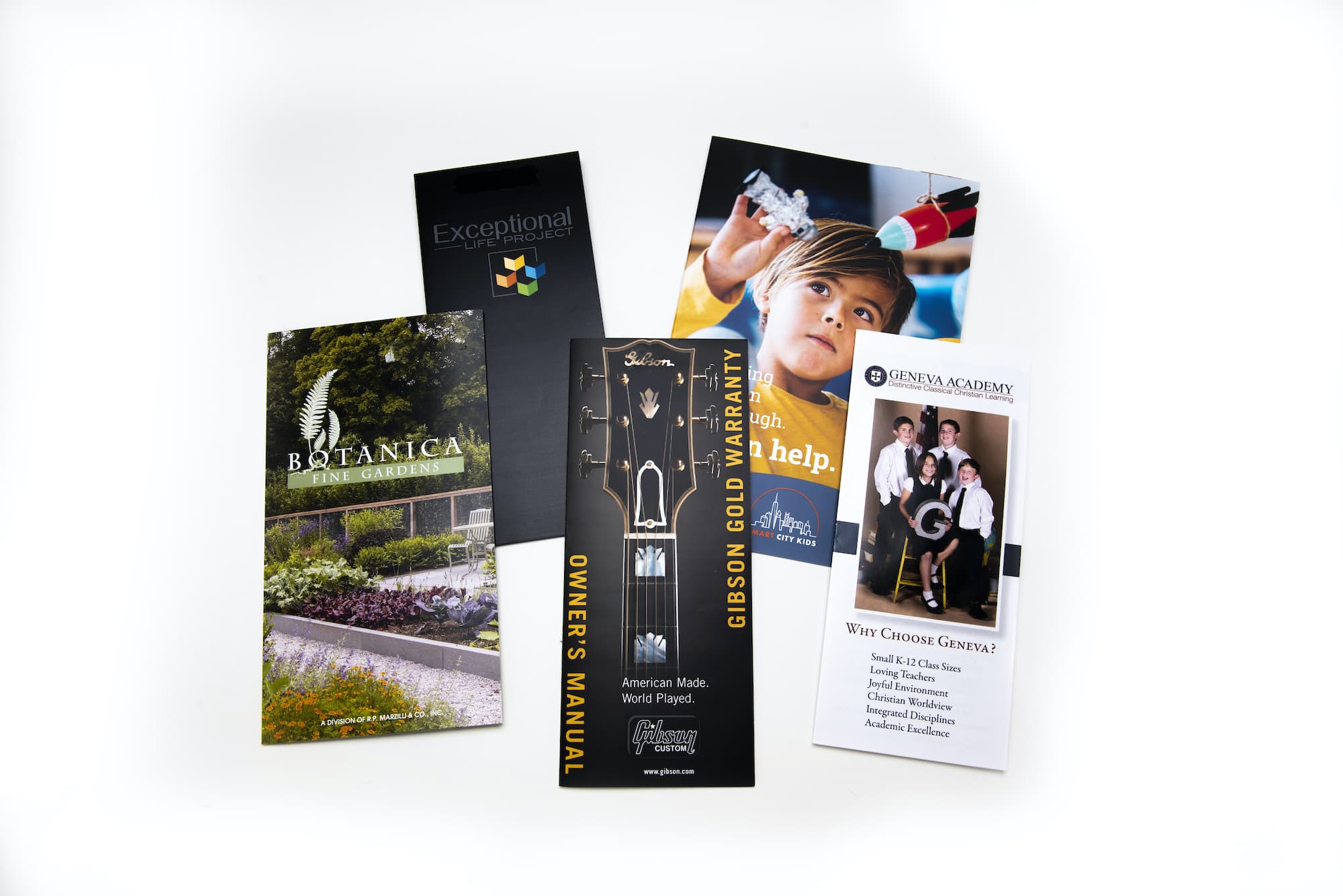 Rack Card Design
Don't have a rack card designed and ready to print? You've got options!
To get the most out of your rack card you should talk to one of Printing for Less's design team members. A rack card can be your company's signature marketing piece when designed with the help of our team and their eye catching designs.
Printing for Less has a team of designers who can create any custom product just for you. You will work one-on-one with your designer to guarantee your vision is realized on paper.
Our graphic designers are highly qualified and experienced (over 50 years combined!). They understand good design principles, and have extensive pre-press knowledge. But more importantly, they create designs that function the way you need them to – helping you grow your business!
Custom design is very affordable – call 800-924-2041 now for a quote on your project!
Rack Card Marketing
Sometimes you want to communicate more information than you can fit on a standard business card but not so much that you need a brochure. A rack card might be just the right solution.
Rack cards are commonly used to promote tourism and travel-related businesses such as hotels, theme parks, museums and attractions. However, they can also be used to promote a wide range other businesses and services such as spas, restaurants, schools, services, dry cleaners, car washes, theaters, events, pet services and more.
Sometimes you want to communicate more information than you can fit on a business card but not so much that you need a
brochure
. A rack card might be just the right solution. Its size and cost makes it the perfect solution to highlight your product, service, or location. Standard rack cards measure 4″ x 9″ and can be order in a variety of sturdy cover stocks and can be printed on one or two sides.
The keys to successful rack card marketing include:
Eye-catching design
Call to action or offer
Placement in all the right locations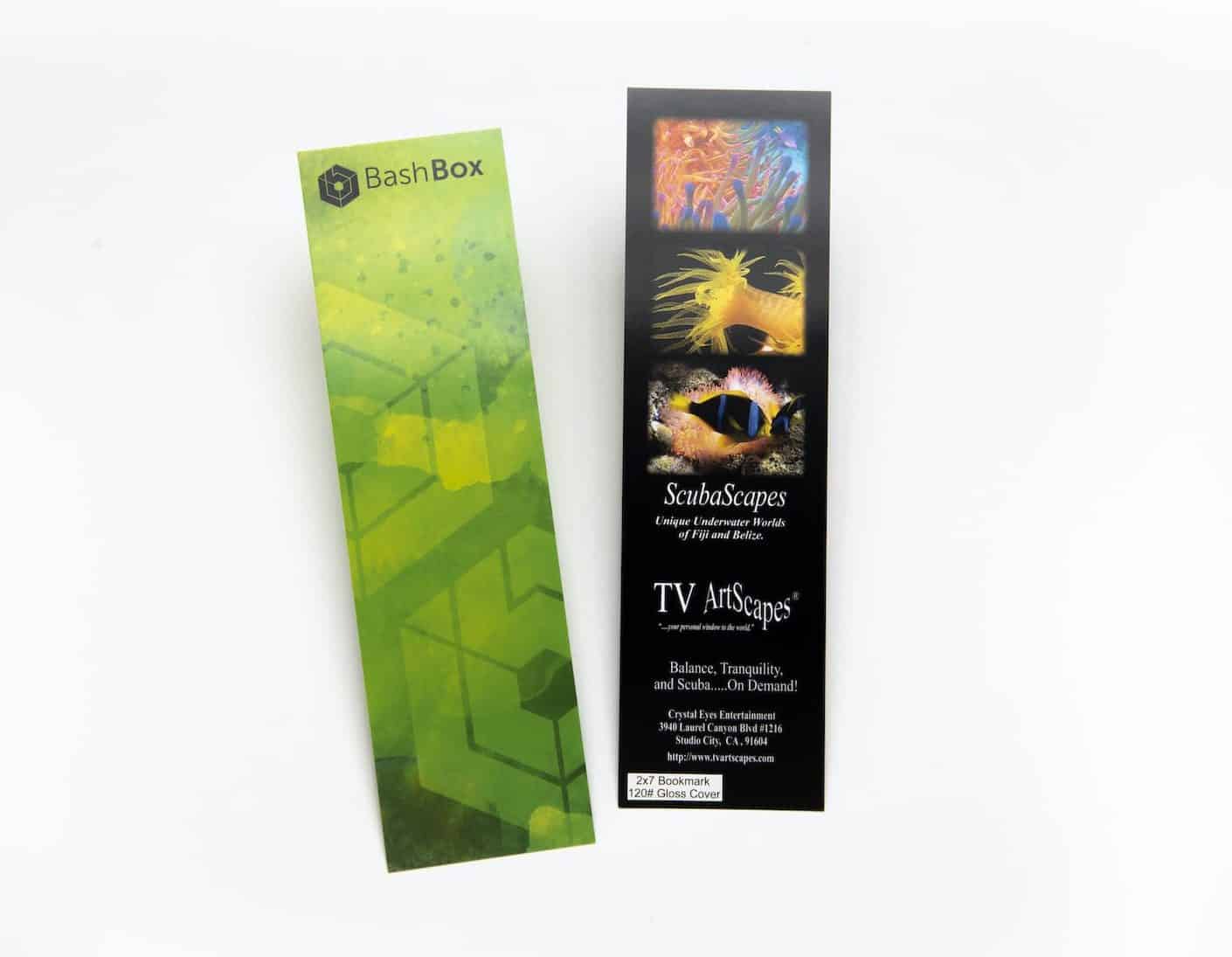 Make Your Rack Cards Rock!
Make sure your rack card stands out with eye-catching graphics and a bold headline or offer, especially if your card will be placed in a rack with hundreds of other cards. Collect some of your competitors' cards and see which ones stand out. When you have a preliminary design, look at it in context with the other cards you have collected. Is it different? Is it inviting? Stand back. Can you see your card from three feet away? Printing your rack cards in full color can also make it stand out compared to one or two color designs. Also, prominently feature your contact information (phone, website, email, address, etc.) Consider showing a map to your location especially if you are targeting tourists who are not familiar with your geographic area. If you are a service provider, consider putting a list of services and prices on your card. Restaurants can list their take out menu.
Keep in mind you have two sides to work with. Keep the front simple with your main message, graphics and contact info. Put your more detailed information on the back of the card.
Make Them an Offer They Can't Refuse!
Do you have an enticing invitation or promotion on your rack card to attract your target customer? This should provide an incentive for them to visit you or try your service. Some ideas are a 2 for 1 admission, a percent discount, an added freebie with a purchase, kids dine free, etc. You can even add a perforation to the bottom portion of your rack card for a tear off business card or coupon.
Location, Location, Location
Make sure to distribute your rack cards far and wide to reach as many potential customers as possible. Place them in high traffic locations where they are sure to be seen and taken. Ideal locations for travel related businesses are visitor centers, chambers of commerce, convention centers, hotel lobbies, restaurants, and rest stops. For retail goods and services, consider asking local non-competing businesses if you can place your rack cards in their store or office. Consider using rack card holders or stands that are branded with your logo to make them stand up and stand out.