Brochure Printing
Inform customers about your business while making a lasting impression with custom print brochures.
Brochure Printing Frequently Asked Questions
Full color on front or both sides, or black or blank on the back
Folding options only 1 cent each for any size!
FREE gloss aqueous coating
Optional UV coating for extra shine and durability
Rush Production Available
Full service direct mailing
Standard Brochure Sizes
3.5″ x 8.5″
5.5″ x 8.5″
Custom Sizes
Find your options – Product Templates
Paper Options
Choose text or cover stocks:
80# Gloss or Dull/Matte text
100# Gloss or Dull/Matte text
80# Gloss or Dull/Matte cover
Many custom papers
Find your options – Talk to a Printing Expert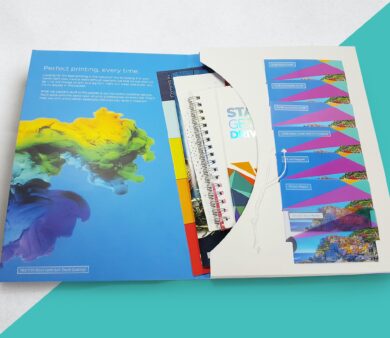 Fast Service and Free Samples
There is no substitute for seeing actual physical examples of what we can print.
Just let us know what type of products you would like to see along with your quote.
Make your brochures stand out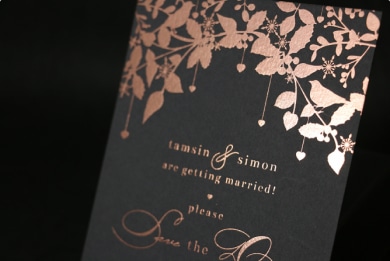 Brochure Foil Stamping
Foil applied to your print using heat and pressure can be shiny and metallic, or bright white and matte. We have holographic foil, colored and clear. We can help you imagine a way to make your logo, text or design elements pop right off the page.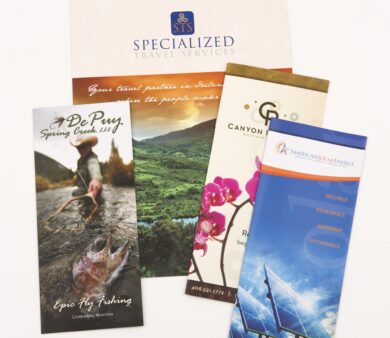 Custom Brochure Sizes
Normal sizes work for normal occasions. But when you need to be different, when you are trying to stand out and get noticed, normal doesn't work. We can produce a wide range of brochure sizes, far beyond normal.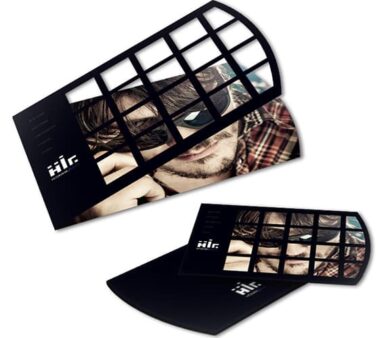 Die Cut Brochures
Die cutting allows you to add unique cutouts or edge shapes to your brochures. You could die cut text so the image on the panel behind the text peeks through or make your brochure into a unique shape. We can help you implement custom die cuts so your brochures capture attention and stick in your customer's mind.
Custom Brochure Printing Options
Promotional brochures are one of the most important marketing tools that businesses use to convey their value to customers. From a simple single sided flyer to trifolds, all the way to the impactful iron cross fold, Printing for Less is the best printer for brochures and flyers that make your business stand apart. Our experts have over 20 years of combined experience in all aspects of print and they are ready to share that knowledge to help your business achieve your own brand of success.
A brochure with the right touch from a custom finish will tell customers the value of your brand even before they read a single word. The look, the feel, or the interaction with an interesting fold makes you memorable.
The look can be a striking metallic foil, spot UV coating, a strongly branded pantone color, or a die cut window.
The Feel of a soft touch coating or a delicate emboss conveys a subtle, ingrained message of quality.
The Interaction of unfolding an interesting piece gives you control of how your story is told to the customer, one step at a time.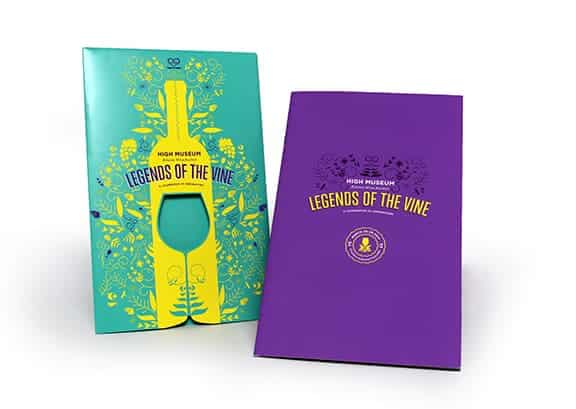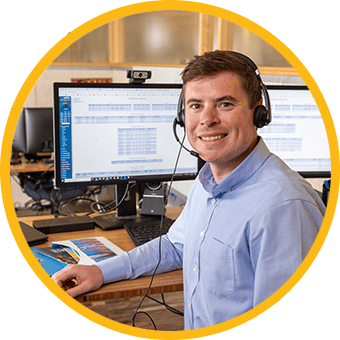 Want to Talk to a Real Person?
We've Got Those!
Want to talk about your project? Want to place an order? Want to know what the weather is like in Montana? (Spoiler: it's beautiful.)
---
Brochure Design
The Do-It-Yourself Route
Check out our brochure fold and layout templates if you need help creating your company brochure.Templates are available for all the standard brochure sizes and folds, as well as free pre-designed brochure templates. It's easy to replace text, logos and images with your own custom information for a professional looking brochure design.
Design for Your Purpose
The most important part of print marketing is to include a 'call to action' that prompts your customer to do something, so design your brochure with that purpose in mind. If you want the brochure to get noticed, use striking, bold art work. Touch it up with special, custom effects like foil stamping, embossing and special coatings. If you want people to write on your brochure, don't coat it in a glossy finish. If you want to really stoke engagement, use cool folds that call out for someone to open the brochure.
Layouts and Folds
Once you have a purpose in mind, the next thing to consider is how the brochure will be folded. A tri-fold brochure is the most common, by far, but you can go much further. Here are some examples.
Tri Fold
Half Fold
Iron Cross
Gatefold (Open or Closed)
Stair Step
Accordion
Z Fold
Barrel Roll
Double Parallel
Snake Fold
Not sure about designing your brochure? We've got your back.
Design can be tricky. Let our team of experts make sure your brochure's design is eye-catching and attention grabbing using custom printing and finishing options. Our highly qualified graphic designers will work one-on-one with you to create custom pieces that show your business off and astound your customers.
Did we mention custom design is wallet friendly? Call 800-924-2041 now and let us quote your design project.
---
Brochure Marketing Tips
Define Your Purpose
Why are you making a brochure? Marketing either drives a specific action (call you for a consultation, come in and make an order, etc) or trying to drive awareness of your brand. A brochure can do both – often at the same time – because there's so much space on the brochure itself and because it can be divided into discrete panels by folds. Think about what you want the marketing to do, then design everything about the brochure around that idea. Brochures can be folded in interesting, engaging ways. These interesting folds make all the difference because it means someone holds your marketing material that much longer, engages with it that much more deeply and recalls it more easily.
Keep it Simple
Keep your brochure simple and on point. Give only one, clear, easy-to-act-on call to action. Don't tell customers to call you and go to your website. Just pick one – and consider picking a call to action that's easy for you to track and measure. You want to know how much bang you get for your buck. Design should be clean and easy to read. A brochure is a tool, and reading it is how you use the tool. Would you use a power drill that took 10 minutes to power up? Why would someone read a brochure that has the important stuff hidden under a bunch of junk graphics? Keep it simple and it will be more effective. Keep your messaging to as few words as possible, and use images or graphics to inspire.
Benefits or Features?
Marketing gurus will tell you to never lead with features – always talk about the benefit of your product, solution or offer. Focus on how it will make your customer's life better, use that hook to explain what it does. But, brochures have a place as a feature-list. If you're in need of a quick and effective way to get your product's features front and center, a brochure will do the job. In general, however, always lead with benefits. Make that the focus of your marketing.
Make it Trackable
If you are including an offer, URL, or phone number on your brochure, try to make it unique for that brochure. That way you can track all the calls to one specific number or all of the emails to one address, knowing it came from that brochure. The fun thing about print marketing is, once you put something into the world you don't know where it will end up – you may get calls from people that you never targeted but are great customers anyway.
Keep Your Brand Consistent
Use the same brand colors, logos, slogans and general look and feel across all of your marketing. Don't make a brochure that looks wildly different from anything else you've done – or at the very least, include your standard logo on the brochure. Keeping your brand consistent will make it easier for potential customers to remember and find you later, when they are ready to buy.
How Many Brochures Do You Need?
This seems like an obvious question, but you should know how many brochures you're going to need before you order. The more you order, the cheaper they are – so don't sell yourself short. Likewise, don't order too many, especially if you're bound by a time limit (like a tradeshow or special offer) or if you just don't have the storage space to keep them all.
---
Brochure Pricing Considerations
So what goes into the cost of printing brochures? Several things can affect the cost.
Ink Options
All brochure and flyer printing comes with 4-color printing on the front. The second side can be ordered also with CMYK 4-color process, or with black ink or left blank. Pantone or metallic inks can also be used on request. Plus, we provide free aqueous coating and offer UV coating on our gloss papers. Aqueous coating adds scuff-resistance, extra sheen and helps protect the piece in the mail. Gloss UV coating adds an ultra-shiny and protective finish for a "rich," high-end look and feel.
Paper Stock and Brochure Costs
The number one thing that changes your cost is the type of paper you use. Premium papers have a more luxurious feel, but they cost more. Typically, thicker papers cost more too but our print consultants can help you pick the right paper that fits your budget and purpose. Paper is really important to a brochure because the paper determines how the brochure handles being folded, it literally changes the structural integrity of the piece. All of the paper we use at Printing for Less is top-of-its class – we refuse to use cheap, crappy paper that can't hold ink, fold properly or stand up to everyday abuse. Even if you choose our affordable option, you're getting quality paper.
Custom Effects and Brochure Costs
Adding custom effects like metallic ink, foil stamping, die cuts, embossing and debossing will add cost. Some effects cost more than others, especially die cutting and embossing which usually requires a custom die to be made. Our print pros will help you make the decision about using custom effects. We want your marketing to work, so we'll tell you if we think custom effects won't make a difference for your project.
Quantity
Because of the initial setup costs associated with offset printing, the more pieces you print, the lower the cost per piece. It's quite a bit cheaper to print a larger quantity once than half that quantity twice, so print as many as you think you can use before you'll have to change the content of your piece.
Brochure Holders
Need a custom printed holder or display for your brochures? Try our brochure holders that can be custom printed to compliment your brochure and enhance your branding.
Brochure Mailing Services
A well designed, beautiful brochure can't work for your business unless you are able to get it to potential customers. Direct Mail is a time tested and proven way to reach people. If you've ever spent time addressing, stamping and stuffing envelopes (PTA, Church, Political Campaigns – we're talking to you) you know that it is a tremendous investment of time. We have machines that help keep your costs down and get the job done much faster and with no paper cuts. Our team can insert pieces into envelopes, or wafer seal a small catalog and stamp things at a faster rate than your most dedicated team of volunteers or employees.
Want to grow your customer base? Printing for Less can help you identify your target market and find a targeted mailing list that will work for your business. Call us at 800-924-2041 for list information and costs.