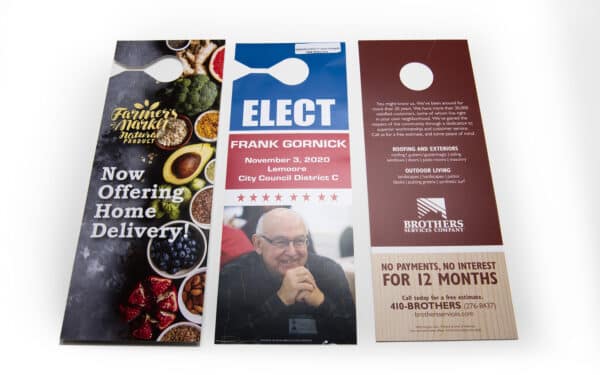 Door Hanger Printing
Utilize one of the most inexpensive print options to inform potential customers of your business!
Door Hanger Printing Features
Multiple sizes and formats available
Full color on the front
Full color, black or blank on the back
Optional UV coating for extra shine and durability
Fast 5 day production time (rush available)
Standard Door Hanger Sizes
Find your options – Product Templates
Paper Options
Thick, high-quality cover stocks:
100# Gloss Text 5 pt
120# Gloss Cover 14pt
120# Dull/Matte Cover 14pt
100# Uncoated Cover 14pt
160# Gloss Cover 18pt
160# Dull/Matte Cover 18pt
Recycled Papers
Find your options – Talk to a Printing Expert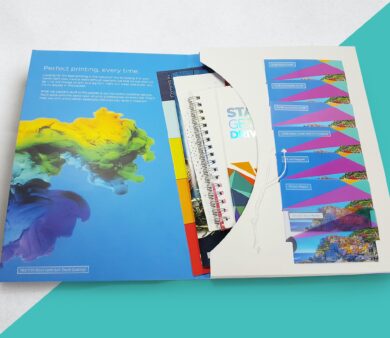 Free Samples
Printing for Less offers a nearly limitless selection of products, options, and services to empower the message you tell through print.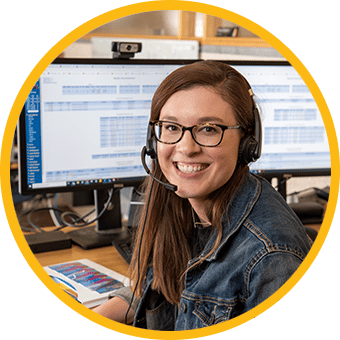 Want to Talk to a Real Person?
We've Got Those!
Want to talk about your project? Want to place an order? Want to know what the weather is like in Montana? (Spoiler: it's beautiful.)
Custom Door Hanger Printing Options
While you are hanging around, why not make a real impression with a custom effect? We offer rounded corners, PMS spot colors, foil stamping, embossing and much more. Need even more ideas? Talk to a Printing for Less Marketing Advisor about how our custom door hangers can increase your brand awareness and generate sales!
In today's highly-competitive business environment, distinctly unique marketing materials enable you to stand apart from your competitors and pique the interest of current and potential customers. Printing for Less pioneered online print ordering for everyday marketing materials, and today more than half of our work is "custom."
Our knowledgeable Print Consultants will find the right solution for your custom printing project from a wide selection of products and options to create a look that is as unique as your business.
Get attention-grabbing options for door hangers such as: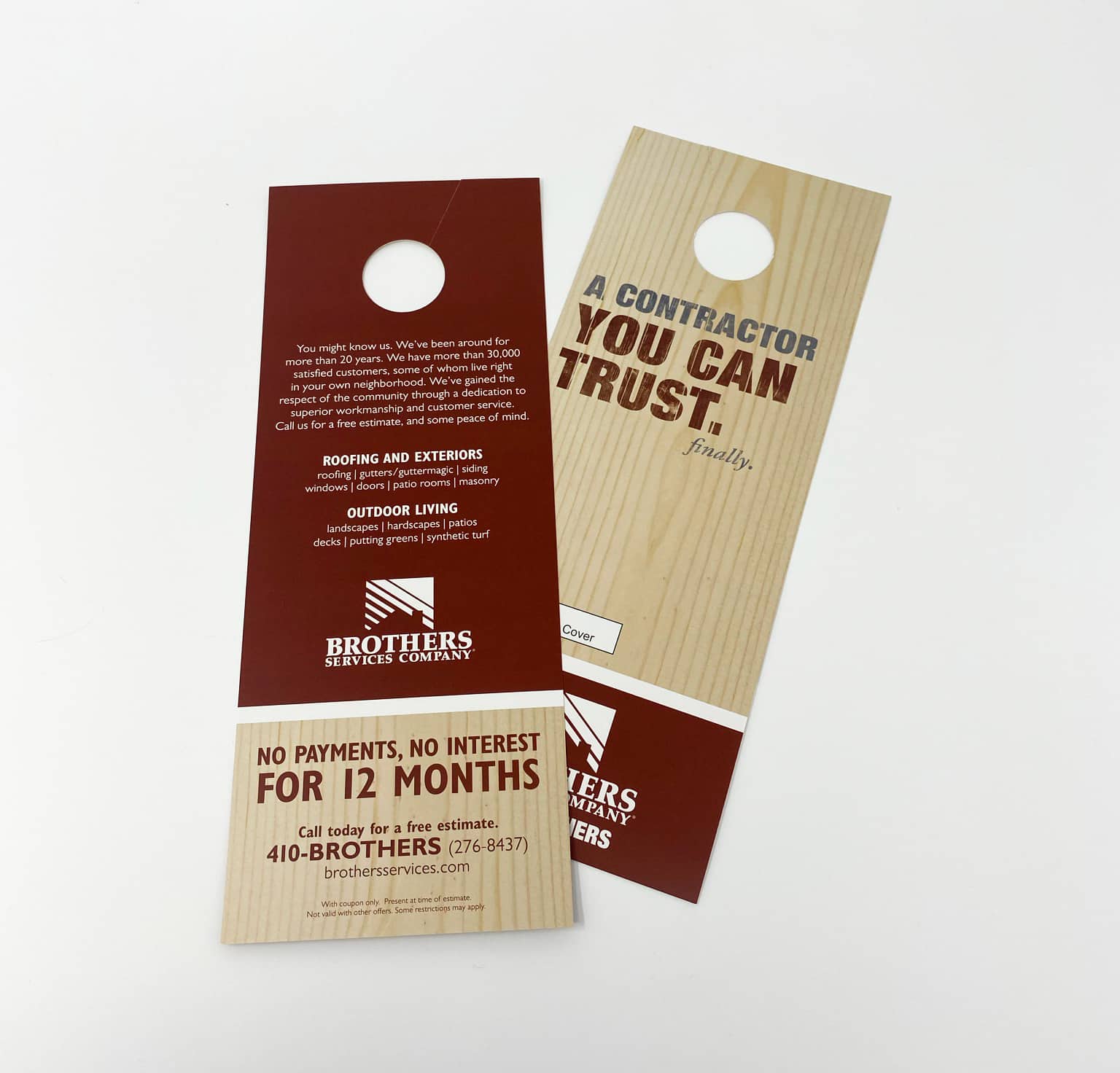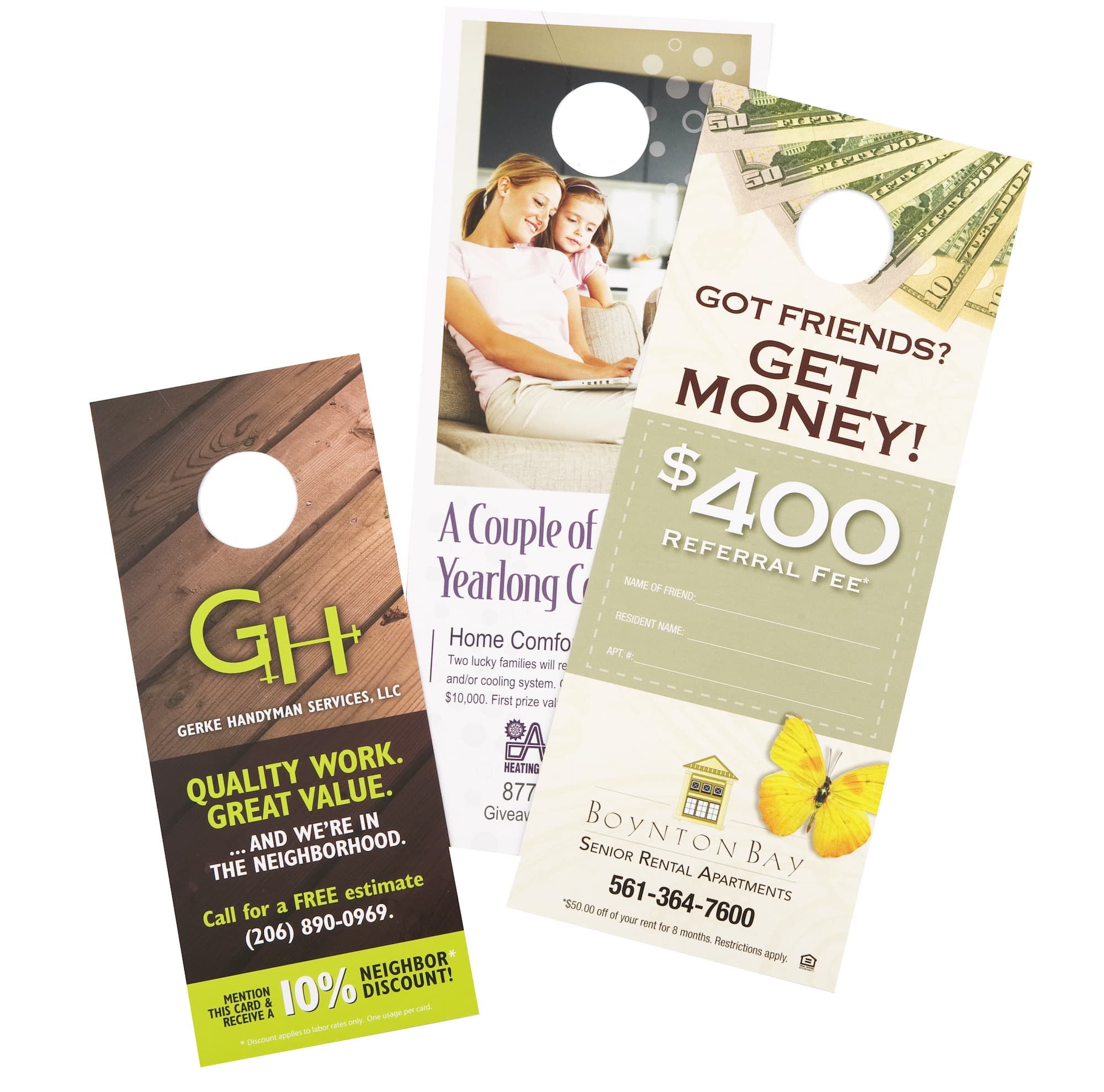 Door Hanger Design
Don't have a door hanger designed and ready to print? You've got options!
Door Hanger design requires a special touch. Our designers are ready to share their experience designing 100's of door hangers with you today!
Printing for Less has a team of designers who can create any custom product just for you. You will work one-on-one with your designer to guarantee your vision is realized on paper.
Our graphic designers are highly qualified and experienced (over 50 years combined!). They understand good design principles, and have extensive pre-press knowledge. But more importantly, they create designs that function the way you need them to – helping you grow your business!
Custom design is very affordable – call 800-924-2041 now for a quote on your project!
Door Hanger Marketing
Picture this. Your prospect arrives home and gets out of the car. She checks the mail and absentmindedly rifles through a stack of uninviting junk mail. Then she goes to the front door, and slowly starts to turn the handle. But wait…something stops her in her tracks. Hanging on the door is the full color, professional-quality, eye-catching door hanger your company has strategically placed on the knob.
Sounds like a marketer's dream, right? Door hangers are full of untapped marketing potential. They are the perfect vehicle for marketing your business locally and are one of the most inexpensive ways to get the word out to a large group of potential customers. Full color, professionally-printed door hangers are easy to distribute and are effective because they are the first advertisement a consumer sees when he or she arrives home.
We have multiple sizes to choose from, and can do die-cut custom jobs with accuracy and ease. In addition to the popular 120# glossy stock, we have a variety of other weights and finishes to enhance your message. You can upgrade that with a UV coating for a sleek look and added protection.
As always, our high-quality products and low pricing will surpass your expectations, and you'll find that our turnaround time is amazing.
Contact a Printing for Less Marketing Advisor today at 800-924-2041 to receive a custom quote or to request free samples. Or place an order online now.