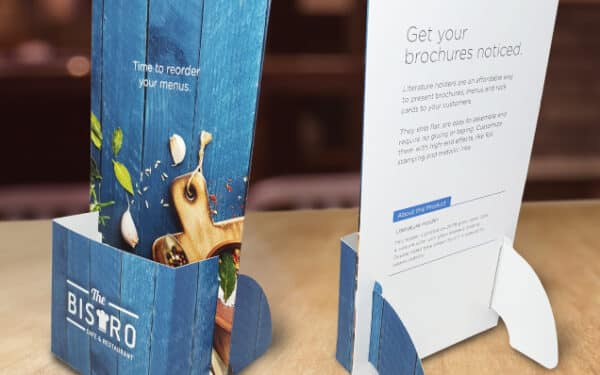 Brochure Holder Printing
You have important information to share. Display your brochures in a customized printed brochure holder that clients can't help but notice.
Brochure Holder Printing Features
Full color printing on the display side
FREE gloss aqueous coating
Optional UV coating for extra shine and durability
Sturdy 24pt paper stock
Optional Clean-stick for reinforcement
6 day production time
These custom holders are made of sturdy 24pt paper stock, and can be printed full color and aqueous coated on one side for a durable finish. Add any custom printing features (embossing/debossing, foil stamping, die-cut elements) for a one-of-a-kind piece that showcases your brand beautifully. They are easy-to-erect, shipped flat and require no gluing or taping. The clean, contemporary design offers a compact and appealing front panel for your custom artwork. Fill these with your brochures, rack cards, or other point-of-sale or educational material. Literature Holders will accommodate approximately fifty 8.5 x 11 tri-fold brochures or fifty 4 x 9 rack cards.
Overall Dimensions:
10″ high
5.25″ wide
4.25″ deep
Find your options – Product Templates
Literature pocket dimensions:
3.75″ high
4.5″ wide
1.5″ deep
Find your options – Talk to a Printing Expert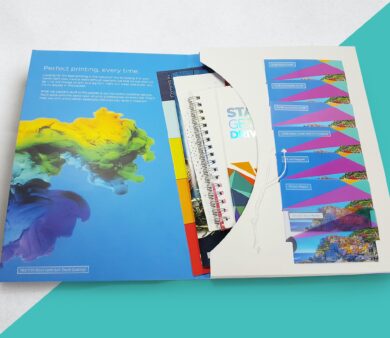 Free Samples
There is no substitute for seeing actual physical examples of what we can print.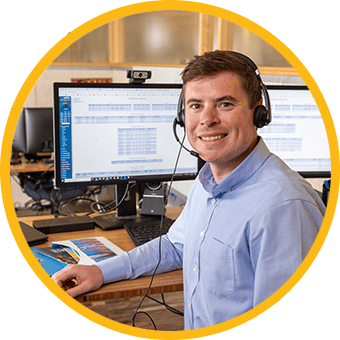 Want to Talk to a Real Person?
We've Got Those!
Want to talk about your project? Want to place an order? Want to know what the weather is like in Montana? (Spoiler: it's beautiful.)
Custom Brochure Holder Printing Options
Need a custom brochure holder, rack card holder, or other product holder? Of course we can do it! Whether it's an unusual size, the ability to display multiple rack cards or brochures, or simply the need to stand out, these holders can be customized.
In today's highly-competitive business environment, distinctly unique marketing materials enable you to stand apart from your competitors and pique the interest of current and potential customers. Printing for Less pioneered online print ordering for everyday marketing materials, and today more than half of our work is "custom." Our knowledgeable Print Consultants will find the right solution for your custom printing project from a wide selection of products and options to create a look that is as unique as your business.
Get attention-grabbing options for literature holders such as: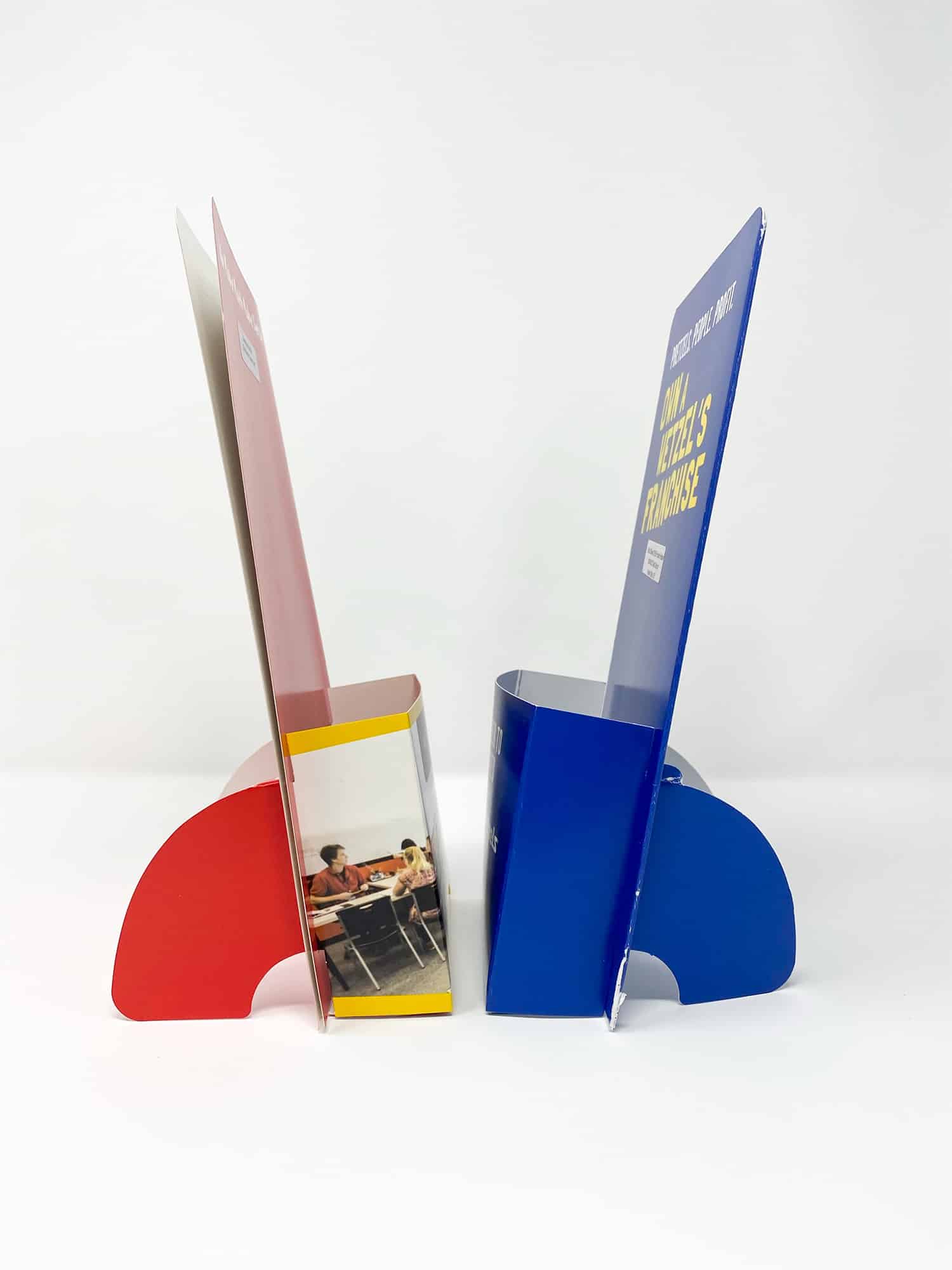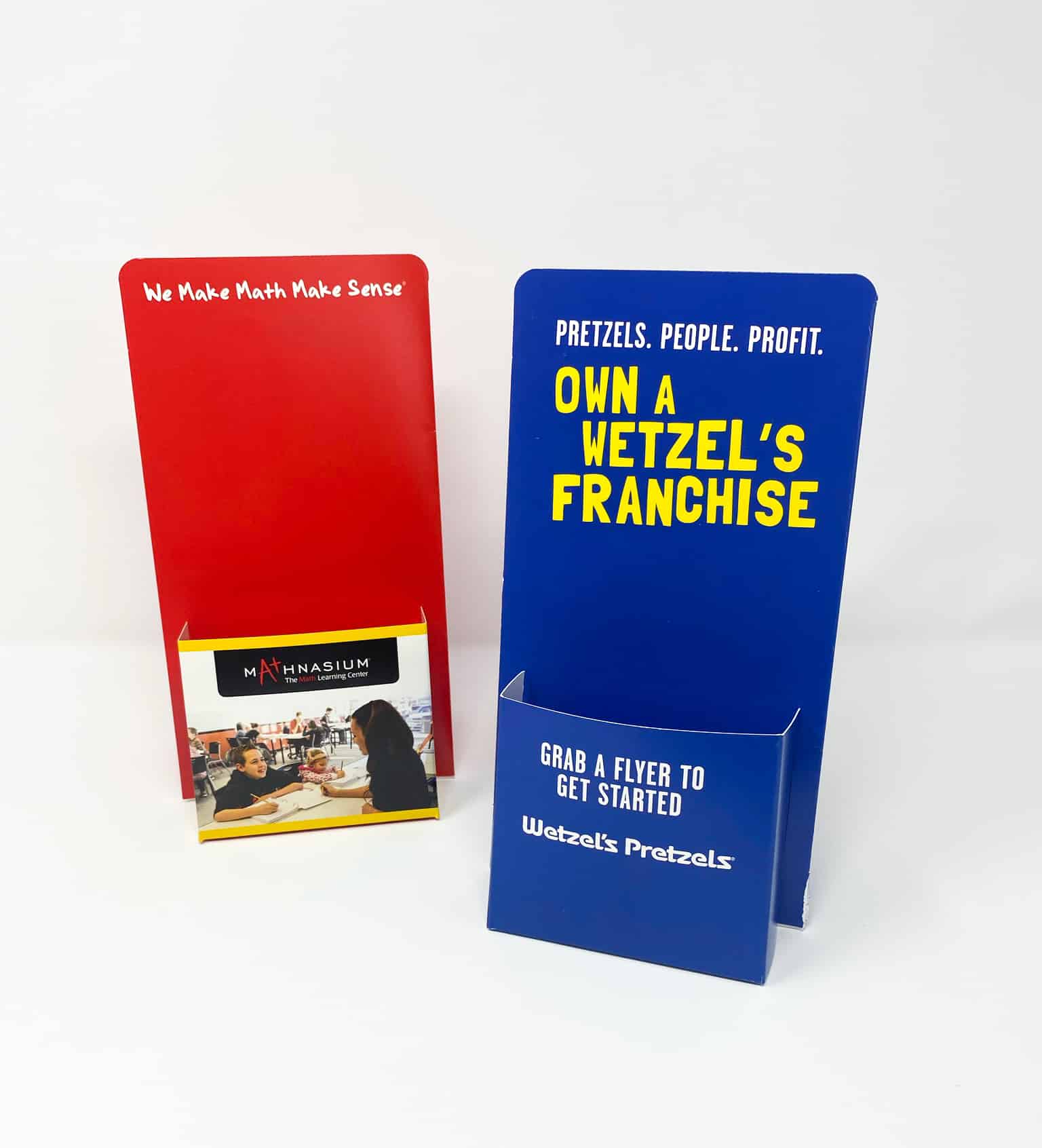 Brochure Holder Design
Don't have a brochure or rack card holder designed and ready to print? You've got options!
Don't get held up trying to develop a design for your literature holder. Let our team help you get what you want at a price you can afford. We will work one-on-one with you to guarantee your vision is realized on paper.
Brochure holders and rack card holders (also known as literature holders or table top displays) provide opportunities for stand out-and stand up-presentation ideas. We can create any custom product just for you. But more importantly, we will work with you to create a piece that functions the way you need it to – helping you grow your business!
Printing for Less has a team of designers who can create any custom product just for you. You will work one-on-one with your designer to guarantee your vision is realized on paper.
Our graphic designers are highly qualified and experienced (over 50 years combined!). They understand good design principles, and have extensive pre-press knowledge. But more importantly, they create designs that function the way you need them to – helping you grow your business!
Custom design is very affordable – call 800-924-2041 now for a quote on your project!
Brochure Holder Marketing
Improve Your Brand with Custom Brochure Holders
Don't overlook how you present the brochures you print and distribute. Proper presentation adds a polished, professional look to your brand and business. Custom Brochure holders capture attention, giving you an extra edge.
Benefits of a Brochure Holder
Brochure holders display your marketing materials right in front of your customers and encourage them to engage. They are perfect as point-of purchase displays and help organize material neatly while getting attention.
Types of Brochure Holders
Brochure holders or point of purchase displays can be made of acrylic or various grades of paper stock, ranging from cheap brown corrugated to the fine 24pt material we offer. Typically, acrylic or cheap cardboard holders are generic, solid-color holders that don't feature brand graphics.
For more ideas, to receive a custom quote or request free samples, call a Printing for Less Marketing Advisor at 800-924-2041 or get a price now.