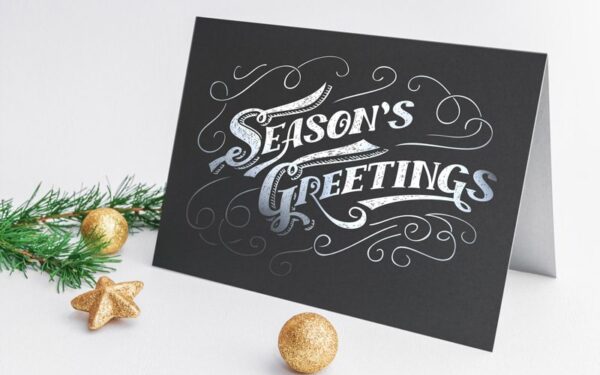 Greeting Card Printing
Greeting cards are more than just birthday or holiday greetings, you can use them for any event, or as a powerful marketing tool.
Greeting Card Printing Features
Full color on outside
Full color, black or blank on inside
Fast 4 day production time (rush available)
Optional envelopes
Mailing services available
Standard Greeting Card Sizes
Find your options – Product Templates
Paper Options
Thick, high-quality cover stocks:
120# Dull/Matte Cover 14pt
120# Gloss Cover 14pt
100# Uncoated Cover 14pt
Recycled Papers Available
Find your options – Talk to a Printing Expert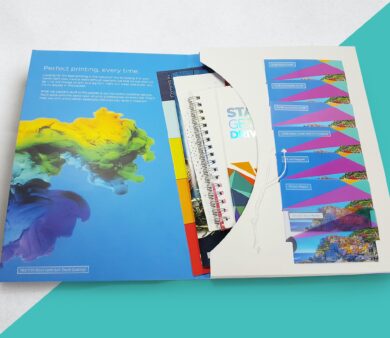 Free Samples
Printing for Less offers a nearly limitless selection of products, options, and services to empower the message you tell through print.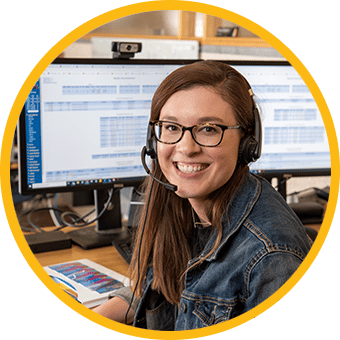 Want to Talk to a Real Person?
We've Got Those!
Want to talk about your project? Want to place an order? Want to know what the weather is like in Montana? (Spoiler: it's beautiful.)
Custom Greeting Card Printing Options
Printing for Less's high-quality greeting cards are sure to get your message across. We can produce a standard 120# matte cover card, or any other stock and finish you can imagine. But when you really want to stand out on the mantle, features like UV coating, rounded corners, embossing, PMS spot colors, die cutting and foil stamping are also available.
In today's highly-competitive business environment, distinctly unique marketing materials enable you to stand apart from your competitors and pique the interest of current and potential customers. Printing for Less pioneered online print ordering for everyday marketing materials, and today more than half of our work is "custom." Our knowledgeable Print Consultants will find the right solution for your custom printing project from a wide selection of products and options to create a look that is as unique as your business.
Get attention-grabbing options for greeting cards such as: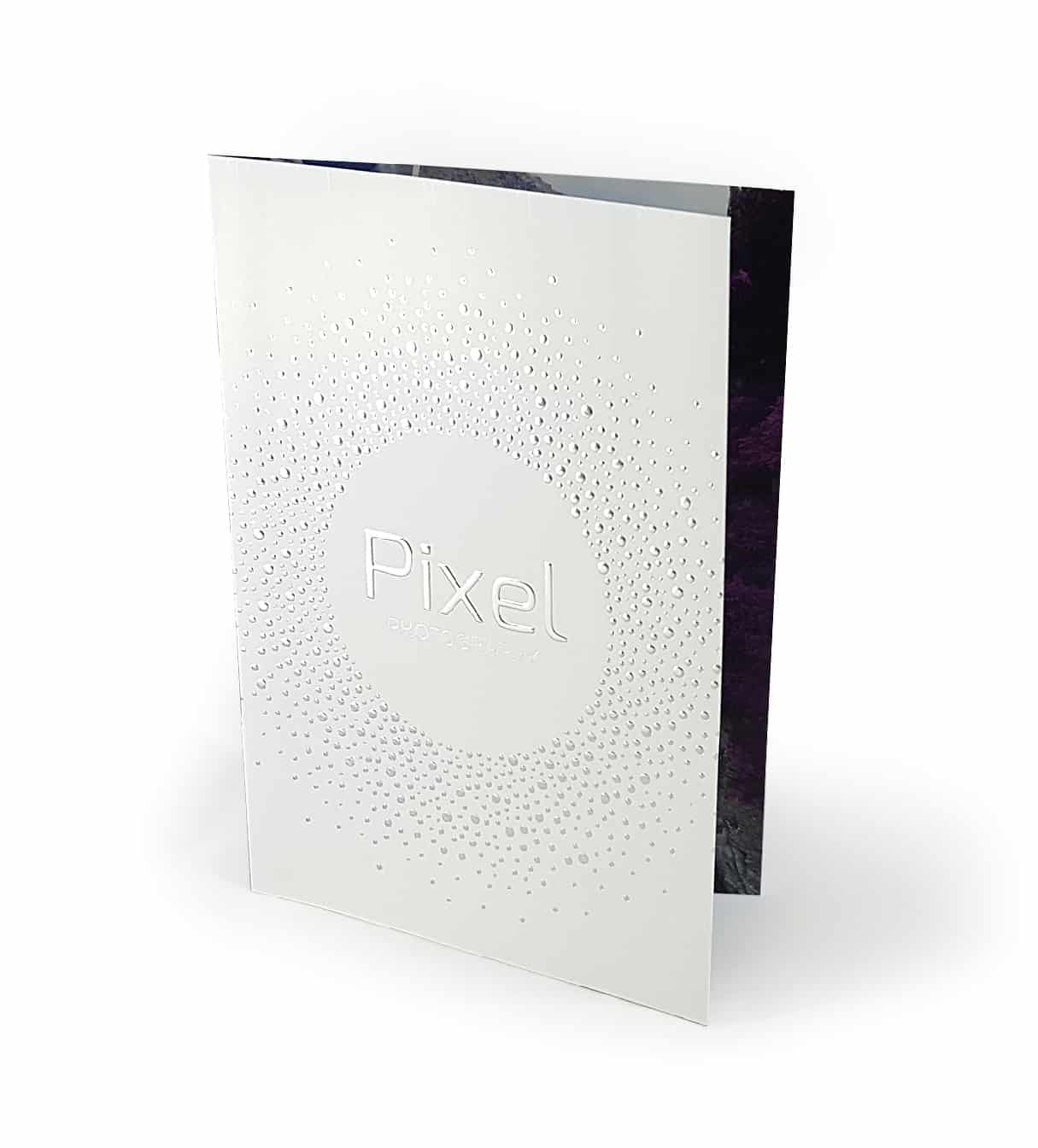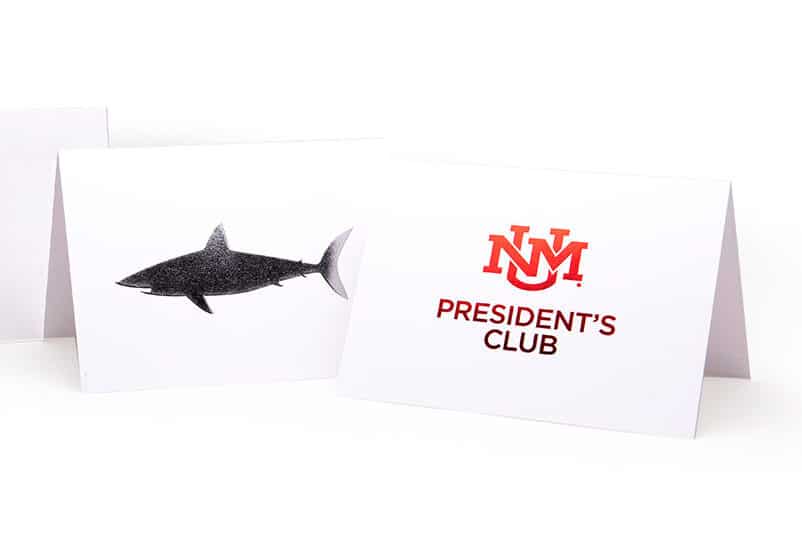 5 Ways to Make Your Greeting Card a Success
STANDARDIZED –

Creating cards that aren't specific to any holiday, allows you to use the same batch for numerous events and greeting card campaigns all year long

PERSONALIZED –

Variable data printing makes it easy to personalize unlimited numbers of greeting cards for all your clients – without touching pen to paper

RELATIONSHIP FOCUSED –

Greeting cards are traditionally not the place for a sales pitch – instead of your products, focus on your client and thank them for their business

STRATEGICALLY SENT –

Greeting cards are a perfect way to recognize special moments in your customers' professional lives – send them strategically for greater impact

BRANDED –

Greeting cards are great for building brand awareness – don't miss the opportunity to prominently display your logo and company slogan on the card
Greeting Card Design
Don't have a greeting card designed and ready to print? You've got options!
How about greeting your customers with a one of a kind look? Our Printing for Less design team can make sure your greeting card represents you at your best.
Printing for Less has a team of designers who can create any custom product just for you. You will work one-on-one with your designer to guarantee your vision is realized on paper.
Our graphic designers are highly qualified and experienced (over 50 years combined!). They understand good design principles, and have extensive pre-press knowledge. But more importantly, they create designs that function the way you need them to – helping you grow your business!
Custom design is very affordable – call 800-924-2041 now for a quote on your project!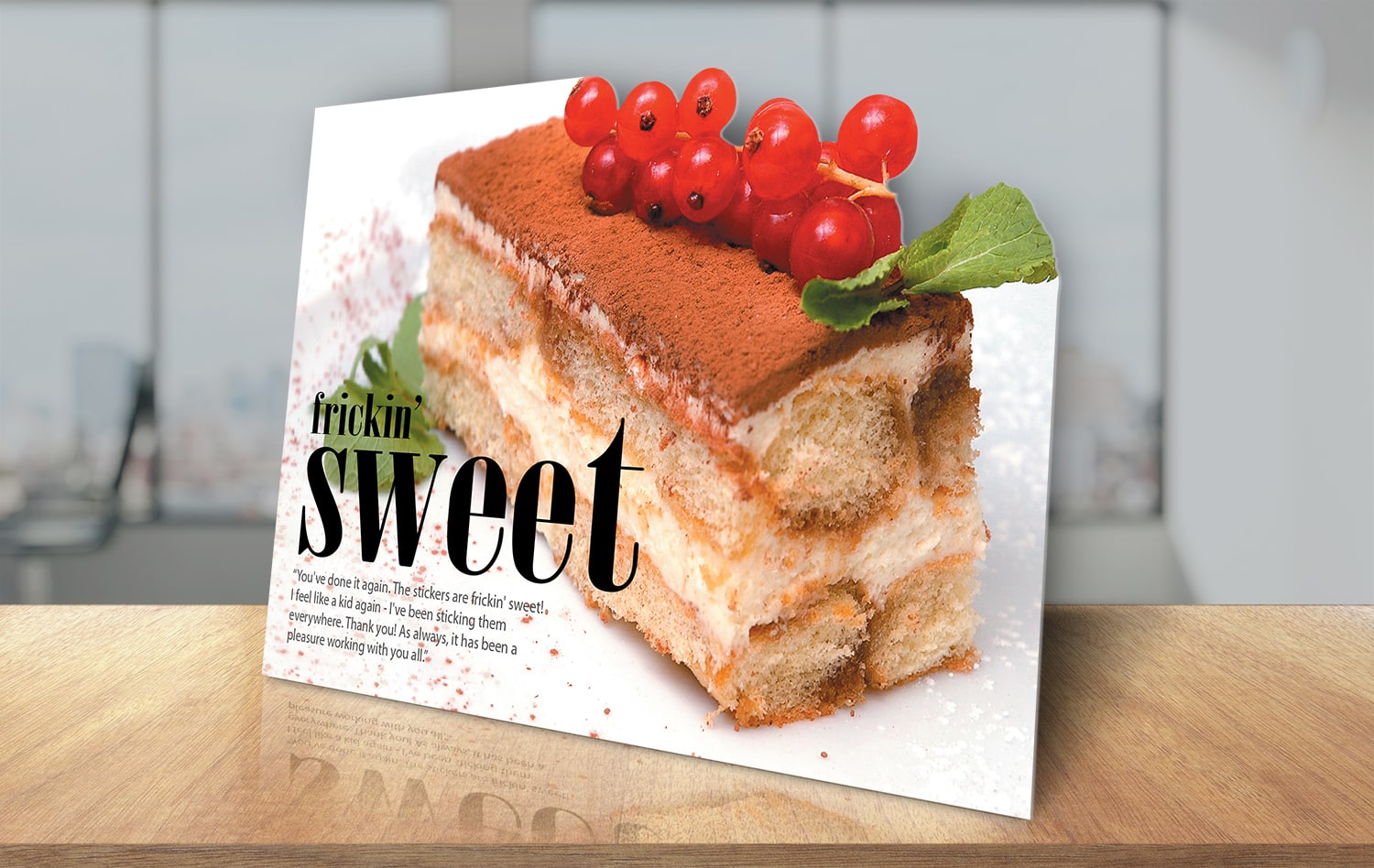 Greeting Card Marketing
Who doesn't love to receive a personal card in the mail?
It's undeniable that greeting cards are a timeless and classic way to connect with people that matter to you and your business. Traditionally, greeting cards are sent out for birthdays and holidays, but they can be used for much, much more. Printing for Less's custom greeting cards can be used to invite customers to an exclusive event, thank customers for a recent purchase, as a tool to encourage repeat sales and business (with a gift card inside) or just as a "thinking of you" gesture.
A greeting card is more personal than a postcard, more memorable than a letter, and more likely to be kept and shared with others. It is a friendly gesture that is genuinely appreciated and well reciprocated by the consumers and prospective clientele alike. Go that extra step for your customers!
You can customize with a printed message, or leave the inside blank should you want to handwrite each one for that added personal touch. While we score cards for easy folding, you may also request us to ship them already folded. And don't forget the envelopes! They can be blank or printed with your return address.
Have you said hello to your customers lately? First, say hello to our Marketing Advisors at 800-924-2041 for a custom quote and/or free sample of our stellar greeting cards. Or place an order online with your own design or try our easy to use custom templates for your personalized cards now.
Using Business Greeting Cards to Build Relationships
Emails, text messaging, instant messaging, voice mail – in today's world, quick and electronic is the norm for personal and business communication. Yet one method of connecting that is still appreciated is the classic business greeting card. Greeting cards are a great way to reach out to people that matter to you and your business. They are a tangible and timeless tool for delivering a personal message to your valued customers, business acquaintances, friends and family. How you use a greeting card to impact someone is limited only by your imagination.
Take the Time and Time it Right
Sending greeting cards is a proven way to re-connect with your customers. With so many emails inundating our inboxes, greeting cards get noticed, especially when you take a few moments to personalize them with the recipient's name and a hand-written message.
Some of the most effective times to send out business greeting cards are the same for customer greetings:
Holidays, birthdays, sympathy or congratulations occasions
Customer "anniversaries," around the date they first became your customer
Special business occasion invitations, such as the grand opening of a new store or a special "preferred customer" appreciation event
You'll be simultaneously strengthening your relationship, solidifying your position as their vendor of choice, and marketing your brand and business to the people that help made your success possible.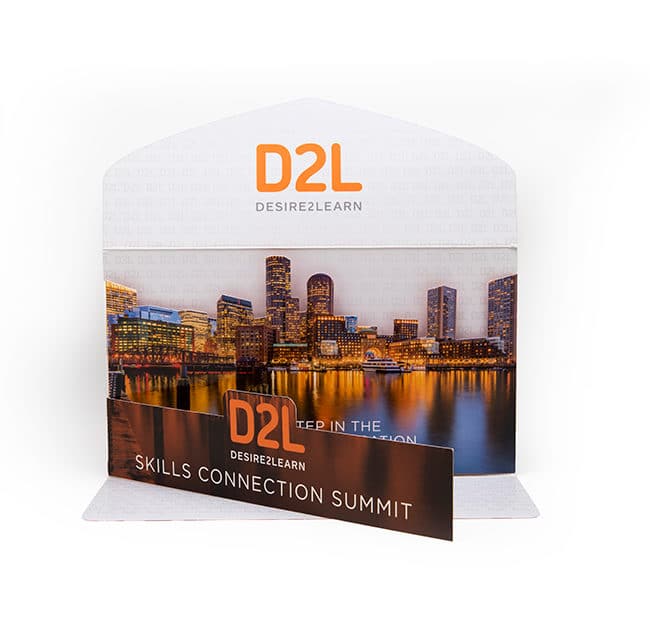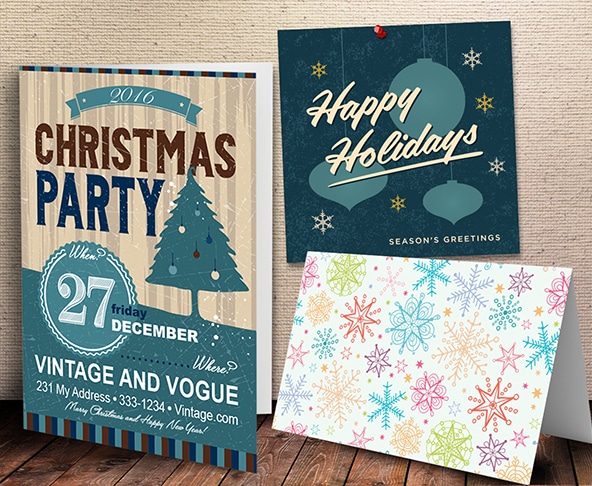 Maximizing your Printing Dollars with Greeting Cards
To create an effective greeting card campaign, set up a calendar and send out cards on a regular basis for key events. Be sure to plan ahead for your greeting card printing project and order enough cards to last you through your customer-base and mailing for the year. A classic design or photo, one that is not specific to a holiday or theme, allows you to use the cards for almost any occasion. Plus, you'll save money by ordering more at one time to lower the cost per card.
Create Personalized Holiday Cards
Connecting with customers and prospects during the holiday season is expected but your holiday card message can get lost in the sea of holiday mail. Since you are making the effort to send holiday cards, make sure they get noticed and displayed. Customize your holiday card design with unique images, uncommon sizes and special features such as die-cuts.
Your holiday card campaign is a cinch when you use online tools to create your custom holiday greeting card. Mailing your cards is easy, too, with a professional mailing service handling the inserting, addressing and mailing to your customer or holiday list at just pennies a piece plus postage.
Greeting Card Design Tips
Your card design should reflect your business and appeal to your audience. In general, it's a good practice to keep your greeting card design fairly simple, clutter-free, and classic. A professional photo of your facility, maybe your staff or logo works well for the cover. Or, choose a scenic or artistic image that catches the eye and piques interest.
Traditional greeting cards are not the right place to stick a sales pitch. The focus is on your recipient, not you! A thoughtful message and salutation that fits the occasion is always appropriate, or leave it blank if you'll be writing a personal, hand-written message.
Talk with your printer about paper options, finishes and colors. Some paper stocks convey rich photography better than others, while others are ideal for writing on with any type of pen. Ask for samples and discuss how your design will look on your chosen greeting card paper stock.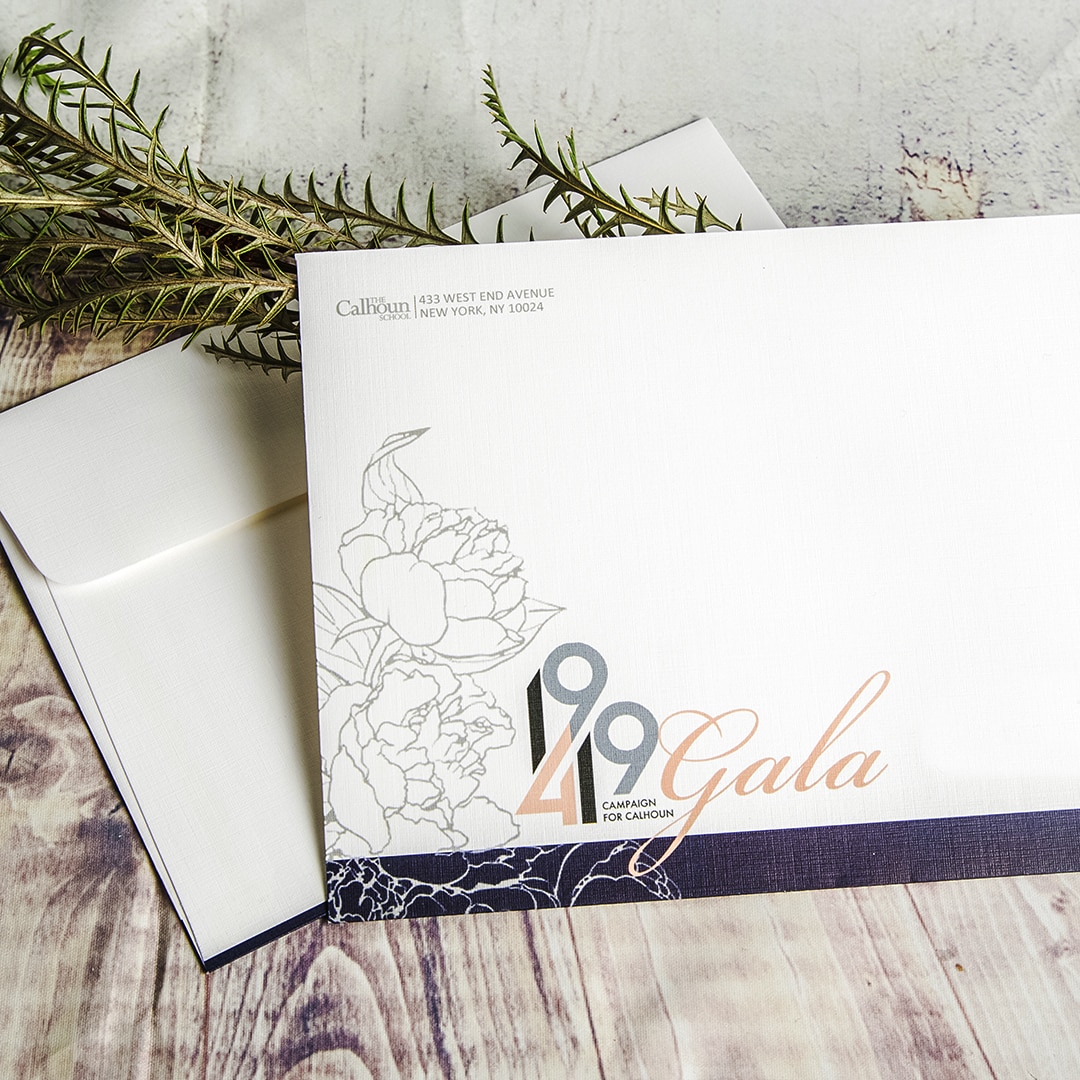 Greeting Card Mailing Services
If you're tired of spending your time messing with address labels, licking stamps or hauling heavy boxes to the Post Office, Printing for Less has a solution for you! With our state-of-the-art mailing software and addressing equipment, we not only save you time and eliminate the hassle, we can get your mailing directly to your customers faster and for less money.
If your mailing project needs inserting, collating or wafer sealing, please call us at 800-924-2041. Our Mailing Services Team will work with you to ensure your project is a success!
Want to grow your customer base? Printing for Less can help you identify your target market and find a targeted mailing list that will work for your business. Call us at 800-924-2041 for list information and costs.