Attention ladies! I am thrilled to share with you this Printing for Less customer! As a mother of three girls, one of Mayan Indian decent, I am forever thinking about how blessed we are to live in a nation where we, as women, have access to so much opportunity. As you know, this is not the case world-wide. Women and children in many developing nations do not have access to education and lack the opportunity to generate income.
As citizens of the developed world, we often see these circumstances and feel powerless to help implement a change. First, the answer is not to apologize for what you have, but to leverage your opportunity so you can be a contributor in the global solution. If every woman joins in the mission to see women empowered and equipped world-wide, it will be accomplished. You may be wondering what you can do? One way you can be a legitimate part of change is to do business with solution-driven companies like 4 Love Clothing.
4 Love Clothing's ambitious mission is to, "bridge the gap in social inequities among indigenous women by empowering them through stable employment, profit sharing, and ongoing education opportunities." They provide gorgeous Maxi dresses, colorful tanks tops, unique skirts and other hand-made items. The vibrant colors, unique patterns, and rich textures result in a beautiful garment. We encourage you to shop on their online store. Every purchase supports the life-improvements so much needed for women and children in developing nations.
The creative business model that 4 Love Clothing has implemented not only provides gorgeous clothing, but contributes to positive change for women on a global scale. We, as women, are only as strong as our weakest thread. Together, we can build a world where women are empowered with opportunity and the confidence to seize that opportunity. Participate, and you become the strongest thread.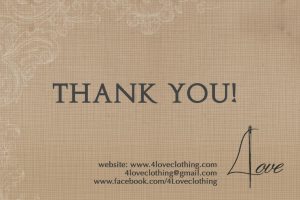 We are privileged to be 4 Love Clothing's printer. We recently printed some attractive Thank You greeting cards for the company. Lindsey with 4 Love Clothing had this to say, "Thank you for your excellent attention to details and great customer service! You guys are the best around."
Thanks Lindsey! We sincerely appreciate your business and are 100% behind 4 Love Clothing's mission. May you have a stellar year! Need help with your print? Talk to a live print expert today: 800-930-7978.