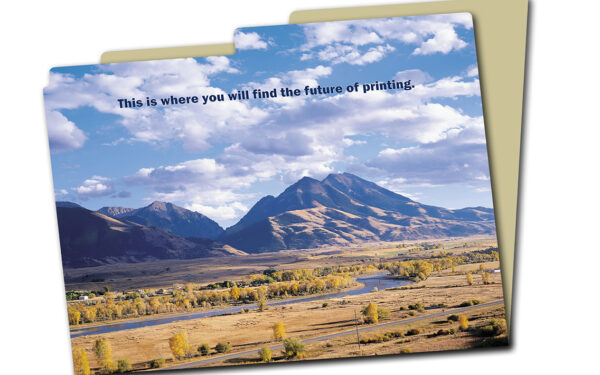 File Folder Printing
Produce durable branded folders for your company needs. Printing for Less can even print with 100% recycled paper.
File Folder Printing Features
Premium file folders printed on 120# Gloss Cover stock 14pt
Full color, see ink options below
FREE gloss aqueous applied to the printed sides for extra shine and durability
Ink Options
4 Color Outside / 4 Color Inside
4 Color Outside / Black Inside
4 Color Outside / Blank Inside
Black Outside / 4 Color Inside
Blank Outside / 4 Color Inside
Find your options – Product Templates
Find your options – Talk to a Printing Expert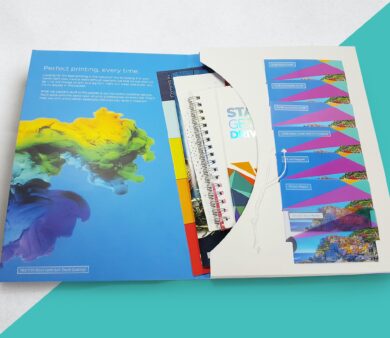 Free Samples
Printing for Less offers a nearly limitless selection of products, options, and services to empower the message you tell through print.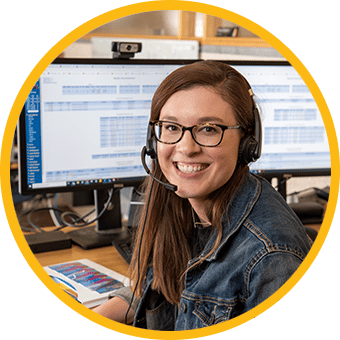 Want to Talk to a Real Person?
We've Got Those!
Want to talk about your project? Want to place an order? Want to know what the weather is like in Montana? (Spoiler: it's beautiful.)
Custom File Folder Printing Options
There are so many unexplored applications for custom folder printing that Printing for Less's team of experts can help you create—ideas you've probably never even thought of! You'll make your business look all that more important and impressive, while making organization easier, utilizing options like PMS spot colors, foil stamping and embossing.
In today's highly-competitive business environment, distinctly unique marketing materials enable you to stand apart from your competitors and pique the interest of current and potential customers. Printing for Less pioneered online print ordering for everyday marketing materials, and today more than half of our work is "custom." Our knowledgeable Print Consultants will find the right solution for your custom printing project from a wide selection of products and options to create a look that is as unique as your business.
Get attention-grabbing options for file folders such as: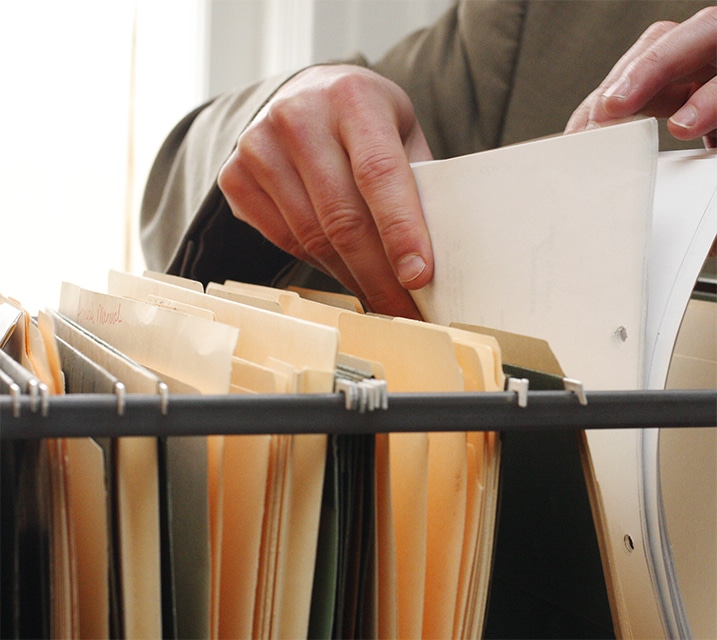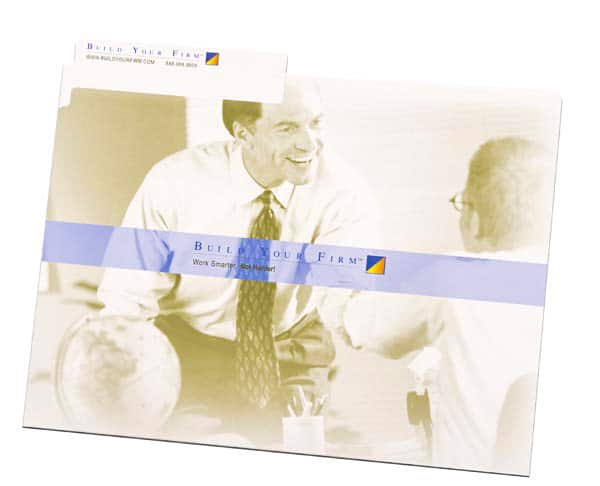 File Folder Design
Don't have a file folder designed and ready to print? You've got options!
LET US DO IT FOR YOU
with our fast and affordable
Design Services.
When you really want to make your folder special talk to one of our designers. They have designs and custom options to make sure you realize your folder design ideas.
Printing for Less has a team of designers who can create any custom product just for you. You will work one-on-one with your designer to guarantee your vision is realized on paper.
Our graphic designers are highly qualified and experienced (over 50 years combined!). They understand good design principles, and have extensive pre-press knowledge. But more importantly, they create designs that function the way you need them to – helping you grow your business!
Custom design is very affordable – call 800-924-2041 now for a quote on your project!
File Folder Marketing
All too often, the plain manila file folder gets overlooked in the grand scheme of things. What's in a folder, you ask? Plenty!
And you could never mistake Printing for Less's folders for the cheap ones you get at the office supply store. Our fantastic, durable folders will take you to the next level. You can even print on 100% recycled paper to keep your office green.
Plain manila is plain vanilla. Is your business ordinary? Absolutely not! Let Printing for Less produce the branded file folders your company needs.