Custom Menu Printing
Your menu is your brand! Choose from durable paper, custom sizing and professional coloring options.
Menu Printing Features
At Printing for Less, we make custom menus to fit the needs of any restaurant or bar. Choose from a variety of options for your printed menus, including the following:
1 or 2 sided full color or black ink menu printing
Optional SmartFlex® Synthetic paper (Durable & Water Resistant)
FREE gloss aqueous coating (paper only)
Optional Gloss UV coating for extra shine and durability
Half-Fold, Tri-Fold and Custom Folds
Round cornering (Free on 15 pt SmartFlex®)
Standard Menu Sizes
4.25″ x 11″
5.5″ x 15″
8.5″ x 11″
8.5″ x 14″
11″ x 17″
11″ x 25.5″
Custom Menu Sizes – Just Ask!
Find your options – Product Templates
Paper Options
Great menus begin with good paper.
80# Coated Cover
120# – 14 pt Coated Cover
6 pt SmartFlex®
8 pt SmartFlex®
12 pt SmartFlex®
15 pt SmartFlex®
Custom Paper Options
Not sure which paper option you need? Our printing experts are available to help.
Find your options – Talk to a Printing Expert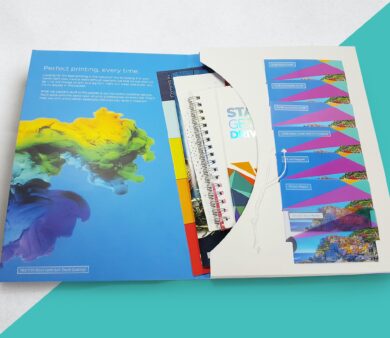 Free Menu Samples
There is no substitute for seeing actual physical examples of what we can print.
Menu Formatting
Choose from Classic and Custom Options Standard Menu Formats
The Menu is the lifeblood of the food industry. Whether it's on the wall, on a chalkboard or on the table, your menu is your brand. Our team can help you look your best with crisp color, durable paper options and custom shapes and sizes that tell customers you care about creating a quality experience.
In today's highly competitive business environment, distinctly unique marketing materials enable you to stand apart from your competitors and pique the interest of current and potential customers. Printing for Less pioneered online menu print ordering for everyday marketing materials, and today more than half of our work is "custom."
Our knowledgeable team will handle your most creative and challenging marketing strategies. We'll find the right solution for your custom printed menus from a wide selection of products and options and create a look that is as unique as your business.
Get attention-grabbing options for menus such as: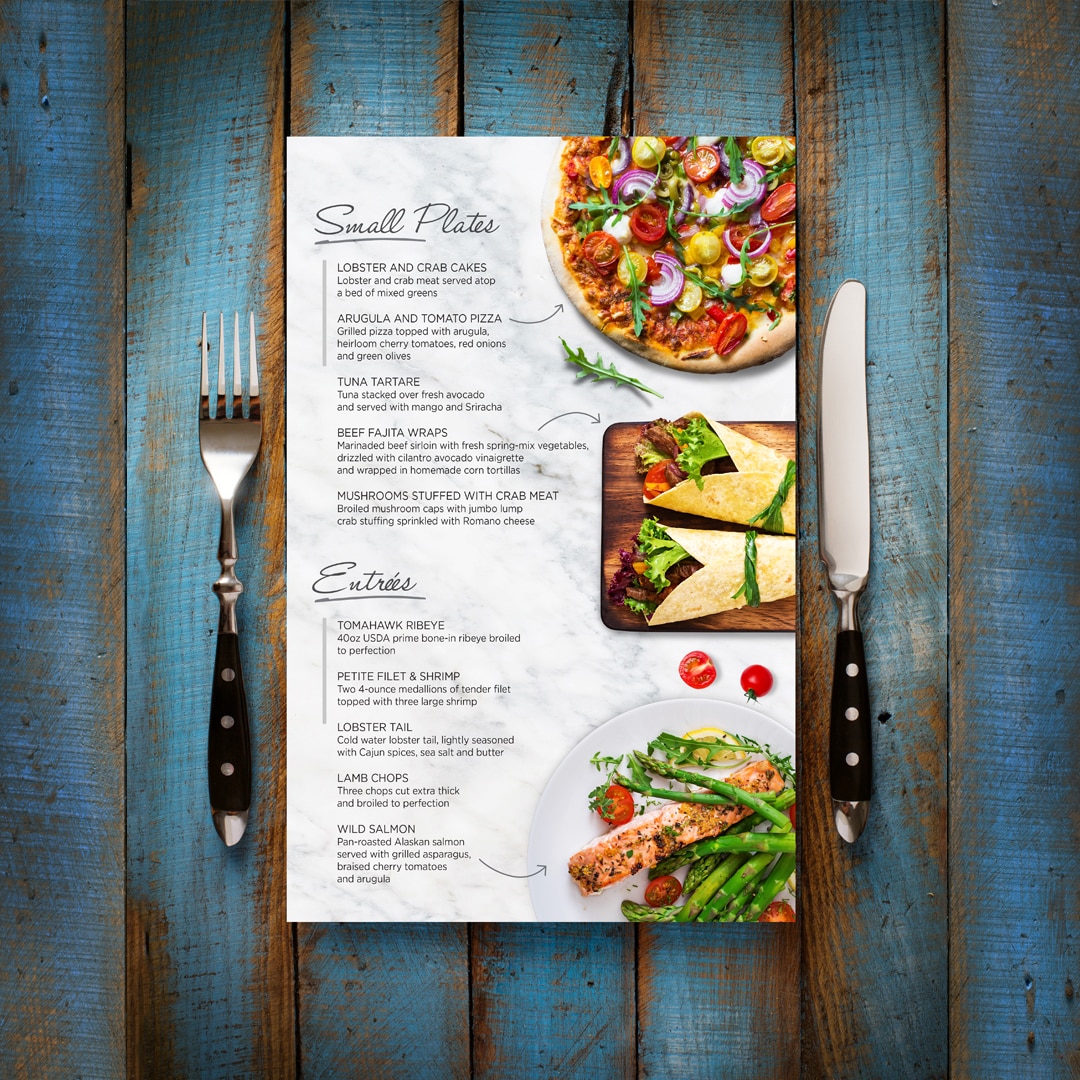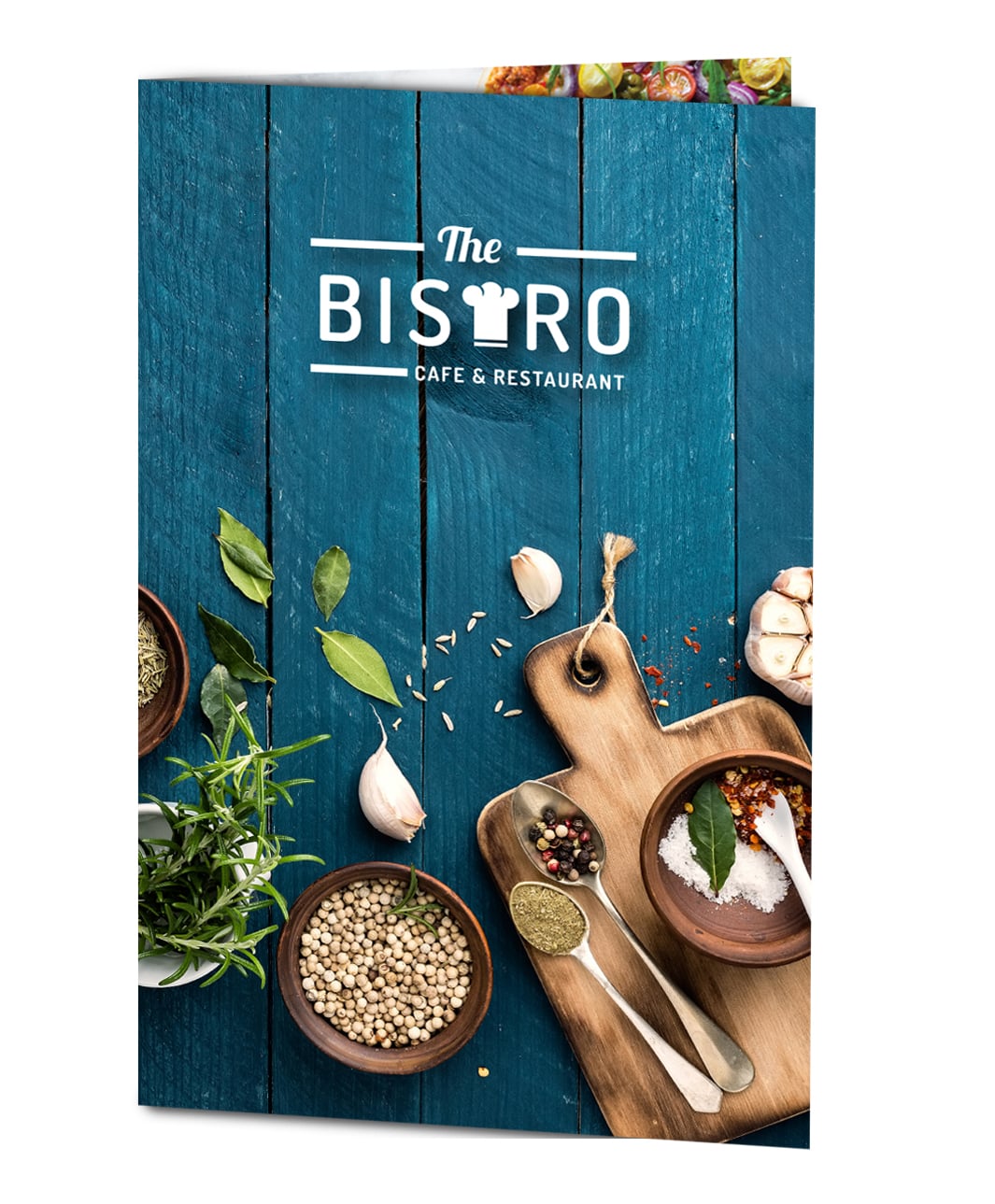 Synthetic Paper Menu Printing
We are the experts in professional menu printing on SmartFlex® plastic paper stock. Menus made from SmartFlex™ are durable and easy to clean with soap and water. We make the printing look great, and the folds even. We do it better than anyone in the industry.
SmartFlex® is water, tear, stain and heat resistant so you won't have to print your restaurant menus over and over. It looks and feels much better than lamination and lasts a lot longer.
Menu Design Services
Don't have a menu designed and ready to print? You've got options!
Would you like expert help with your menu design? Printing for Less has a team of designers who can create any custom product just for you. You will work one-on-one with your designer to guarantee your vision is realized on paper.
Our graphic designers are highly qualified and experienced (over 50 years combined!). They understand good design principles, and have extensive pre-press knowledge. But more importantly, they create designs that function the way you need them to – helping you grow your business!
Get started with a single sheet menu or multi-page, one of a kind die cut synthetic menu. Simply call
800-924-2041
and let us do the rest!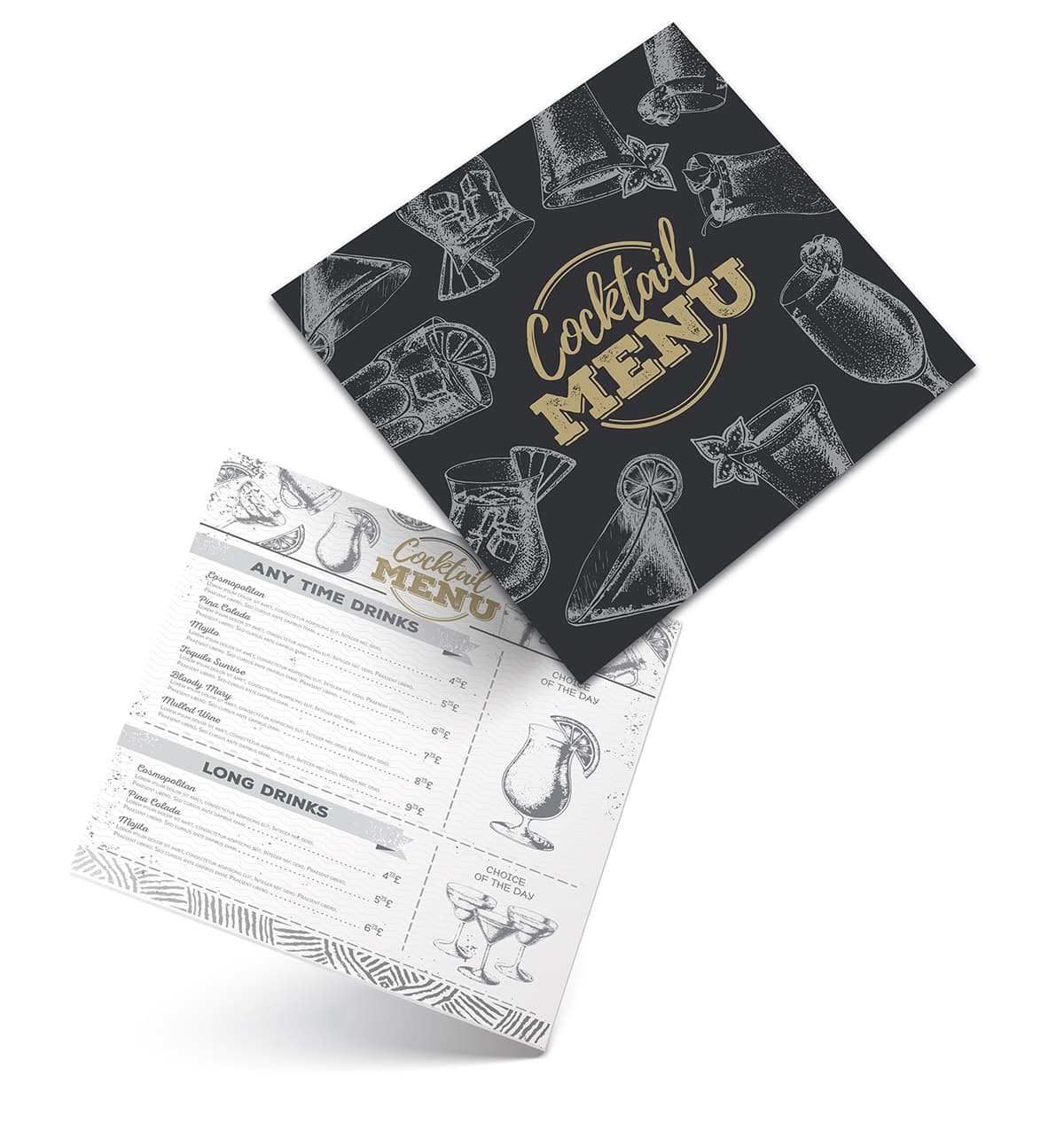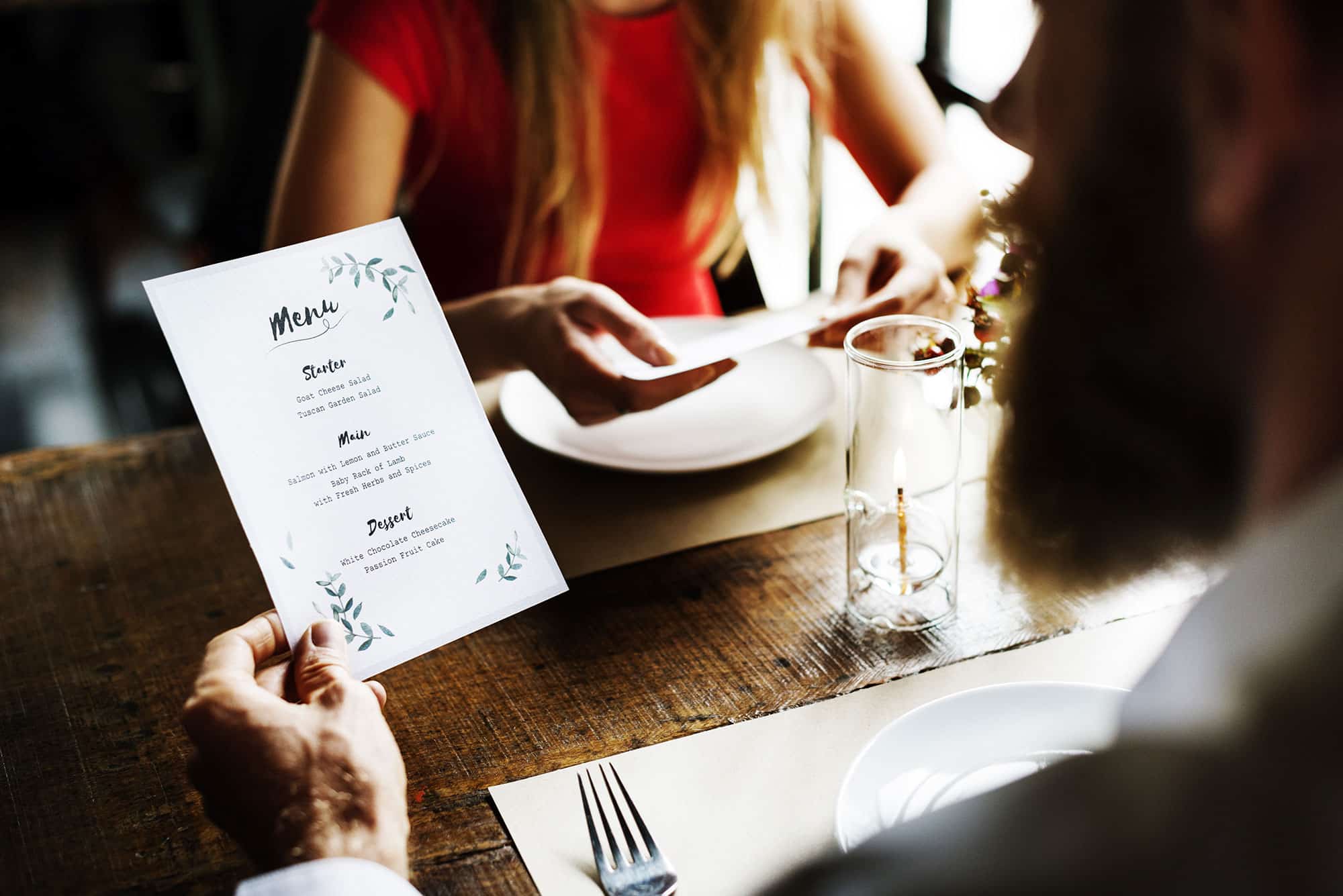 Menu Marketing
Creative restaurant menu printing is all about selling your food and beverages! A well-designed menu can increase sales and promote your business at the same time. A menu is a marketing tool and should be informative and easy to read. Your menu should also get customers excited about the food and the experience in your restaurant.
Featured Menu Design Ideas
Menus offered as a Direct Mail Piece are a great way to get the word out about your restaurant.
Mini-Menus, also known as "Pocket-Menus" or menu cards are perfect for your customers to take on-the-go.
Complement your Menu with matching Table Tents that highlight a dessert or drink offer.
Print a standard tri-fold menu that doubles as a brochure or promotional piece.
Custom Menu Printing Services
When you order a custom menu from Printing for Less, you have a wide variety of options to choose from. Make the perfect menu right down to the paper, fold, and finishing options.
---
Menu Paper Options
Synthetic/Non-Porous Stock – tear-resistant and wipe-off without a laminate
100% Recycled Paper Stocks
Basic text-weight paper stocks up to heavy cover stocks
Standard Papers: 80# Coated Cover or 120# – 14 pt Coated Cover, with Gloss or Dull Aqueous Coating
Many custom and premium papers
Menu Printing Options
Menus are available in quantities of 25 and up
Gloss or Matte UV Coating for added shine and protection
Short run digital and long run offset printing
Menu Folding Options
Half-folding and tri-folding are available for 6 pt, 8 pt and 12 pt SmartFlex and for 80# Coated Cover Stock
Half-Folding is available for 120# – 14 pt Coated Cover and 15 pt SmartFlex
Custom Folds available: Accordion-Fold, Z-Fold and many others.
Custom Menu Options
Mini menu sizing (2″ x 6″) to Giant Menu Sizing (11″ x 25.5″)
Liquid Laminate or UV Coating
High Sheen and Matte Finishes
Full lamination services
Tabbed Menu layouts
Saddle Stitched Menus
Die Cutting, Embossing and Foil Stamping
Round Cornering
Standard Menu Formats
Want to stick a little closer to tradition with the format of your menu? Here are the standard options for various sides of the industry:
---
Single Menu Page
Commonly used for dine-in restaurant menus
Perfect for breakfast, lunch or dinner offerings
Can be used for happy hour specials or bar features
Half-Fold Menu
Include your restaurant name, logo and design on the menu cover
Inside pages have two panes. Perfect for a drink menu on one side with food offerings on the other
Back page can be used to display after dinner or specialty drinks, coffee, desserts or a kids menu
Tri-Fold Menu
Commonly used for take out menus
Great for larger menus with many options
Cover can be used for logo and restaurant name
Back cover commonly used for dessert or kids menu
Long Menus
Common for wine and cocktail menus or special boards
Commonly used for featured wine, beer and cocktails
Bar food menu (if separate from dining room menu)
Booklet Menus
Saddle stitch menu
Spiral bound booklet – Commonly used for wine lists that are offered by the bottle or other very large menus.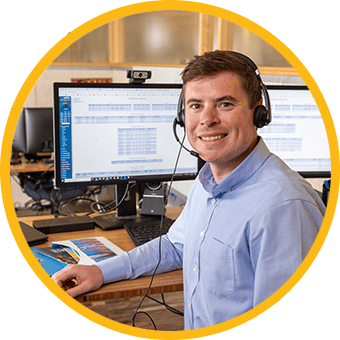 Want to Talk to a Real Person?
We've Got Those!
Want to talk about your project? Want to place an order? Want to know what the weather is like in Montana? (Spoiler: it's beautiful.)