Customer Favorites
In this age of digital fatigue, print is alive and well. That's why Printing for Less offers creative ways to put your brand in front of the customers that matter. Whether you're raising brand awareness, rewarding customers, or just doing something out-of-the-box, you might want to consider these customer favorites.
Our Services
Printing for Less is more than just a printing company. We also offer a variety of business solutions to give you the tools you need to succeed—from visualizing the initial creative for your project to the delivery of a stellar physical mailer on time and at a reasonable price. Here's what we offer.
View All
Word on the Street

Great quality as always! We are ordering from Printing for Less for couple of years already and are always very satisfied!
Dr. Julia Giyaur – New York Laser Vision & Aesthetics

The end product was absolutely incredible and thank you so much for working with me on all the details of this complicated project!
Tanya Meronk – Techretaries

Our company has partnered with Printing for Less for years. The team is always eager to help and ensures customer satisfaction!
Jessie Lowe – Creative MultiCare LLC

I loved how many times I was able to revise the product before printing.
Angel Thompson

Quick service–friendly team. Makes ordering easy!
Jennifer Szuhaj – Crossroads Transactions

Appreciate doing business with your team.
Julie Von Kahle – Retirement Security Centers

Printing for Less does a great job printing. The end products are lovely. When I call, I talk to a live person. They are responsive to my questions. The orders are produced & delivered in a timely manner.
Anonymous

Your team was informative, helpful and super fast! Thank you for your help. The product turned out great.
Maria Carlson – Kokomio

I have used Printing for Less for many years and I am really happy with your work. I don't even think of another printing company when I need things printed. I go right to you.
Susan Blizzard – Alexander Termite & Pest Control Co., Inc.

You guys are awesome! Timely, great printing, good prices, great customer service!!!
Susan Houlihan – Alpenglow Skin Care

Great Job! Fast Service
Carol Carty – Yakabod

You make it so easy to place an order!
Jennifer Walaitis – Well Oiled Wine Company

I have used Printing for Less for YEARS, and they always deliver. Good communications, reasonable price, always on time. Thanks!
Paul Herman – Robert E. Howard Foundation

Using Printing for Less for a while . We find it efficient, responsive and easy to get in touch.
Bert Tavani – Tavani Soccer Inc
Learn More About the Printing for Less Difference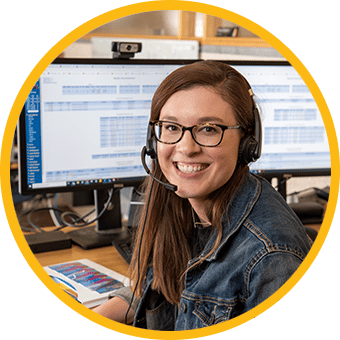 Want to Talk to a Real Person?
We've Got Those!
Want to talk about your project? Want to place an order? Want to know what the weather is like in Montana? (Spoiler: it's beautiful.)