Does Personalized Marketing Work?
Personalized marketing gets noticed. It works because a person is more likely to engage with, remember and act on messages that are tailored just for them.
Here are the numbers to prove it:
75% of consumers like it when brands personalize messaging and offers. (Aberdeen Group)
86% of consumers say personalized marketing leads to a buying decision. (Infosys)
80% of consumers like it when retailers provide personalized suggestions. (DigitalCommerce360)
Find your options – Product Templates
Call one of our friendly staff to explore custom printing options:
Pick up the phone, dial 800-924-2041.
Talk to an uber-friendly expert
Get what you need: Excellence in Quality, Affordable Price!
Find your options – Talk to a Printing Expert
Variable data printing options
Make impressions that last and increase your campaign ROI with personalized marketing. VDP is not just for large companies with huge budgets, you can start crushing your campaigns today with high quality personalized collateral. You can apply VDP to any of our digital print solutions, so the sky and your imagination is the limit.
Variable Data Printing works at scale – from small batch runs to huge marketing campaigns—and the technology makes personalized printing affordable.
VDP Products include:
Business Cards
Post Cards
Mailers
Buck Slips
CD Covers
Catalogs and Booklets
Menus
Brochures
Presentation Books
Flyers
Posters
Letterhead
Envelopes
Greeting Cards
Wedding Invitations
Newsletters
Rack Cards
Announcements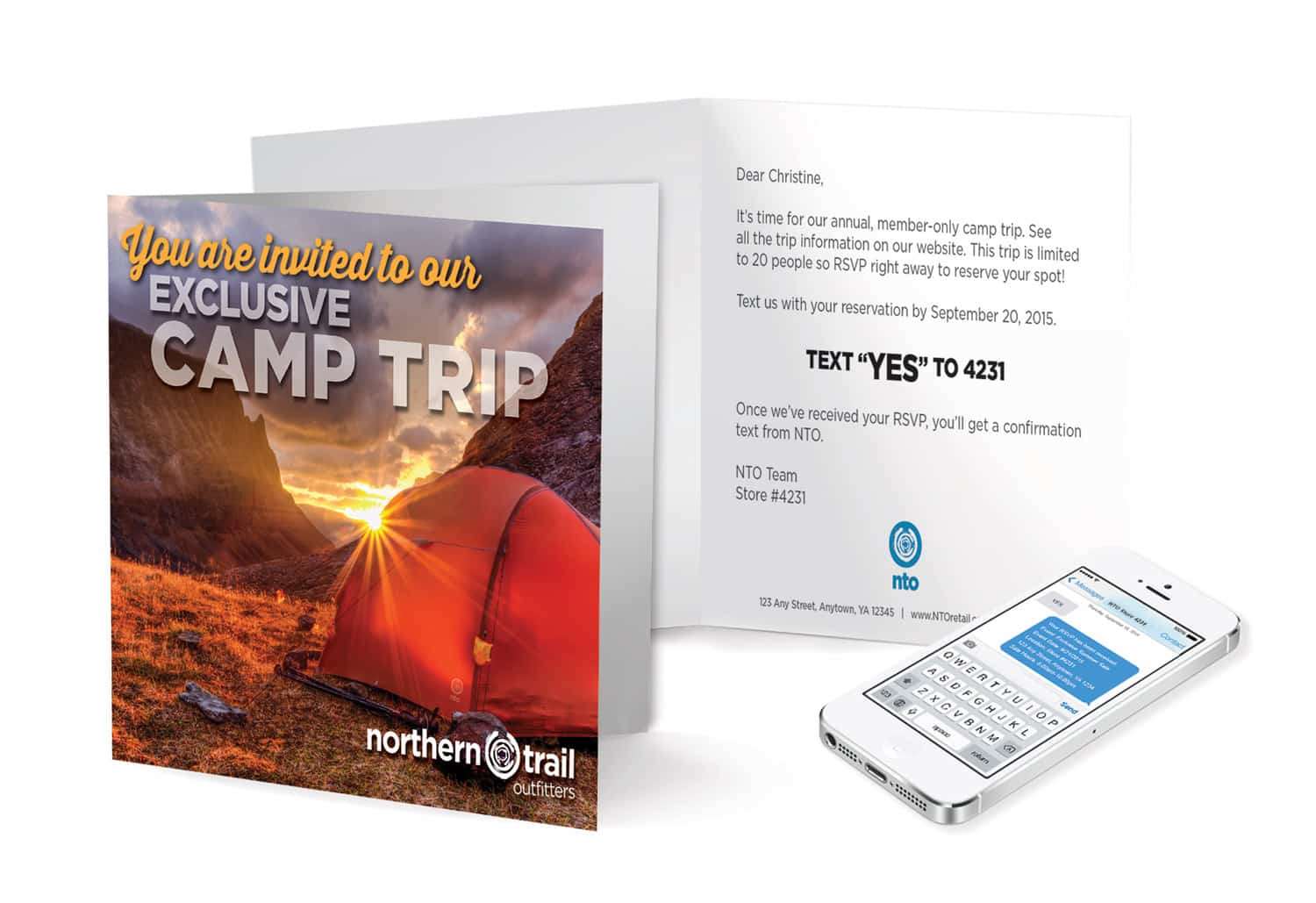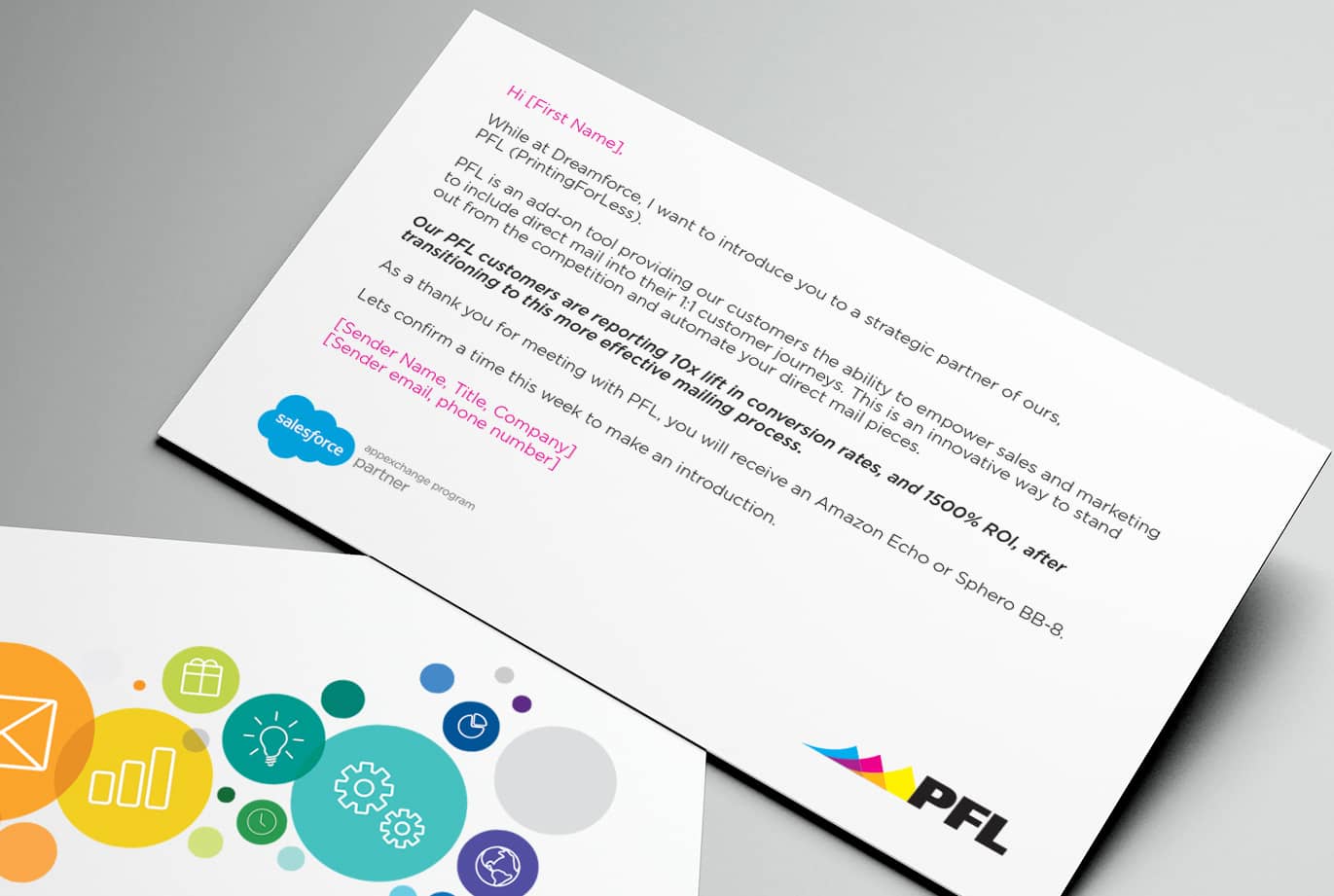 Personalized Marketing with Variable Data Printing
Personalized printing combines high tech print innovations to deliver completely customized marketing that's unique. You can insert your target's name, address, age, hair color – anything you know about them – right into the text of a printed piece. That personalized piece can be a postcard, poster, note card, envelope, brochure, buck slip, flyer, catalog and more.
Changing out names and addresses is child's play; Printing for Less can go much further. Variable Data Printing is the technology we use that allows you to change background images, colors, artwork and text based on different triggers. Print a different image on your offer for different types of customers. Send birthday cards personalized for each month of the year. Add new copy for customers that have been loyal fans.
Personalized Marketing for Businesses
Printing for Less's variable data printing technology is the perfect way for businesses to scale their personalized marketing efforts. Sending hundreds of thousands of printed pieces to customers? Printing for Less can customize each piece however you'd like. Sending just hundreds? No problem, our technology allows you to print as many, or as few, pieces you need while keeping the end result affordable. You don't need to install new software or tools to use VDP, in most cases all we need from you is data in a spreadsheet.
Send referral cards, personalized with purchase history.
Send welcome letters with photos of your customer care team.
Send individual coupons based on how long a customer has been with you.
Send specific neighborhoood demographic information to make the cards more personal.
Personalized Printing and Marketing Mailers
One of the most common and effective uses of personalized print is to have it land right in your customers' mailbox. People are more engaged when they read real mail, and your message will be even more memorable if it is individualized for each person. 79% of consumers find reading mail more convenient than reading online. (US Postal Service)
Here are some ideas to get you started:
Insurance with access codes
Letters with a sales person signature
Letters with geographic location, tax id, person's first and last name with address
Discount offers based on purchase history

Reward Mailer to i

ncentivize buying behavior while rewarding previous purchases.

Send offers to valuable customers to make them come back for more.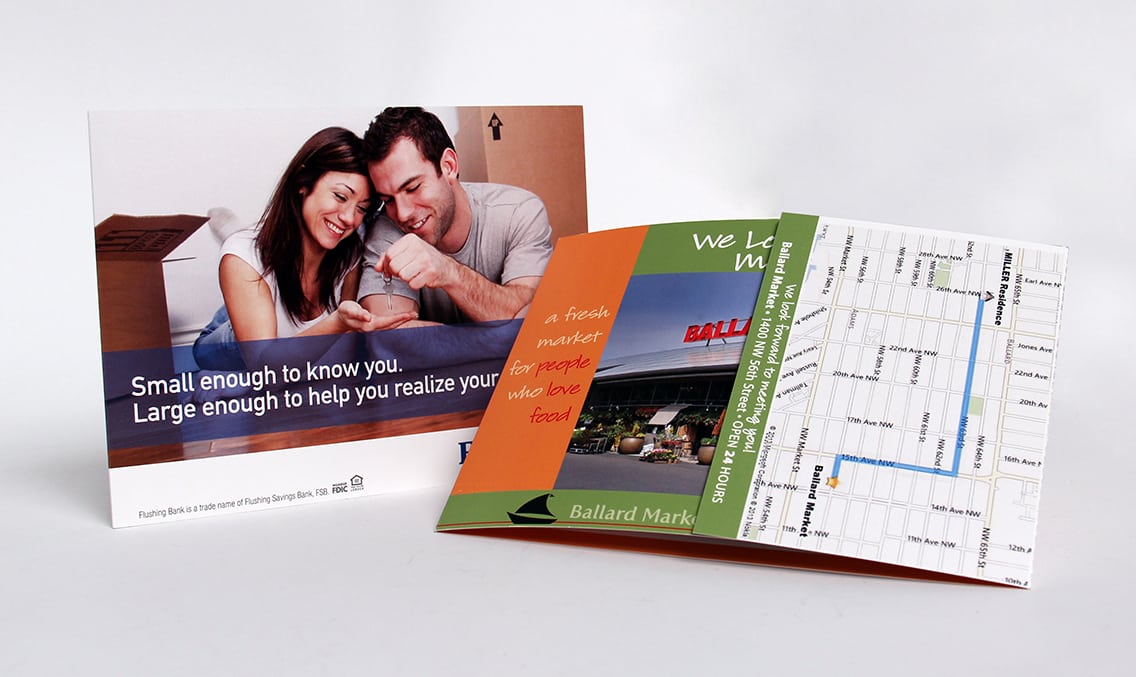 Doing more with less has never been easier.
Variable data printing lets you personalize your print with all of the details you know about your customer. Industry statistics suggest that by using personalization, you increase your customer response rate and lower your cost of acquiring customers (CAC). Don't you want to spend less to acquire more customers?
Variable inputs for customer name, location, artwork – you dream it, we print it
Short Run Printing (lower quantities): Need a small batch of print? We use toner, liquid ink and digital printing to give you an affordable option for short runs. Digital printing used to get a bad rep for looking blocky and fuzzy, but our digital presses are high end models. You can't tell the difference between our digital print and traditional offset printing unless you've got a microscope.
Personalized touch: With VDP, all of your marketing becomes personalized.
Quick turnaround: Digital printing is fast with shorter turnarounds than other type of printing. If the files are ready, we can hit print. Need to get going today?
Call 800-924-2041 now. We'll get you moving.
Need help with ideas? We can help you come up with solutions that will resonate with your customers.
Variable Data Printing on Postcards
Postcards are a tried and true marketing asset and when you add scalable personalization they become a powerful engagement tool. Postcards are the do-anything, go-anywhere printed piece. They're the right size to hold and pass around, so they benefit from adding a soft touch coating or special effect that engages the tactile senses.
Using variable data printing (VDP) to personalize a piece engages the mind as well. People are more likely to respond to a personalized message. So how can you personalize a postcard? Well, any way you want, really.
Customized Postcards Are the Perfect Fit
Postcards are the perfect size for holding and sharing. Postcards are easy to use as mailers, include with a gift, or give to prospects at an event. Personalized postcards are even better. Here's how some of our customers are using VDP to personalize their postcards and accelerate their marketing.
Change images and backgrounds to appeal to different demographics, age groups and income levels among your customers.
Apply discount codes based on customers' birthdays or anniversary dates.
If you have multiple locations, show the business address that is closest to the recipient.
Personalization Options
We work with you to figure out the best way to personalize your postcards using customer data. You can add in a customer's name, birthday, address or just about any data you have on them. But don't stop there! Change out images, backgrounds, copy and more, all based on customer data.
Different age groups respond to different messages, so why not swap out the background image on your card so it makes more sense? Create a birthday note and coupon – send it all in the mail (postcards are perfect for use as a self-mailing printed piece).
Personalized Postcard Marketing
Postcards can reach customers right in their mail box. They are affordable, fast and reliable marketing materials that can help businesses of any size. Pair that with personalization and you've got a killer solution for getting noticed and driving action.
Send birthday, anniversary or special event notices based on the customer's age
Add QR codes, personalized URLs or discount codes
Change images to match age, income or geography
Add a map from the customer's home to your business
Personalized Postcard Design
If you need help designing your custom postcard, we can help. Our team of dedicated designers will help you create a postcard that stands out and gets noticed. You can add specialized printing effects to your personalized postcard.
Soft Touch coating adds an elegant feel to your postcard.
Metallic foils and inks make your message pop, or adds a sophisticated look.
Different coatings and finishing effects give print a polished look.
Die cuts can reshape your postcard or create fun interactive elements.
Personalized Postcard Mailing Services
Postcards are meant for the mail and we'll help you make a mailing campaign wildly successful. Use Every Door Direct Mail® by the US Postal Service to reach customers in an area, even if you don't have their address. Or send your postcards out en masse using USPS Marketing Mail. We handle postage, delivery and all of the paperwork, you just enjoy the success of a direct mail campaign.
Personalized Brochures
Brochures are the Swiss army knife of marketing materials. They can go anywhere, from being sent through the mail as a self-mailer, to being left at a point of sale for your customers. Personalized brochures targeted to your customers get their attention and drive action.
Include customer names, title and details to get their attention.
Print customer recommendations or targeted coupons based on past behavior.
Nonprofits can ask for the same donation from previous contributors.
Remind them of membership, certification or license renewals.
Add special offers, gifts or more based on customer information.
Personalized Brochure Design
Printing for Less offers full design services for personalized brochures. We will help you with everything from artwork to designing the right folds. Brochures can be customized with special print effects and our designers will help you use them to their full potential.
Personalized Brochure Mailings
Get your personalized brochures directly to your customers and prospects fast. Take advantage of US Postal Service mailing services to target customers in your area, get special rates and more. The best part? We do it all.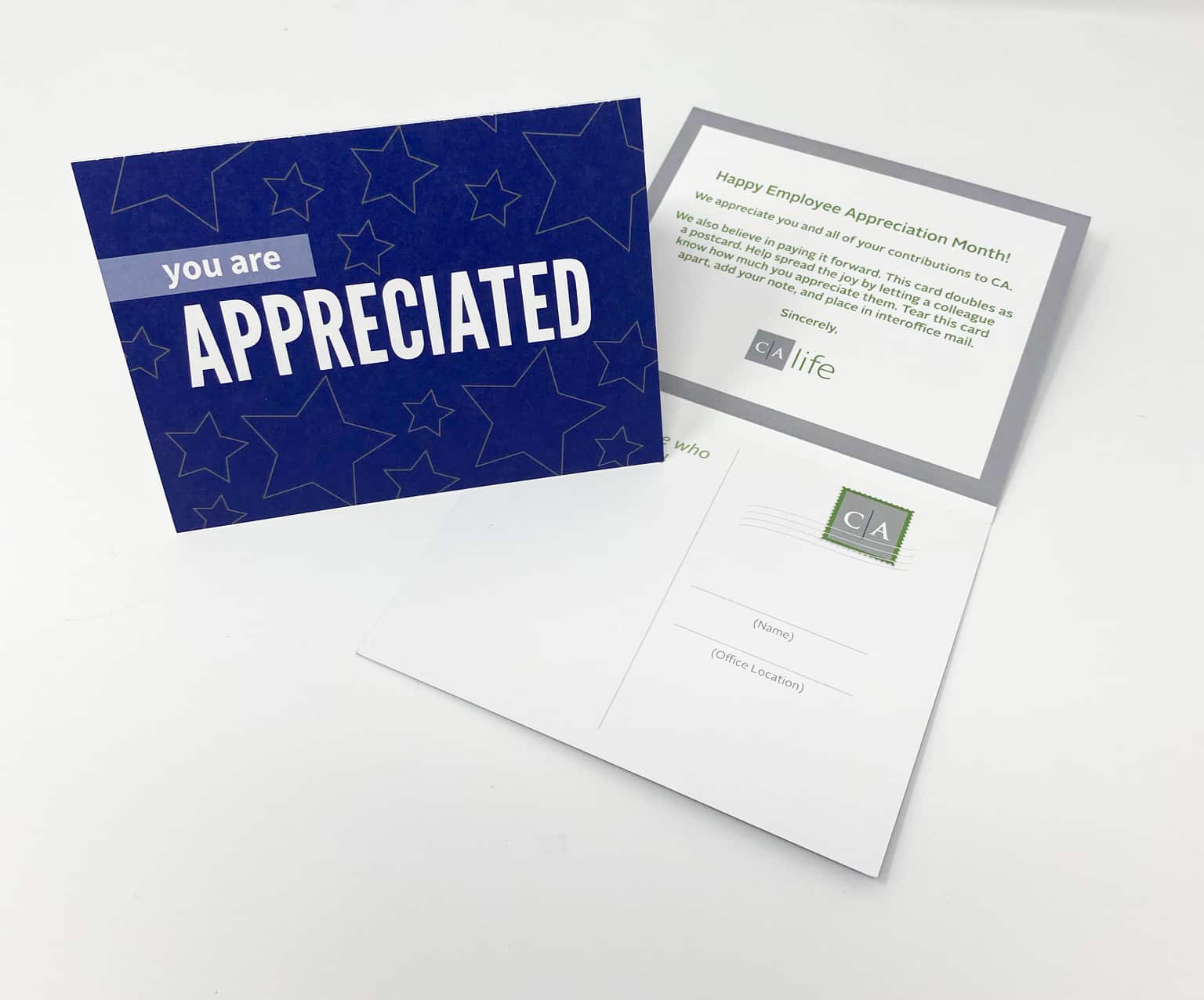 More VDP Product Examples
Mail Merge
Printing for Less takes the hassle out of your personalized marketing campaigns by handling mail merging for you. With VDP, you can sub out offers, images, names, or anything you could imagine.
Coupons
Send a personalized birthday greeting and coupon to your loyal customers with a click of the mouse. Import your customer data and we do the rest. It's that easy. One to one marketing increases response rates!
Why Use Printing for Less for Personalized Printing?
Let us help you use variable data printing to personalize every single printed piece for its exact target. Printing and mailing a thousand coupons to promote your local business? VDP allows you to customize the message for each recipient.
Printing for Less's technology is optimized for:
Rapid turnaround
From small to large quantities
Individualized printing applied directly to a mailed piece
Integration with digital promotions (personalized URLs, coupons, QR codes etc.)
Best-in-Class Customer Service
Our technology is only half of our benefit, the other half is our people. When you do business with Printing for Less, one of our dedicated three-person teams of print experts will help you be successful. Your team is always available by phone or email. They'll help you get the perfect print job, every time.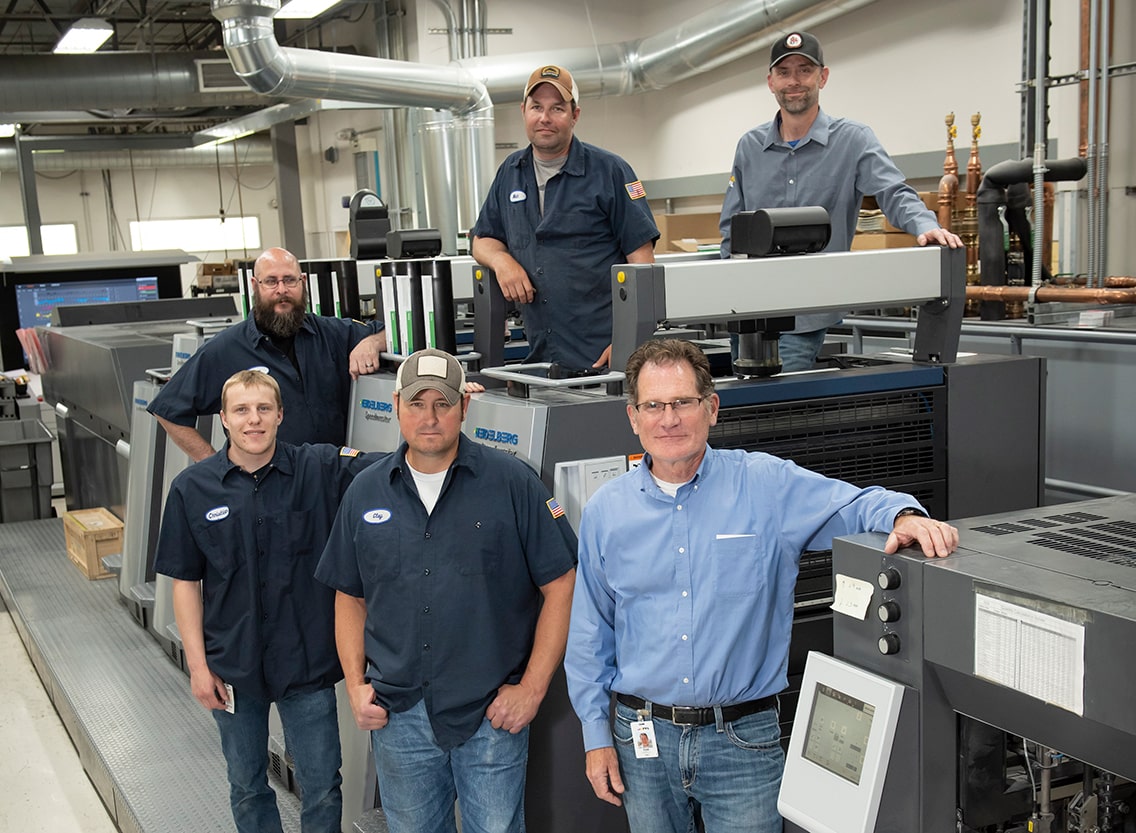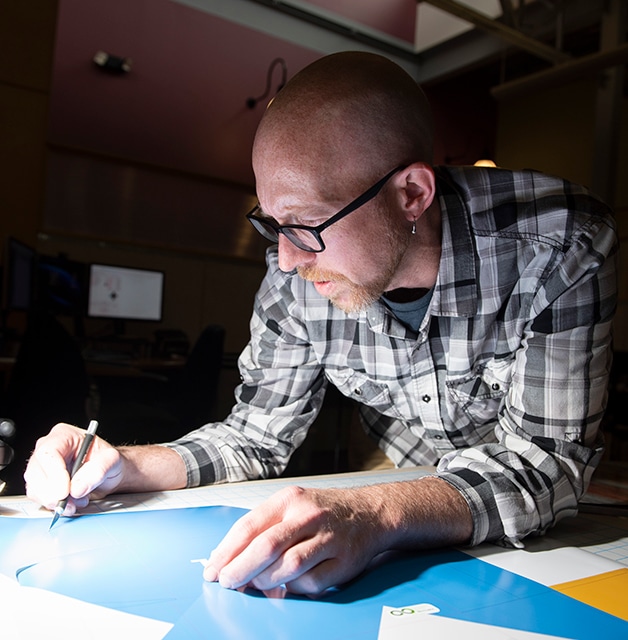 VDP Design Services
Not sure about designing your VDP project? We've got your back!
With our fast and affordable Design Services.
There are lots of custom design possibilities for VDP. Our team of designers will get your project designed and completed on time. Work one-on-one with your designer to ensure that your marketing strategy and visual ideas are realized on paper.
Design can be tricky. Let our team of experts make sure your designs are eye-catching and attention grabbing using custom printing and finishing options. Our highly qualified graphic designers will work with you to create custom pieces that show your business off and astound your customers. Need help bringing your ideas to life? Customer success is our primary focus. Our team can help with anything from design to file processing, product options and more.