Perhaps you're aiming to reach as many new customers as possible before a big promotional event. Or you just launched a new product that is a perfect fit for your existing customer base. Whatever your goals, custom booklet printing is a great way to spread your message, showcase your products and create buzz around your business.
There are times when printed materials like a brochure or a rack card don't have the space you need. Maybe the look and feel needs to be more substantial to communicate the value you offer. In these scenarios, a custom booklet strikes a great balance between those smaller formats and a larger piece like a poster.
Booklets are much like a mini-catalog and can be printed with a matching envelope or mailer, giving the finished project a polished, cohesive look. Booklets are usually assembled using a saddle stitch method that then allows the booklet to fold flat for mailing. While saddle stitch finishing is common, other options like perfect binding, square back binding or Wire-O binding can help create that particular look you want.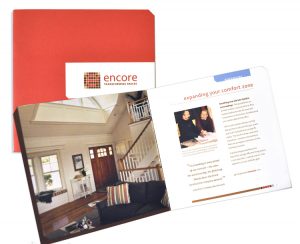 Consider a booklet when you want to highlight large imagery, like an interior designer or architect may need to do. Colorful booklets grab attention and have plenty of space to convey important details about your services or products. Attractive booklets are less likely to be thrown away than a traditional brochure and can help engage your target market.
You may want to include industry specific tips and tricks that your customer will find helpful, increasing the value of the booklet. You could position it as a "How To" guide, or turn it into a handy pocket reference that your audience will use again and again.
Another way to capture customer attention is to incorporate personalization in your booklets. Little details like printing the customer's name or targeting imagery based on their previous purchase habits with you can make a significant impact. For example, if your database shows that a particular group of customers always buy a specific brand from your showroom, you can customize each booklet for that segment to showcase that specific brand on the cover.
You can upgrade the look and feel of your booklet by graduating the size of each page assembled. This will give you attractive "tabs" that can be incorporated in the design and make it really stand out. This option is easy to implement and increases the appeal significantly. Another option to make your piece stand out from the crowd is to pick a non-traditional size, which can be easily customized to match your unique needs. We offer booklet size options ranging from small (2.95″ x 4.72″) all the way up to enormous (12″ x 13.9″)!
Need help with your print? Talk to a live print expert today: 800-930-7978.