Catalog and Booklet Printing Features
Full color on front or both sides, or black on inside pages
FREE gloss aqueous coating
Optional UV coating for extra shine and durability
Full service direct mailing
4 to 64 pages
Optional coil binding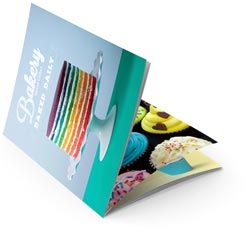 Standard Sizes
5.5" x 8.5"
8.5" x 11"
Custom Sizes Available
Short Run Catalog Printing
Quantities of 250 or less
Full color or black in any combination
Optional UV coating for extra shine and durability
Full service direct mailing
4 to 64 pages (call for more options)
Optional coil or square back binding
Many Custom Options Available
Need short run catalogs in multiple versions? Call 800-­930-2423 now for pricing!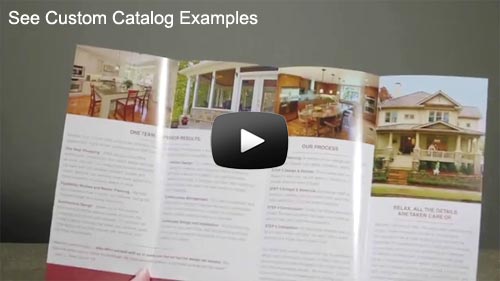 Custom Catalog and Booklet Printing Options
There is more than just the same old 8 1/2 x 11 Catalog printed on glossy paper available at PFL. We offer an amazing array of custom papers and other custom printing effects that can really make your catalog stand out. We can also bind your catalog using
perfect binding
,
square back binding
or
Wire-O binding
as an alternative to the standard
saddle stitching
or
coil binding
. Make your product catalog or booklet memorable by calling our Custom Printing Advisors today at
800-­930-2423
.
Get attention-grabbing options for catalogs such as: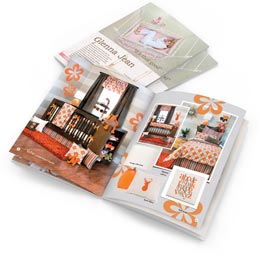 4 Ways to Make Your Catalog a Success
Catalog Marketing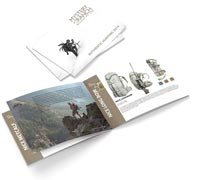 From employee handbooks to glossy, full-color sales catalogs for prospective customers or technical manuals that provide valuable information for product users, a well-designed and printed catalog or booklet can be a key factor in earning trust and generating results. With our hands-on attention to detail and superior paper stock, PFL is the place to have your booklets and catalogs printed.
Catalogs are a department store standard, but you can easily use them for any business. Highlight seasonal inventory and specials on a quarterly basis. Provide some editorial content or customer education, creating more of a magazine/catalog hybrid. The options are limitless!
You can build your own catalog or booklet in two standard sizes, the handy 5 1/2 x 8 1/2 Catalog or the ever-popular 8 1/2 x 11 Catalog, or create your own custom specs. PFL offers anything from a simple brochure folded to make a four-pager, all the way up to a 64 page, full color, saddle-stitched (stapled) at the spine or coil bound mega marketing tool.
Custom catalog printing sizes, formats and papers as well as additional custom finishing can be used to create distinctive designs and shapes. Rounded corners are not a problem. UV coating is a breeze. Can you have a thicker paper on the cover than your inside pages? Absolutely! Foil stamping and embossing? Multiple catalog binding options? Sure! Anything you can imagine we can create. We'll handle all of the technical details like shingling and head trim, leaving you free to create a catalog that SELLS.
Place an order online or call PFL today at 800-­930-2423 and talk to one of our Print Consultants so you can make catalogs a key lever of future growth in your business!
Catalog Mailing Services
All of your hard work to design and print a beautiful catalog is lost if you aren't able to get it in front of potential buyers. Our team can help you decide on an appropriate size for mailing, whether it inserts into an envelope or gets wafer sealed, where the address should be located on the piece and the right mail class to make sure that you get the best postage rates available. We can even help you find a targeted mailing list that fits your customer profile.
The PFL Mailing Services Team is the best in the business and will help you navigate the complexities of working with the USPS. Call us at 800-­930-2423 for information and pricing.
Mailing Services Pricing
As your one-stop shop for printing and mailing, you can price and order your direct mail piece right on our ordering pages for postcards, brochures, newsletters, catalogs and greeting cards.
On the product ordering page, enter your print Quantity in our InstaPrice® calculator and select your options.
Enter the quantity of pieces to be mailed and your preferred mail class in the Mailing Services section to get the price including mailing.
More helpful mailing tools and information:
You can do great things with catalogs.
Take a look at these catalog samples from our customers: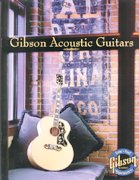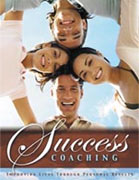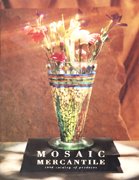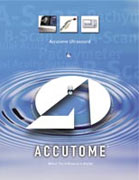 PFL is a marketing technology company that provides printing, mailing, fulfillment, and marketing automation services to over 200,000 businesses from startups to the Fortune 500. Our 100,000 sq. ft. state-of-the-art facility provides a one-stop shop for all your company's needs, from marketing advice, design services, sustainable print and mailing solutions since 1996. Our highly qualified team of 300+ employees deliver exceptional print quality with award-winning customer service backed by our A+ BBB rating and 100% satisfaction guarantee.