You have probably not heard the name Gerard Huerta, but you have definitely seen his work. This designer's resume reads like a World's Most Recognized list of iconic logos. His career was launched at CBS Records in New York, after graduating from Art Center College of Design. While with CBS Records his work focused on letter forms and logos. He completed work for Boston, The Charlie Daniel's Band, Blue Oyster Cult, and Bob Dylan to name a few. Entirely too cool! This designer is the real deal!
As his career progressed he designed album covers for AC/DC, Foreigner, Firefall, and The Outlaws. While I was rocking out at the concerts, Gerard was somewhat more productive, helping develop their iconic images. But don't get the idea he is the "geek behind the image"! Gerard is a guitar player in his own right, playing in several bands over the years.
His unique style and creative renderings have opened doors for him across all industries. Gerard has designed logos for Swiss Army Brands, HBO, Pepsi, Spelling Entertainment, Nabisco, Calvin Klein's Eternity, and Arista Records. But this isn't even digging into the meat of his work. He has also designed mastheads for People Magazine, Time Magazine, Money Magazine, PC Magazine, Architectural Digest, and Conde Nast, to, yet again, name only a few.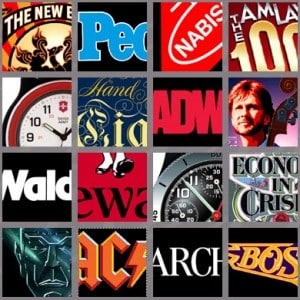 Most designers search for that perfect font to compliment a client's design. However, Gerard creates those original fonts with an eye for subtlety that has become an artistic signature on all his work. In fact, his letter work is a far cry from your average font work. Letter work is his specialty, making Gerard a bit of a designer's designer. Elevating the alphabet to an art form, he is currently a part of the "Letter as Image" exhibition that has traveled from coast to coast. He is a self-described "old-School" designer who still starts much of his work on paper before moving to the computer.
"When you are stuck, walk away from the computer and draw. It will teach you how to see." Gerard Huerta
When you need artistic lettering and a traditional "font" won't do, we suggest you contact Gerard. His talent can help you get a truly original logo and the look you are envisioning.
We appreciate your business Gerard and wish you continued success in your career! Need help with your print? Talk to a live print expert today: 800-930-7978.