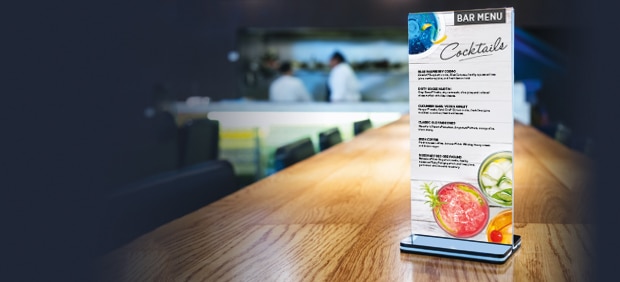 A menu is the only form of advertising that is guaranteed to be seen by your customers. If you're reading this, you aren't willing to settle for any ordinary menu. And why should you? With a large variety of paper stocks and custom printing effects available, you don't have to succumb to standard ink and paper. Take charge of your menu. Create a memorable and impactful piece that grabs your customer's attention. Interested? Check out our insider's tips below.
Know How to Fold Your Menu
Seriously? Fold my menu? Is this really your tip? Yes! Folding your menu is actually important! It reduces the size of a menu without compromising the space for messaging. Physically smaller menus are easier to maneuver in crowded restaurants. Folds create small sub-sections within your general menu. Creating a separate panel for appetizers, entrees and desserts draws attention to the fact that your customer may want a starter, main dish and after dinner treat. Folds can be used to steer your customer's attention in the direction you want. A compact, well designed menu helps your customer navigate through your offerings.
Expert Advice: Consider the placement of your text and photos when you are designing your menu template. Don't place text or entrée images over a fold because they will be hard to read.
Standard Folding Options
Half-Fold Menus
A half-fold is a single sheet menu printed on both sides and folded into half. Perfect for menus with two categories such as appetizers and entrées. You can easily separate your menu into two sections while keeping a front and back cover for your company logo and information.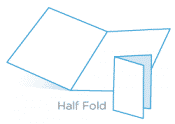 Tri-Fold Menus
A tri-fold menu is a single sheet of paper printed on both sides and folded into thirds. They are perfect for a large menu or a menu that offers variety. Tri-folds allow several panels for multiple categories such as breakfast, lunch and dinner options.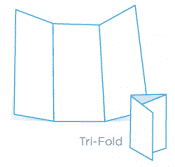 Don't Forget Custom Printing Effects
Special Effects encourage your customers to interact with your menu. They draw your customer in and leave them with a lasting impression about your premium establishment and menu options. Wondering what effect will give your menu the biggest impact? The answer depends what you're trying to achieve.
Here's the Skinny:
Spot UV
Use Spot UV to draw your customers attention to a particular item on your menu such as your world famous cheesecake.

Gives an image or text contrast so it pops off the paper. Text or images with Spot UV catch your eye when a menu is tipped back and forth.
Foil Stamping
Adds shimmer and texture to help highlight a specific word or image.

For an example, make your business logo stand out with foil stamping.
Metallic Inks
Special inks with reflective metallic particles. Metallic inks create a subtle shine and luster you won't see with standard inks.

Use metallic inks to highlight your company name. Make menu text pop by using silver ink on a black paper stock.
Embossing
Creates a raised, three dimensional image.

Use embossing on your company logo to convey your premium market position.
Die Cut
Allows you to create a unique shape for your menu (Ex. wine bottle, hamburger or surfboard).

A die cut can create a cut out, layered look or special image design on your menu.

For an example, embossing a triangle with an image of a pizza slice helps customers make the

unconcious connection between a shape (triangle) and your renowned deep dish pie.
Use SmartFlex® Paper For Tough Menus
Yes, it is a thing and yes, it does exist! SmartFlex® synthetic paper is water, tear, stain and heat resistant. It is durable and can withstand spills. With SmartFlex® you will save time and money because you won't have to keep printing your menu over and over.
SmartFlex looks and feels much better than lamination AND lasts much longer.
Sound amazing? Well, it is!
Need help with your print? Talk to a live print expert today: 800-930-7978.