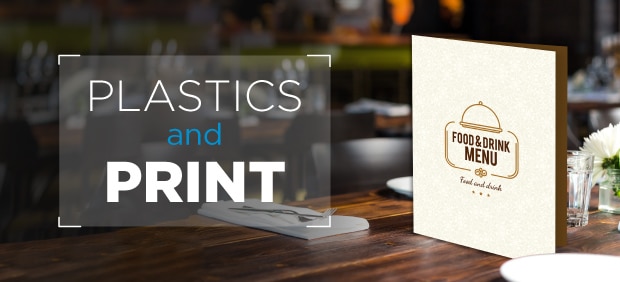 We've added some real innovations to the printing industry in our 20 year history, and one that we're really proud of is SmartFlex® paper. This is a synthetic paper that is made from plastic but has the same look, feel, and properties (well, the good properties) of regular wood-pulp.
We developed this paper stock and put it to use printing anything that needs to look perfect, but still be perfectly indestructible. How tough is SmartFlex? Well, here is a list of its superpowers:
It can't be drowned – totally waterproof, your printed materials can go for a swim.

It can't be torn – incredibly tear-resistant, you can't accidently tear the edges of SmartFlex prints.

It's always looks great – stain-resistance means coffee can't harm it, making SmartFlex a great choice for menus.
Obviously, we love SmartFlex and we're proud to bring innovation to the printing landscape. We also know how to print on plastic paper, winning tons of awards for our quality and customer service, but SmartFlex is just the tip of the plastic iceberg. There's a whole world of plastics to explore.
Plastic Cards
Stand out with a plastic business card – perfect if you're the sort of person that works on or near water or the outdoors. You can use affordable plastic cards to create your own membership cards, renewal cards, and personal entry or data cards. Think items like magnetic strips, barcodes, and personalization is out of your budget? Think again!
Take a look at plastic cards for a variety of uses if you're exploring new marketing options. They can be added to direct mail sends or other printed pieces where they form a very official, tangible centerpiece. Plastic cards have an air of authority and can boost others' perception of your company.
Menus and Brochures
Plastic paper like SmartFlex® really shines when it is used in a food and beverage environment. The plastic paper comes in different weights (sorta like thickness) that can be folded into familiar (or unique) menus. Just like regular paper, you can get SmartFlex in a variety of finishes and coatings – but no matter what you choose, you're going to benefit from the waterproof and stain-resistant superpower of plastic paper. Not to mention, it's basically indestructible so your customers won't be banging up your menus, leaving them looking dingy and grubby.
Brochures, maps, and field guides are all great options for synthetic paper.

Hang-tags
Hang-tags cover a range of items, from door hangers that can be used as marketing materials to ID or parking badges for hanging in, or on, a car. Hang-tags are often exposed to the elements and need to be protected from the weather. Plastics are a great idea, and if the plastic is coated with any type of protective coating, such as a matte finish, it will help reduce the effects of light fading the ink over times.
Thick Outdoor Plastics
Sometimes you need to go big or go home. The thickest types of plastic we print on is called Styrene. Made from composited layers of plastic, this material comes in a range of sizes and is so thick it can't be folded, but it can be die cut and it prints very well. This rugged material can be used in outdoor promotional materials, window cards, lightbox signs, bus stop advertisements and anything that needs to take a serious beating.
Special Effects and Plastics
Because of the special way plastic reacts to ink, there are some printing effects that can't really make it into plastic printing.
Pantone colors, or spot color can't usually print on plastics (it would make them way too expensive).

Metallic foil doesn't work well on plastics.

Embossing plastic cards, like a business card, is really only possible if you do a special font and restrict the embossing to just number and letters – perfect for something like a credit card, but you can't emboss your logo.
Some effects look really, really good with plastics.
Plastics can fold very well, if they're not too thick.

Die-cut plastics look fantastic.

Special UV effects and metallic foil tend to pop on plastics.
Plastics are an exciting new world for printing. Plastic printing is functional, beautiful, and plastics are completely recyclable. We are leading the industry in plastic-based papers.
Need help with your print? Talk to a live print expert today: 800-930-7978.