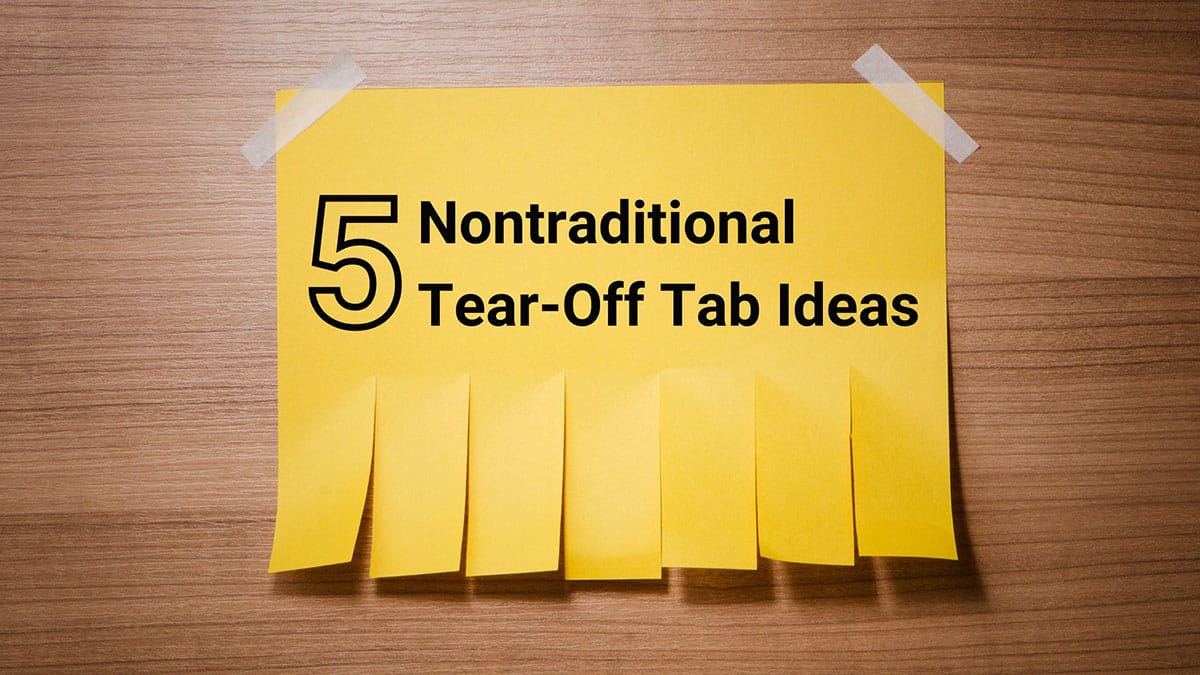 Tear-off tabs have huge potential: micro-perforations in print media add a degree of interactivity and can even result in dual-purpose marketing materials. Despite these benefits, however, many brands overlook this print effect in their marketing strategies, limiting their use to coupons. In this article, we want to showcase some less popular (but still highly effective) tearable print ideas, from reply cards to business cards, and beyond.
Why use tear-off tabs?
We've said it once and we'll say it again: adding an interactive element to your print marketing is a great way to engage with customers. Tickets, coupons, rip cards: all these things give consumers something tactile to engage with, while simultaneously promoting your brand through special deals or advertisements.
Tear-off tabs—particularly coupons—are a fantastic way to promote in-store shopping. "If you're trying to move more foot traffic to your store, or if you're trying to move inventory at your brick and mortar, then giving away tear-off coupons that can be redeemed in person rather than online is advantageous," explains Printing for Less' Nathan Garner.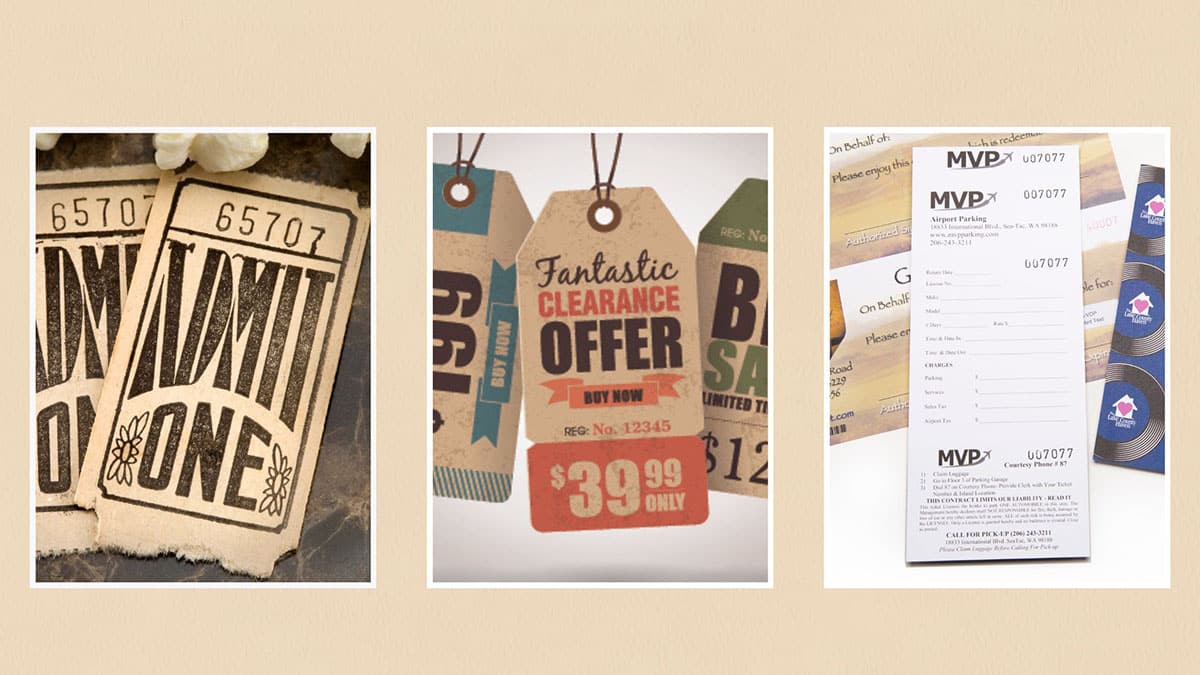 More than just coupons
Tear-off tabs are typically associated with coupons, but they have enormous potential beyond this application. Here are some of our favorite nontraditional tear-off tab flyer ideas.
Reply cards
You've likely come across these before, possibly while leafing through a magazine. Reply cards, or business reply cards, are essentially pre-stamped postcards that your clients or prospects can use to get in touch with your business directly. All they have to do is fill in their name, contact details and send it back in the mail. Reply cards are ideal tear-off prints as they can be placed in magazines, flyers, or coupon books. And there's no single purpose for reply cards: they can be used to gather information about customers through simple survey questions or to drive subscriptions. Reply cards can also be included alongside event invitations. Invitees simply have to make their RSVP choice, tear off the card from the invite, and drop it in the mailbox. Easy peasy.
Tickets
Tear-off tabs have traditionally been used for tickets. When you buy a concert or movie ticket—at least the non-digital kind—ushers will tear off a portion of the ticket, leaving you with a stub. Brands can use this approach in their marketing by creating event tickets or even raffle tickets that feature a promotion or advertisement on them. With raffle tickets especially, participants will hold on to their ticket stub at least until the raffle winners have been announced. A cleverly placed advertisement could therefore end up catching their attention as they'll have the ticket in hand. Moreover, a well-designed raffle ticket with a catchy graphic could encourage ticket sales and boost raffle earnings.
Interactive pages
Tear-off pages also present a unique opportunity for interactivity. You can easily add a puzzle page or coloring page to a catalog or booklet that customers can tear out and give to their children or fill in themselves. James Casey, Printing for Less Customer Advocate, describes a print job he is working on: "it's a catalog with one spread that's uncoated and perforated so that kids can tear it out and color it in." Adding a touch of play to print marketing is a great way to get audiences to engage with your brand—and maybe even get it displayed on the fridge at home.
Gifting tags
We've all been there: digging through drawers for a black pen to hastily scribble over the price on a gift. It's not ideal, but the alternative is removing the tag entirely (no more gift exchange) or leaving the price visible (a big no-no). Fortunately, there is another option: tear-off gifting tags. This type of tag, which is becoming increasingly common, consists of a two-part tag that lets customers easily tear off the price of a product without damaging the tag. "I'm working on a gifting tag project for a charcuterie board kit," says Brooke Seidel, Quad Lead at Printing for Less. "It has the artwork and barcode on it, and then the price is on a tear-off tab so it can be ripped off if the customer wants to gift it."
Business cards
If you're looking for a dynamic way to distribute your business cards in a particular community, consider designing a rack card or door hanger with a tear-off business card attached. It's effectively a two-for-one print: you can share details about your business' latest products or services in the main part of the ad, while giving your audience the option to tear off a business card that they can slip in their wallet for future reference. This strategy is common in real estate, where agents can feature recent listings and distribute their business cards simultaneously. Ultimately, it gives prospects a direct invitation to get in contact with your business if the ad catches their interest.
Get in touch today
There are countless creative ways to integrate tear-off tabs in print marketing, and Printing for Less can accommodate your vision. We can perforate many types of paper and card stock, as well as apply a wide range of print finishes, like die cuts, or Spot UV. Get in touch with a member of our team today to discuss the best rip card options for your brand or campaign.