Dave Attwood, of Langford, British Columbia, Canada has been entertaining audiences worldwide with one of the top ranked pod-casts on the planet earth. That's right, earth is proud to have him be a voice for magicians and comedians everywhere. His show, aptly named, "The Dave Attwood Show", is a platform to rant about everything from current events to evolutionary psychology (feel free to look that one up, I had to). Dave takes to the "pod-waves" with his co-host, Jen Stevens, and nothing is off-limits.
Their quirky, upbeat style is easy to listen to and is even somewhat informative. You can hear a few of their recent podcasts to get a feel for their witty banter and inviting style. I noticed that Dave is growing in the iTunes rankings, so I cordially invite you to help him climb the iTunes podcast charts. You will be helping a great show while being entertained, thrilled, and stimulated; mentally of course. Just go to iTunes and search Dave Atwood, you will find what you are looking for and can subscribe from there.
We like our neighbors, the Canadians. We are happy to help you with your print project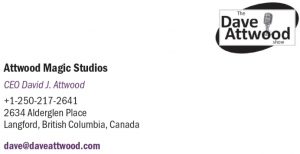 even if you are North of our border, or if we are South of your border, depending on your perspective. Dave prints his business cards with us. His logo is straight forward, just like his show and the cards look fantastic. Dave had this to say about his recent printing experience with PrintingForLess.com, "I sincerely can not say enough just how thrilled I am to have used your services. I will DEFINITELY be using your company for ALL my printing needs." Thanks, Dave, we appreciate your business!
When you are ready to work with a professional, commercial printer, who backs all their work with a 100% money-back guarantee, give us a call, 800-930-7978. You will be assigned your own 3-person team of printing experts to help make your project a huge success. Whether you need simple business cards, brochures, catalogs, postcards, or any other printed item, we are here to deliver the best quality and service in the industry.