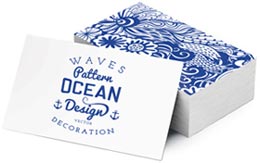 Business cards are the ignition switches that start the ongoing conversation between your prospects and your brand.
PFL can create traditionally styled business cards for our clients, but we also specialize in unique designs that use size, shape, color, font, and materials to create a card that is distinctly yours. Think folded cards, custom die-cuts, pop-ups, double sided, magnetic, plastic, vertical, horizontal, and more! What do you want your card to say about you? We'll help you create something that reflects everything you do for your customers.

We can handle your standard 2" x 3½" cards,
but we can go above and beyond those limitations.
Any custom finishing, shape, stock, foil stamping, or embossing you can dream up, we can create. Try extra-thick 24-point paper to really stand out. One sided or two sided, black and white or full vibrant color, our accurate cutting and thick high-quality standard stocks make us the business card authority.
For business cards that make a statement about your business, contact a PFL Print Advisor today. You'll be amazed at our fast turnaround, superior quality, and affordable pricing. To get in touch with our on-call design team or to receive free samples, call us now at 800-930-2423, or click one of the buttons below.