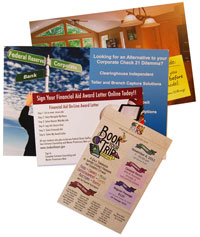 Postcards prove that even in our digital age, the printed word still has great power.
Postcards can turn your head, inspire and excite you. Think of the resort postcard that lands in your mailbox and makes you want to book a reservation that day. Or the postcard that reveals an irresistible home for sale. Even though you are happy where you live, you wind up taking a house tour. The visual tied to the message really inspires people to act.
The staff at PFL can assist you in printing the personalized postcards that take your business to the next level. While 120# glossy paper stock is most popular, we have a range of stocks and finishes to choose from. Our standard sizes are a great place to start, but we can make just about any size and shape that you like. Print on one or both sides, include text on the back and print in full color if you like. It's up to you. We'll include aqueous coating for no charge, plus you can really get some attention with super shiny UV coating.
And don't forget to ask how we can get the word out for less than the postal service through PFL's Mailing Services! Our experts have the knowledge to save you time, money and hassle by printing and mailing straight from our facility.
Don't wait for prospects to find you. Be proactive and go after them. Place an order online or call us now at 800-930-2423 for a custom quote or free samples.
Postcard Marketing Strategy

For many people, the word "postcard" inspires images of swaying palm trees and tourist traps. But they are also a powerful tool in any direct mail marketing campaign. Postcards are affordable and easy to design and send. As email boxes swell and people ignore online ads, direct mail like a postcard offers a fresh way to attract attention. They stand out because people just don't get that much mail anymore. And a well-targeted postcard marketing campaign can drive great results, from revenue growth to subscriptions to event attendance. Postcard marketing must be done right to be effective. Here are some ideas to help you create a profitable campaign.
Set a Goal
An effective postcard marketing campaign starts with a goal. Postcards are a great way to generate sales inquiries or get people to visit a store or restaurant. But because they're small, they're not so good at providing detailed information to close a sale. Good goals for postcards include getting people to: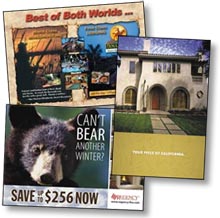 Go to your website or social media accounts
Visit a store or try a restaurant
Make an appointment
Request an estimate
Use your postcards to create interest and attract leads. Don't try to use them to make immediate sales.
Know Your Audience
Profitable postcard marketing is targeted to a particular audience. Targeting saves money because you don't send postcards to people who aren't likely to ever become customers. It also helps you create a message that will resonate with your audience. Find your target audience by identifying traits of your best or ideal customers. How old are they, where do they live and work, how much money do they make, what's their lifestyle, what do they read, and what challenges do they face? Your ideal customers will be similar to the people who already buy from you.
Choose the right mailing strategy to reach only your target customers.
Based on your marketing goals, you might decide to:
Once you know your goals and who you will send cards to, you can set a budget and design a postcard that will have maximum impact.
Postcard Marketing Tips
Deliver a Clear Message
The person who retrieves your direct mail postcard from the mailbox may only give it a quick glance before deciding whether to toss it in the recycling bin. That means your message must be short, clear and easily scanned. These postcard marketing tips focus on creating a message that attracts attention and encourages action.
Keep it simple.
A postcard that's cluttered with tiny text is hard to read, looks old-fashioned and feels like "junk mail." Pare down your message to convey only what's necessary. Remember, you're trying to intrigue people, not give them all the details they need to make a purchase.
Be clear about the benefit you're offering.
Don't just describe the features of your product or service. Tell people how it will help them. For example, a postcard for a lawn care company describes features when it says "Our organic products destroy weeds without harming the environment." A postcard that focuses on benefits might say "Give your family a beautiful lawn without risking their health."
Tell readers exactly what you want them to do.
This known as a "call to action." Calls to action include messages like "Call today for a free in-home estimate," "Visit our website to download our free financial guide," or "Use this coupon to get 25% off a large pizza." Calls to action lead customers to the next step in the sales process. Without them, you might have readers, but they won't become customers. If you want website visits, make it easy. To get postcard readers to your website, they must read the card and then go to a computer or mobile device. Make this effortless by using a simple, easy to remember URL or QR code.
Personalize your message.
A postcard that reads like a personal note have a much higher response rate than a more general one. Consider including the recipient's name in your text. Colleges do a great job of this when marketing to prospective students, using headlines like "Steve - we've waived your application fee!" You can get this level of personalization by using
Variable Data Printing (VDP
) which allows changes to copy, images or just about anything on postcards.
Use the back of the postcard.
While the front of the postcard should contain your main image and text, clearly communicate your offer on the back too. Mail carriers must read addresses, so it's likely that your card will be address side up when it's retrieved from the mailbox.
Make it timely.
It's an old trick, but it works: create a sense of urgency with a time limit. Your offer might have an expiration date, or you might offer an additional bonus for those who act quickly. Postcards are the perfect way to get an urgent message to someone - they're easily scanned, easy to keep, and can serve as a physical coupon.
Include an offer code or coupon.
Offer codes and coupons build urgency, make the reader feel special because they're getting a great deal, and help you identify who's responding to your offer. This allows you to track your return on investment.

Make Your Postcard Design Stand Out
The content of your postcard is important, but a great design will really grab attention and help you avoid the recycling bin. Like your written message, your overall design should be simple and uncluttered. Here are some specific design tips:
Use high quality images - but not too many.
Remember, you're trying to attract leads, not make a sale, so you don't need to show every aspect of your product or service. Choose one or two great images that will intrigue people and make them want to learn more.
Use quality card stock.
It isn't expensive, and it makes a great first impression. Don't try to save money on cheap card stock!
Use bold text.
Postcards get noticed but you've only got a few seconds to make an impression stick. Make it easy to scan with bold text and high contrast colors. Create a professional-looking design. We can help you find an eye-catching, polished look that coordinates with all your other marketing materials. You can also use our
postcard mailing templates
to design your own.
Consider special papers and finishes.
They cost more, but oversized postcards, specialty finishes and
tear-off cards
can be cost effective when they lead to a higher response rate. Consider what will bring the best response from your target audience, and test different materials to see what works best. Of course, the final ingredient in a successful direct mail campaign is getting the postcards in the mail. At PFL, we can handle that for you. Our printing and marketing services include addressing and mailing to a targeted list, or to a specific geographical area through
EDDM
. You don't have to ship a single box.
Need help with your printing project? Give us a call at
800-930-2423
.