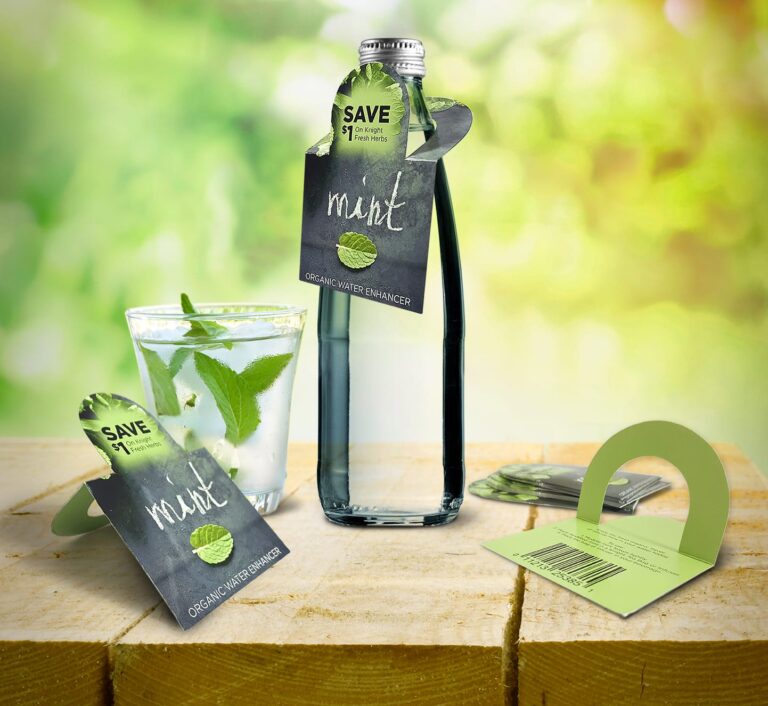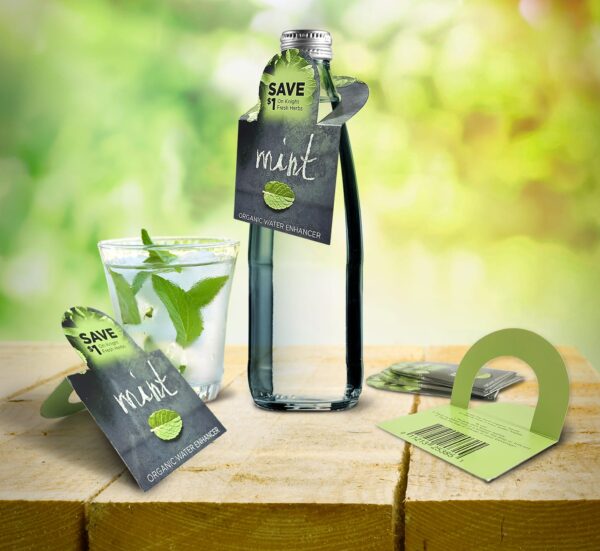 Great advertising happens in the most subtle ways. It's not the giant billboard ordering us to buy a product that has the biggest impact on our purchasing decisions, it's the quiet tactics that seamlessly integrate into our daily routines.
Take a drink bottle for example. How many times in the past few hours have you taken a swig from your bottle or seen people around you do the same? Whether staying hydrated with water, waking up with a coffee, or enjoying something a little stronger, we all love our liquids. As a marketing vessel then, drinks are perfect—not only do we interact with them on a regular basis, but they're also readily on display for the rest of the world to see.
Our experts explain how to best leverage drink advertising, how printable media makes it possible, and how it leads to bottomless brand opportunities.
Wait, I Can Advertise on Bottles?
It's true! You can advertise on bottles, and it's a pretty savvy marketing move to do so. A bottle is essentially a blank canvas for you to customize and ensure that your brand personality is as refreshing as the drink itself. You can opt to design and print specialized labels yourself to stick on bottles or you could partner with a drink company to be included on the labels they create. The latter option could be your logo, a joint competition, or a QR code directed to your website.
Literally, billions of drink bottles are produced and sold every year, meaning the scope for exposure with drink advertising is huge. And, considering that a print label is relatively inexpensive, you can see significant returns with only a small investment.
Ways to Do Drink Advertising
There are a number of routes you can take on your drink advertising journey. For example, you could choose to create a square label to print and stick on the bottle, you could make tags that sit on the bottleneck, or you could decide on a koozie, can, or bottle cover, that keeps the drink warm/chilled.
Whatever accessory you land on, be sure to stay consistent with your branding elsewhere by using the color, fonts, and messaging that is immediately associated with your brand. Don't be afraid to be creative and playful – you could reference the fact that you're advertising on a drink and tie your copy into the experience. For instance, your copy could mention that people might be starting their day with a caffeine boost, rehydrating at halftime during a sports game, or unwinding with a friend and a glass of wine.
That's what makes drink advertising so powerful: it naturally slots into everyday activities.
Who Should Use Drink Advertising for Their Products?
Brooke Odell, our National Account Executive, says that drink advertising can be successful for any company. Melanie Handl, our Custom Solutions Team Lead, agrees, saying that drink advertising materials can be used by a lot of different industries.
"Hang tags and bottle neckers can be used for virtually anything in the food and beverage space, cleaning products, beauty products, and stand-alone items like toys and candles."
Nathan Gardner, another National Account Executive, adds that co-branding with drink advertising is beneficial because you can leverage other brands' audiences and reach. "If someone is loyal to their favorite drink, you can take advantage and present your brand on that bottle, which leads the consumer to associate your brand with their existing trusted choices, and increase the likelihood of them becoming loyal to you too."
Making the Most of Your Drink Ads
Like any form of advertising, drink advertising is an excuse to get innovative and explore what best aligns with your brand DNA. Brooke recommends experimenting with bottle hangers that unfold and allow for more real estate to add information and artwork. She also suggests including a QR code to connect the offline and online experience and to maintain a clean label.
Speaking of clean, Custom Solutions Team Lead, Melanie Hall, believes that it's important to keep things simple. "Make it easy to read or tell your product story through a great photo. Color can also help draw the eye when people are walking down an aisle in a supermarket."
Elsewhere, Katie Shelton, our Ecommerce Sales Manager, says it's worth spending a little more money on your label to get a custom die shape or a special finishing option. Remember, the more you can make your bottle stand out, the more of a lasting impression you'll make with the person drinking (and the people around them).
Other ideas include branding the outer packaging of the bottle, such as the box or case packs, or to design label wraps, shelf talkers with coupons, and removable adhesive stickers. With these physical advertising bases, you could then introduce strategies like BOGOF (buy one get one free) offers, coupons for where the product is displayed, and peel-off promotions—all of which drive more, and deeper, brand engagement.
So, if you're ready to quench your customer acquisition thirst, look to drink advertising. Not only is it a lesser-known way to speak to customers, but it also comes with big exposure and big traction. Get started with our custom sticker and label printing services to ensure that your drink advertising makes a real splash.
Cheers!