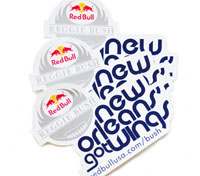 From small to large, standard sizes or distinctive shapes, labels and stickers are a great way to promote your business. As product packaging, labels and stickers also work well as an additional form of marketing and advertising for your products or services.
Another creative and popular marketing technique is using Window Decals and Window Clings to highlight your products or services.
Lables can be provided on sheets or as roll labels. We offer several different adhesive paper stocks, from matte to gloss finish, full color, black and white or even custom inks, and we can accommodate just about any size, shape or finish. Additionally, we can print your labels and stickers to be food safe, so labeling for food jars or food packaging is a solution we provide. Reach your customers with a fun, unique printed piece today!
Bumper Stickers are another great way to get a lot of brand exposure with very little expense. Be seen wherever you drive.
PFL is a marketing technology company that provides printing, mailing, fulfillment, and marketing automation services to over 200,000 businesses from startups to the Fortune 500. Our 100,000 sq. ft. state-of-the-art facility provides a one-stop shop for all your company's needs, from marketing advice, design services, sustainable print and mailing solutions since 1996. Our highly qualified team of 300+ employees deliver exceptional print quality with award-winning customer service backed by our A+ BBB rating and 100% satisfaction guarantee.