Choosing a Printing Service for Your Project
As one of our oldest industries, there are scores of "printing" choices, but what are the differences in printing services and methods, and which is right for your project? There are three key factors that will help you determine what type of printing service is right for you and your budget: Quantity, quality and production speed. Here's a rundown on the types of printing services and their relative pros and cons.
---
Standard Business Printing Services and Methods
Desktop Printing

Need to run only a couple dozen copies of a flyer, a few manuals or one-at-a-time invoices? A desktop printer fits the bill. Whether laser or inkjet (using toner as opposed to ink), printers you have in your home or office produce instant copies with acceptable quality when using good paper. Once your quantity requirements increase, however, your actual ink and paper cost can get expensive as a do-it-yourselfer. To minimize your per-piece cost, or if you want higher quality, special printing effects or promotional printing on substrates other than paper, you'll need to find a printing service for your project.
Digital Printing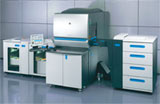 A digital file is sent from a computer directly to a toner-based digital press or copier. Because there are minimal set up costs, digital printing services are most cost effective for low run printing, such as 100 flyers or postcards, a few posters, or for creating complex document compilations such as training manuals. Short turnaround times are another reason to use digital printing when speed is critical. Digital printing quality doesn't quite offer that "professional" look you get with traditional commercial offset lithography printing, but as equipment improves, it's getting closer.
Special, high-end digital printers are used for large format printing, such as for large posters and vinyl banners.
Offset Lithography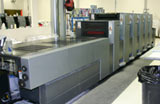 It is the most widely used printing service. Offset printing is where ink is transferred, or offset, from metal plates to a rubber cylinder or "blanket", then onto the paper. This printing method accommodates the vast majority of commercial printing needs. Print projects such as a glossy brochures, postcards, business cards, stationery and catalogs are common offset projects. The advantages are rich, accurate higher-quality color and details and lower unit cost for volume quantities (250-500 pieces or more). Offset printing can take a little longer than digital printing due to the time needed for creating plates and for the ink to dry before cutting and finishing. Offset is generally not offered in smaller quantities, due to the initial set up costs involved.
Learn more about offset printing, the type of printing we use for most products at PrintingForLess.com
Offset presses are either "sheet-fed" with individual sheets or paper or "web-fed" with rolls of paper. Sheet-fed presses are generally used for short to medium runs of standard business marketing printing, while web presses are most cost-effectivene for high-run commercial printing, usually of magazines, catalogs and books (around 20,000 quantity or more) and for newspaper printing.
Printing Services Compared
| Standard Printing Type | Quantity – lowest unit cost | Quality | Production Speed |
| --- | --- | --- | --- |
| Desktop printing | Less than 50 pieces | Good | Immediate |
| Digital printing | 50-250 pieces | Good | 1-4 days* |
| Offset lithography | 250 or more pieces | Excellent | 2-6 days* |
Take some time and ask yourself: What matters most to you on your print project? The size of your marketing campaign, your company's image and quality needs, any looming deadlines and your target recipients' expectations are important considerations to weigh when you are looking for the best printing service match for your project.
Other Printing Services
Gravure Printing
Rotogravure presses are the fastest and widest presses in operation and are mostly used for huge industrial runs of magazines and direct mail catalogs.
Engraving, Thermography, Flexography and Screen Printing
Engraving is used on fine stationery, while thermography is a lower-end process that creates an engraved or raised printing effect. Flexography is generally used on packaging, such as food labels and can be used for printing on non-paper mediums such as plastic, metallic films and cellophane. Screen printing services are used for T-shirts and billboards.