Foil Stamped Brochures
Foil stamping makes an ordinary brochure shiny and irresistible.
Foil stamping is a special printing process that uses a heated die to press pigment or a thin metallic film onto a sheet of paper. It's often combined with embossing to make words, logos and graphics literally jump out from the page.
You can use different types of foil stamping for different effects:
Add some shiny bling by using metallic foils in colors like silver, gold, green, blue and orange.
Make a bold statement with gloss pigment foils – you choose the color.
Go for elegance with deep colored matte pigment foils.
Be unique with special texture foils like marble, wood grain, leather or pearl.
Go high tech with a holographic image transferred onto a special foil.
---
Planning Your Foil Stamped Brochure
Foil stamping is most effective as an accent to make one part of a brochure stand out. It needs the right paper, placement and color to look its best.
Foil stamping works best on smooth, thicker paper stock. For best results, make sure your brochure is at least 80#, and stay away from textures like linen that can keep the foil edges from looking crisp.
Foil stamping can be used on folded brochures, but it can't go across a fold. Make sure your foiled words or design won't end up in a crease.
Because foil stamping is opaque, you can use a light colored foil over a darker background. As with all printing, your foil will stand out better if there is a strong contrast between the foil and the background.
Get the Most out of Foil Stamped Brochures
Brochures are a staple of trade shows and tourist attractions, but they're also great for a host of other uses, including menus, coupons, event invitations, maps and even resumes.
To promote your brand identity, choose brochure colors and textures that are consistent with your values and the way you want people to view you or your company. Bright gloss foil stamped colors say "fun" on a cupcake shop menu, while silver and gold imply wealth and trust on a financial planner's brochure.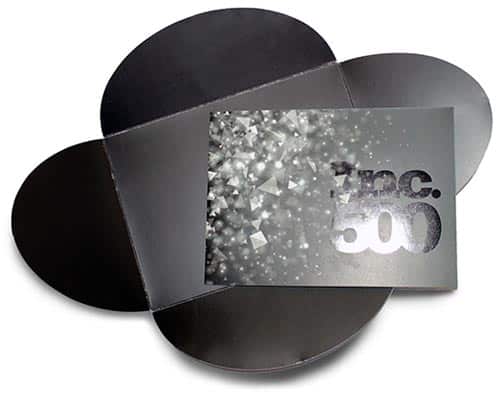 Because brochures have more space than print ads or postcards, they're a popular option for describing a business or product. Focus on the benefit to customers and give them enough information to keep them interested – but not so much that they're overwhelmed.
Brochures should have a call to action that tells people what you want them to do next. Foil helps your call to action stand out. For example:
Put your phone number, email or web address in foil.
Include a map with a foil star showing your location.
Use foil on social media icons.
If your brochure will be on a brochure rack, put the foil stamping on the front of the brochure, near the top, where it's easy to see from a distance. Use bright, shiny colors so visitors can't help but take a second look.
If you're mailing your brochure, use foil on the front and back to make it stand out from other mail.
If customers will bring your brochure home and save it for future reference, use bold foil accents to attract their eyes from across a room or inside a drawer. Your potential customers may have a stack of takeout menus or trade show brochures – foil can ensure that yours is the one that gets a second look.
Foil stamping gives brochures a fresh look that attracts attention. Highlight the action you want people to take and a simple brochure can have a big impact.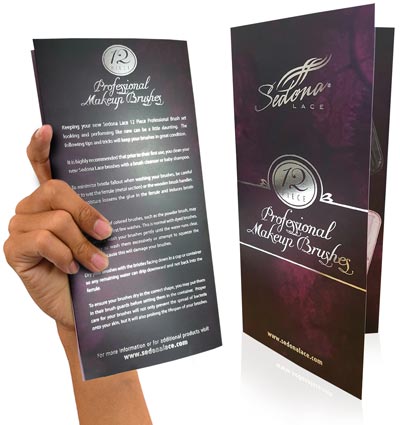 Need technical or creative advice on your foil stamped brochure project?
Give our helpful experts a call at 800-930-6040.