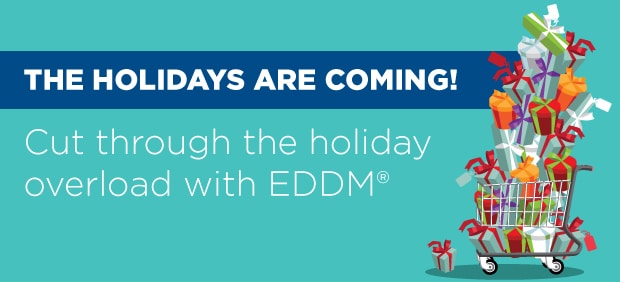 We know…who wants to think about the holidays in the middle of the summer? While it's not tops on our list of fun things either, we recognize that in between pool sessions and BBQs we should probably be thinking about holiday promotions. They'll be here before you know it, and if you take the time to plan for them, you'll be able to sit back and watch the business roll in this fall and winter.
If you're like many businesses, you may rely heavily on email marketing. You may even have a marketing automation solution that is automatically sending your holiday promotional content! If so, good for you, and by all means continue to try and engage your fans through email.
But there's a dark side to holiday email marketing. A dark, black hole. According to the 2016 Email Marketing Metrics Benchmark Study by IBM, there's an 18.8% lower open rate for emails sent between Nov 27-Dec 31 (p21). There's also a significantly higher rate of email send during that time, with companies "often doubling the number of [email] sends" during that holiday window (p21).
How Do I Get My Business Noticed?
So more email, lower open rates…what's a business to do? The best answer is to use all the channels available. Continue your email outreach, but make sure you're not lost in the digital onslaught. How? Use a well designed postcard and Every Door Direct Mail® (EDDM®) delivery from the US Postal Service to get your message literally into the hands of your buyers.
The numbers show that, despite common wisdom, people love opening direct mail. It can survive a trip through the holiday black hole. In the 2015 DMA Statistical Fact Book, the Direct Marketing Association lays out some compelling stats about the efficacy of direct mail. Did you know:
Direct mail has a 3.7% response rate, compared to 0.62% of all digital channels combined

42% of direct mail recipients either read or scan the mail piece

Only 44% of advertisers are using three or more channels, which means more opportunity to get noticed using mail
Best of all, EDDM® is easy to set up, easy to use, and gives you great bang for the buck. Let's dig a little deeper and see just how easy it is to get started.
Using EDDM® Postcards – Your Secret to Success
When you use EDDM®, you should keep a few things in mind. First, the very name is a reminder of what you're doing; you're sending a promotional mailer to every door that exists on a specific postal route. Because EDDM is geographically targeted, it's a great tool for engaging your customers and prospects that are close to your location.
Next, think about what to send. Using EDDM ® will have some impact on your mailing options, since there are specific size requirements for these mailings. See Templates for EDDM® mailers here.
One tried and true piece of collateral is the postcard. Whether you choose standard sizes or opt for a large version, a vibrant postcard with a strong call-to-action will make an impression and get results.
If you haven't designed a postcard before, take the time to learn some of the recommendations and best practices for building a strong piece. Our EDDM® Success Kit is a great place to see examples, learn best practices, and understand how to track the impact your campaign has on business.
When thinking about the postcard for your campaign, consider custom options to help your message stand out even further. Own a pizza parlor? Send a postcard die-cut to look like your best-selling pie. Include scented ink to get their mouths watering. What's that? Yes, there is scented ink and it really smells like pizza. Want something more hands-on? Use a scratch off covering to hide a coupon code.
Best of all, EDDM ® mailings are cost effective. Whether you are sending 5,000 or 15,000 pieces, you can usually get into the hands of your audience for less than 40¢ per piece.
How Do I Get Started with Postcard Marketing?
There's really no bad time to start your campaign, but as you think about the holidays you should be thinking sooner than later. Consumers are gearing up for big holiday spending and you need to be top of mind as they're heading out the door.
Give yourself at least two weeks of lead time from when you place your order to when you want your piece in the hands of your audience. That's enough time to have your postcard printed, get your mailing list vetted and let the postcards flow through the mail.
You can compress that timeline, but since you're getting in front of it early, there's really no need. Good job!
Ready to get started? Contact us today to talk about postcards and EDDM. Call (800) 930-7978 or email us to get your EDDM ® postcard campaign going. Your business, and your customers, will thank you.