Point of Purchase Displays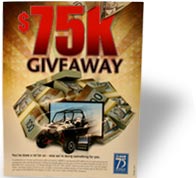 Point of purchase, that ideal juncture where the consumer, their money, and the register converge is a marketer's dream. Best practice for retail marketing is to engage the consumer at points of decision. A study of consumer behavior conducted by Prime Consulting Group revealed that at-retail advertising drove additional sales higher 70% of the time. What can we learn from this, class? …….Point of Purchase Display advertising works, period.
---
Point of purchase displays can take many forms, from an easel back table top to a simple counter card. Even a basic table tent can serve as a point of purchase tool. The case being made is that when these items are placed, they positively impact revenues.
You are smart. You probably already know the benefits of custom point of purchase (POP) displays. However, let's review, just to be thorough.
POP Display Benefits:
Positively Impacts Impulse Buys
Strengthens Branding
Keeps Your Service or Product Top of Mind
Advertises Special Promotions
Reminds Customers of your Benefits
Increases Market Exposure
Countertop advertising is your friend in the marketplace. Consumers are often standing in line with little to entertain them. Keep this in mind when designing your countertop display. An attention grabbing display will yield ideal results. If you're ready to get started on your point of sale display, we are prepared to exceed your expectations. Our experienced printing professionals will assist you in getting that sophisticated, polished POP that generates positive results.
Call 800-930-6040
.
POP Display Features:
Flat Folding for Ease of Use
Sturdy Construction
Double Wing locking tabs
Recyclable Materials
Finishing Options: High Gloss, Matte
Customized Print on Rack Card or Brochure Holders
Can be tailored to hold your company literature
Fine White Micro-flute or Durable Cardboard
Aqueous CoatingBranding Graphics
Compact Footprint (space-saving)
Custom POP Designs and shapes available
Easel Back structures
Counter Card options
Some Point of Purchase Display Options
Standard Table Tent, Standing Triangle, Folded Stand, Die-Cut Self Stand, Brochure Holder

Are you ready to POP yet? Our printing professionals look forward to assisting you.
Just call 800-930-6040 to get answers to your questions or