Print Folding
Folds can be anything from a standard brochure tri-fold to a more complex snake-fold. Folding as part of the design concept offers an affordable way to increase the impact of a printed piece. Print folding is not for brochures alone. Business cards, menus, hang tags, catalogs, and newsletters can all incorporate folds to increase appeal. If you will be designing your own piece, utilize the folding resources on our site and the information below to help you get the best results.
---
Panel dimensions, paper weight and layout specifications are among several considerations when designing your folded piece. For example, it is a common mistake to lay out a tri-fold brochure as three same sized panels. The panels actually need to be slightly different sizes, which can cause imagery and copy to be off-center when not taken into account. We have many resources to help you understand paper folding and to provide inspiration for folded marketing pieces. Contact one of our friendly print experts for assistance at 800-930-6040.
Brochure Folding: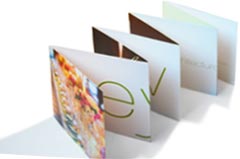 Standard folds include tri-fold, half-fold, Z or accordion fold, 4 panel or double parallel fold, quarter fold, gate fold, and half then tri-fold. Printing for Less offers downloadable templates for each of these so that you can design your layout confident that it meets printing and folding guidelines.
We are also able to work with you and your designer on custom folds that require more hands-on attention. Call one of our custom experts at 800-930-6040.
Business Card Folding: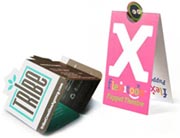 You may not think of folding when you consider business cards, but perhaps you should. Folding a standard sized business card allows for twice the real estate to communicate important information while keeping it compact, easily fitting into a wallet. A simple half fold is usful and attractive, and a trifold can even act as a mini-brochure.
Card Folding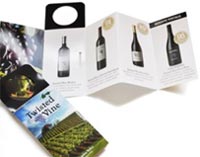 Postcards, greeting cards, hang tags, bottleneck tags, and direct mail pieces are all candidates for incorporating a fold. Folds are perfect for including more product detail while remaining compact. A "Z" or accordion fold can be used with a die cut to create a commercial piece that reflects well upon your brand and gives customers all of the information they need.
Call one of our friendly printing experts now at 800-930-6040 to help you get started with some great fold concepts. High quality printing and folding are a perfect combination for your marketing materials.