Bottle Necker Design
Twisted Vine Wine Bottle Necker

Target
Want your product to stand out from the crowd and give it the attention it deserves? Bottle neckers, bottle neck tags or bottle neck hangers are becoming an increasingly popular point of purchase technique for wine and other beverage producers, and makers of other items sold in bottles such as health, hygiene and food products.
They are great for promotions, coupons, recipes or an inspirational message for your current or potential customers. Bottle neckers create an immediate call to action right at the point of sale. They attract a consumer's attention to your product, help promote your brand and help communicate who you are to your consumers. They are a key component of a successful wine printing and marketing strategy.
---
Appeal
Product Image – The image on the cover is sure to grab your attention. The scenic view of Twisted Vine makes you want to open the piece and see what's inside. Once the piece is unfolded it showcases the different bottles of wine they offer and includes a description of each.
Informative – The bottle necker is full of information starting with a note from the owners of the winery about the different wines. The majority of their wines include a rating from Wine Spectator based on taste and quality. They also include their contact information with a picture of themselves adding a personal touch to the piece.
Paper – The designer chose 80# gloss text which provides a shiny finish for the rich colors in the piece. The paper is about as thick as a magazine page making this piece easy to fold and place on a bottle without being too bulky.
Attention Directors
Format – This 9.875 x 5″ die-cut wine bottle tag is scored and accordion folded down to 1.75 x 3.5″ giving each panel the ability to showcase a bottle or wine. The flap on the front cover hooks around the bottle neck hanger allowing the piece to close nicely.
Background – By having a white background the wine bottles stand out on their own so you can focus on the image and description of the wine.
Motivators
The images of all the different wines they offer definitely perks the consumer's interest and pallet for trying a different wine next time or adding a few more bottles to their shopping cart. Along with the images are brief descriptions of the type of wine and highlighted flavors. Best of all 3 out of the 6 wines scored in the 90s out of a possible 100 points on the Wine Spectator Rating. This score lets the wine connoisseur or wine novice know Twisted Vine offers quality wine they won't regret purchasing.
Summary
Utilizing bottle neckers to decorate your bottle with information or a promotion will help your brand stand out from the rest and increase sales. By adding a little extra marketing messaging and flare with a bottle neck tag your product will command the attention it deserves. But don't think they are just for wine or drinks, they can be used for salad dressing, shampoo bottles, medicinals, olive oil, sauce bottles and more.
Call today for a quote on your next project. We can help you come up with a design and presentation that will highlight your products and be cost effective to produce.
Examples of a various bottle necker design presentations and die cutting layouts.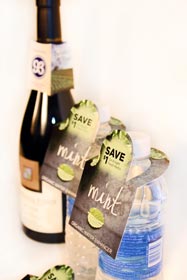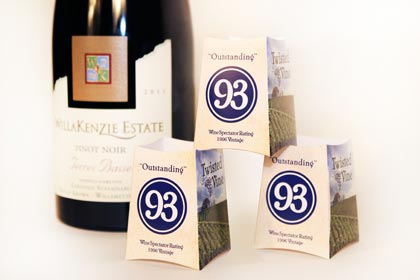 Need help or advice on bottle neck tags?
Talk to a helpful expert now at 800-930-6040.