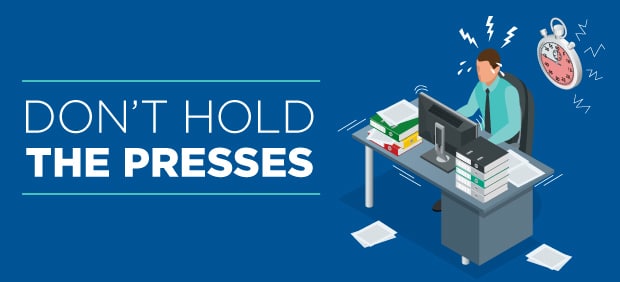 It's the holiday season – and that means notecards, coupon mailers, and holiday thank-yous are going to be flooding mailboxes. If you're planning on mailing printed pieces, you might already be under the gun with a looming deadline. To get your printing done in time, you have to plan for proofing, production, and mailing. We're going to break it down for you so you can work with your printer (like us, because obviously we're the best) to meet your deadline.
Print Production Schedules
Before you can start mailing something, you need to get it printed. Depending on what you're printing this could take time. Typically you're looking at 4-6 business days to turn around most print projects.
Of course, some projects get done much quicker and others take a lot longer. If you're adding a lot of custom effects, especially effects that require a plate to be made (a plate is a custom rubber or metal plate used in printing), your set-up time could add another day into the estimate.
You can make the process go faster if you keep these points in mind:
Provide final artwork in the right format. This means using the correct color space (usually CMYK or Pantone), the right resolution (usually 300 dpi or higher) and the correct size. This will save you back-and-forth with your printer and will make sure your proof is that much better.

Always insist on a proof. A good printer will send you a proof as part of the print job, but if they don't or if you're even a little unsure, insist on a proof every time.

Check typos and errors before you send the final pieces to the printer. Really go over it with a close eye – retooling a print job can cost you days.
Mailing Schedules
A mailing timeline could take 4-5 business days, after production. Of course this can change dramatically depending on how you're sending the materials through the mail. The following assumes the artwork for the printed piece is fully approved and the printing presses are about to kick on to print the final piece.
Bulk rate is the slowest but cheapest way to mail your printed materials. This option is great for huge orders – over 500 pieces – but takes about 4 weeks from the day your order is placed until the first pieces start to arrive in the mail.

Presorted first class mail is the next fastest choice, shaving about 3-4 business days off of a bulk rate's total time. This type of mailing has requirements on the size, shape, and weight of the mailed piece. It is designed for postcards, envelopes and notecards – perfect for most holiday sends but not boxes or heavy objects.

First class mail is the fastest way to ship your print, as you may have suspected it is also the most expensive. It can reach customer's hands within 6 business days after your order starts production. On average it is about 5 cents more expensive per mailer than presorted first class. The same size and weight limits apply.
Here's a calendar for a typical production schedule.
Cost to Mail
It can get pricey to send a lot of marketing through the US Postal Service. To reduce cost you may want to consider using the Every Door Direct Mail (EDDM) service. EDDM is a service that allows you to send direct mail to every household in a specific geographic region. You can target a zipcode or specific routes and the post office sends your mailer to every house on the list.
You don't need a list of addresses – the mail just goes to the homes in the area. This service usually has pretty cheap rates, though it can add some time to your overall delivery dates. Learn more about EDDM here.
There are tight deadlines for getting your printed materials into your customer's' hands and with the holidays approaching you shouldn't wait. If you want to get something in their hands in time for Black Friday, for example, you should be hitting production no later than the middle of October.
Need help with your print? Talk to a live print expert today: 800-930-7978.