Rounded Corner Business Card Templates
Provided are easy to use templates for 1/4″ and 3/8″ corner radius and include one, two, three, or four corners. Our rounded corner business card templates are for the standard business card size of 3.5″ x 2″ and include the corner radius cuts. The templates are in the standard PDF format that can be opened and used in most popular design programs.
---
Quick Download
Click below to download this template.
Don't forget two important elements in your design, bleed area and the safety zone.
Bleed Area
Always print your business card artwork larger than the finished size, and then cut it down to the proper dimensions. This prevents any white lines from the trimming process and leaves your image with a seamless appearance extending beyond the edge of the card, or "bleeding" off the edges. The bleed area should extend at least 1/8″ beyond your trim or cut line. The bleed area on the rounded corner business card templates below is marked in light blue for your convenience.
Safe Zone
A safe zone helps ensure that none of your critical content, like text, images, and graphics are positioned too close to a trim line. Trim variances can be up to 1/32 of an inch and should be taken into consideration when laying out your business card design. The safe zone is a 1/8″ area running parallel to the interior of the trim line. The safe zone on the rounded corner business card templates below is marked in light a blue dotted line for your convenience. We do not recommend using a "frame" or a thin border on rounded corner business cards because they might appear uneven after the cutting process.
Round Corner Template Examples:

2 Rounded Corners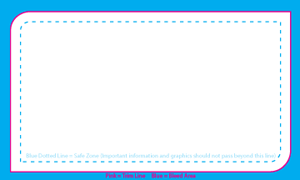 All 4 Rounded Corners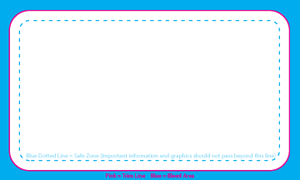 Need Help?
Give one of our prepress experts a call at 800-924-2041 if you need any assistance making these templates work for your layout in the design application that you are using. We're always glad to help.