Business Card Templates
Get high quality full color business cards printed offset on thick glossy or uncoated card stock for that totally professional look and feel that will set them apart from any ink jet or digitally printed cards.
---
Quick Download
Click below to download this template.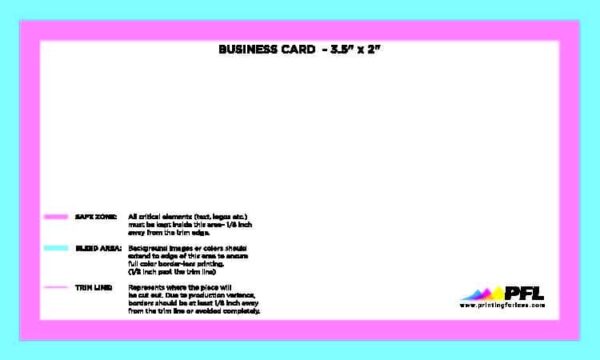 Templates For Standard, Round Corners, & Plastic Business Cards
Let us handle the layout for you! The easiest design option is also surprisingly low cost! We will create a custom business card to fit your needs for a nominal fee with your print order. Simply choose a layout style, upload your custom info, photos and logo and we'll do the rest!
Or, simply download our free templates. Start your design with easy to use downloadable templates in the "Quick Download" button to the right.
Create and upload your own layout in any software format and receive a proof within one business day! Your dedicated team is here to ensure your business card project is a success. Our pre-press and design experts can help you with file preparation and will review your file, looking to eliminate any problems and make sure you get the results you want. Unlike most companies, we have no extra, or hidden, charges for reviewing your file and fixing most problems.
See the quality for yourself! Get a FREE sample pack!
Custom Finishing Guide (Die Cut, Emboss, Foil, more)

Business Cards, Brochures, Postcards, and More!

Numerous Paper Stocks

Comprehensive Design Guide
Need Help?
Have a Special Request? Call one of our print experts today at 800-924-2041!
For quality business card templates use Freepik.com