Realities of Print: Can Paper Really Be Environmentally-Friendly?
( + Printing for Less's Guide: How-To Choose a Green Printer)
When you think about printing, what comes to mind? You're likely thinking "ink," "paper," or maybe even "mailing." The words "eco-friendly," "sustainability," and "green" are probably the last you would think of, right? This is why one of the biggest challenges that green printers face is educating their customers about sustainable practices.
---
Considering the common knowledge about sustainability, this isn't surprising! As members of modern society, we're all looking for new ways to lessen our environmental impact. The most common way is to be more conscious and selective about what types of processes, products, and vendors you support. With all the marketing speak and misconceptions about what's environmentally-friendly and what's not, making the right decisions can be a difficult and confusing process. Considering printing's controversial nature, this adds a whole other layer of complexity.
Misleading environmental claims like deforestation, excessive energy consumption, and crowded landfills have overshadowed the fact that today's paper often comes from a renewable resource, is recyclable and even responsible. So, to help cut through the clutter, let's talk about some of the common misconceptions about the print industry's effect on the environment.
Fact 1. Paper supports sustainable forest management.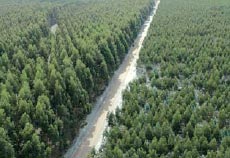 Did you know that the print industry plants more trees than it harvests? That's right! In fact, the North American paper industry promotes sustainable forestry and depends on sustainable forest growth to provide a reliable supply of wood fiber. Paper manufacturers do this by encouraging forest sustainability through their purchase and use of certified wood fiber and by promoting sustainable forest management policies and practices.
Today, there are 25% more trees than in 1900. Trees are grown and planted by tree farmers. When mature, the trees are harvested and paper is made. After the harvest, new trees are planted completing the circle of sustainability. Paper companies that use responsible forest management practices plant about four trees for every tree harvested.
There are also a number of credible certification systems ensuring that paper certified under them comes from a responsibly managed forest source. If paper companies comply with the strict regulations set by these certification systems, printing becomes a renewable resource that is both recyclable and biodegradable.
By providing a dependable market for responsibly grown fiber, the industry also encourages landowners to continue managing their forestland instead of selling it for development or other non-forest uses. In addition to replenishing the supply of recycled fiber, the U.S. paper industry's perpetual use of trees harvested from responsibly managed forests has a host of economic, social and environmental benefits.
Fact 2. The carbon footprint of paper is not as high as you may think.
Did you know that most of the energy used to make pulp and paper is renewable? The print and paper industry accounts for only 1% of global carbon dioxide emissions; at a global level, the greenhouse gas emissions from the forest products industry value chain are largely offset by sequestration in forests and forest products.
The U.S. forest products industry is a leader in the production of renewable energy, with more than 65% of the on-site energy needed to produce paper products derived from carbon-neutral biomass. Over the past decade, the pulp and paper industry has made an impressive commitment to improving fuel efficiency and independence by investing in their infrastructures to replace fossil fuels with alternative energy sources.
Bonus fact:
Electronic media also has environmental impacts.
A recent study estimates that developing countries will produce at least twice as much electronic waste (e-waste) as developed countries within the next six to eight years. Uncontrolled toxic emissions can result from informal recycling practices often used in the developing world. These emissions can include dioxins, furans, and cyanide. Yikes!
Fact 3. Paper is one of the few truly sustainable products.
Did you know that paper is one of the most recycled products in the world? Paper is made from a natural resource that is renewable, recyclable and compostable. In the U.S., more paper is recycled than any other commodity in the municipal solid waste stream, including plastics, glass, and metals.
The truth is that virgin fiber harvested using recognized third-party certified sustainable forestry practices is as environmentally sound like the use of recycled paper. While the recycled paper does reduce waste, paper's full life cycle must be considered before making a determination. Recent Life Cycle Management studies show that there are limitations to the use of recycled fiber that make the need for virgin fiber inevitable, including the loss of yield and strength during the repulping and deinking process.
Fiber can be recycled no more than 5-7 times, and not all categories of paper can be recycled for use in printing and writing grades. Both recycled and virgin fiber have their purpose and justification for use. But the reality is that the paper industry can use all of the recycled fiber available, but the recycled paper industry depends on virgin fiber. They are both parts of the same cycle.
Since we began tracking how much paper gets recycled back in 1990, the recovery rate for used paper has increased dramatically. We're not only recovering more, but we now know how to get the most environmental and economic benefits from using recycled paper in new products.
To produce something that is environmentally-friendly can be something as simple as the ink we use, or where the paper we used has been sourced. If businesses intend to change the way they market, then it is time to search for ways to use stuff with a much smaller carbon footprint.
But, how can you tell if a product is earth-friendly?
When searching for earth-friendly products, be aware of misleading marketing. As a result of high consumer demand for earth-friendly products, many manufacturers have simply used marketing and packaging to mislead customers into thinking their goods are ecological. So common is this deceptive practice, a term has been coined for it: greenwashing.
Greenwashing can be hard to spot, but keep in mind that "A greener sign doesn't mean a greener business." In the print industry, "Go paperless!" messaging can be misleading and may not meet best practices for environmental marketing. Many leading U.S. companies are urging their customers to go paperless with claims that paperless bills, statements, and other electronic communications save trees, are "greener" or otherwise protect the environment.
Beyond the fact that "Go paperless!" marketing messages ignore the highly sustainable nature of print on paper – it comes from a renewable resource, is recyclable and recycled more than any other commodity in the U.S. and has great carbon characteristics – these claims fail to meet the most basic tests for acceptable environmental marketing as outlined by the U.S. Federal Trade Commission (FTC) and others.
You see? Print isn't so bad after all!
Led by sustainable and responsible forestry, paper production, and printing, Printing for Less is working to ensure that, in a world of scarce resources, print and paper's unique recyclable and renewable qualities can be enjoyed for generations to come. We take the responsibility of protecting our environment seriously. Sustainability is the future of U.S. print.
Interested in talking with our team about your print desires? Contact Printing for Less at 800-930-6040 for more information.
Want to learn more about how to choose sustainable print solutions? You're in luck! Our free resource, "The Ultimate Guide: How To Decide if a Printer is Green Enough for You", is below!
The Ultimate Guide: How To Decide if a Printer Is Green Enough for You
So, what does all this mean for you? If you are looking to get marketing materials or stationery printed for your business but want to make sure you utilize a printer who uses responsible printing practices, there are a few things you should consider:
1. Who is their paper vendor?
Check to make sure your printer uses a company who holds a certification that shows they are adhering to strict forest management standards.
2. Do they offer a variety of recycled papers
Green printers should offer a range of different recycled paper stocks depending on what you are looking for.
3. What type of ink do they use?
Vegetable-based inks and UV printing are a good choice because they are gentle on the environment and still produce bright, high-quality images.
4. What type of coatings do they use?
Water-based aqueous coatings are friendlier to the environment that UV coatings and protect your printed pieces.
5. What do their printing processes look like?
Consider things like whether or not they use wind power, their facility and what their company recycling policy is.
If you really want to make the right decisions when it comes to paper and green printing, it's important to learn all the facts. Do your research and utilize a printer who works with a certified paper company and offers a variety of environmentally-friendly benefits. You'll rest easy knowing that your printed materials are coming from an eco-friendly printer who cares about the environment.