Printing Adhesives
Sticking together, now there's a nice concept. Not surprisingly, print adhesives are used when two print pieces need to be attached or when a single piece is connected to itself. Many methods of adhering are used in the commercial print industry. Printing glue can be applied to meet a myriad of product needs. The descriptions below should help you decide what will best fit your specific requirements.
---
Finger Lift Tape:
This glue method uses a double-sided tape applied with a machine to facilitate fast production times and high quantities. The machine capacity also permits the attachment of two strips simultaneously, thereby increasing production speed. Once this glue is applied and the paper attached or folded, the bond is semi-permanent. This glue is much thinner and smoother than hot glue options. It is virtually invisible between paper sheets yet remains quite strong.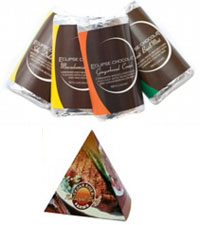 This printing adhesive is available in ¼", ½", ¾", and 1″ widths and can be applied flush to the edge of your printed piece.
Product Examples that utilize Finger Lift Tape
Candy Bar Wrappers
Envelopes
Table Tents
Trade Show Badges
Custom Mailers
Presentation Folders
"Belly Bands" (for stationery packaging)
Fugitive Glue or Tip-On:
Also known as "booger-glue", this method is not permanent and allows you to remove the glue without destroying the base printed piece. You can simply peel it off without any residue or stickiness remaining. Gift cards or other promotional pieces are attached without any problem. The glue is strong enough to withstand handling, but is easy to remove with a rub of the finger.

Product Examples that utilize Fugitive Glue:
Magazine Inserts
Gift Card Holders
Postcards with Credit Cards
Greeting Card "Add-ons"
Any Plastic Card can be attached to a Base
Creative folds and glue options can be combined to build a highly customized print piece. Printing adhesives can also be used in more standard designs to add a separate offer or bonus message with ease. Freshen up those old marketing materials without the expense of re-design. Simply incorporate a glued on piece and you are back in business.
Still not sure what printing glue is right for your project? No problem. Give a quick call to one of our print experts for a free consultation. They will partner with you in making your next print project a big success.
You can reach us at 800-930-6040.