Envelope Sizes and Uses – Designing your Envelopes
How much attention do you give plain white envelopes? How often do you receive something in the mail in a dull, simple envelope, with only the address on it? Doesn't make much of an impression does it? And how much damage is that ho-hum envelope doing to the sender and the valuable contents inside? Who wants to open it? Unless you are expecting it, the answer is – no one.
---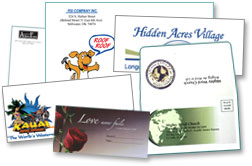 But, this is an easily fixed problem. Everyone accepts that a printed envelope attracts more attention than a plain one, and savvy businesses are using envelopes in a two-fold approach:
Capitalizing on the initial attention grabbing design and graphics on the outside of the envelope
The "vehicle" of an envelope allows businesses to deliver their marketing materials anywhere in the world. This gives the recipients a menu of their brochures, offers, business cards-a full offering of what that business does best in a good looking package.
So, why would you risk sending out a dull envelope, that people won't give a second glance? You wouldn't. And with the abundance of different sizes, paper stocks and features, printed envelopes are the traveling billboard for your business. Below are the most commonly used sizes, and some of their uses.
#10 Envelopes and #10 Window Envelopes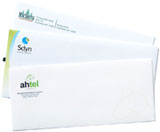 The ubiquitous "#10″; not a comment on the classic Bo Derek movie, but the envelope that we all use, buy, receive and send on a daily basis. The #10 is 4 1/8 x 9 1/2", and is used for invoices, alerts, membership forms, etc. – the list is endless. The real estate on a #10 doesn't allow you to create a graphical masterpiece, but some color or design on the majority of the front and rolling over to the back flap is a great way to produce something to look at, highlight your business, and not just tear open and throw away (immediately) or worse, the dreaded "get it and forget it" many pieces of mail encounter. You can also get #10 window envelopes to display the recipients address and other pertinent information. More info and pricing and ordering.

#9 Envelopes

Measuring 3 7/8 x 8 7/8″ these envelopes are the perfect size for a return envelope and fit nicely inside of a #10. They are available with or without a window and can be printed on the inside as well for added security. Get Pricing
6 x 9 Envelopes
Our 6 x 9″ envelopes are available in both booklet style (opens on the long edge) and catalog style (opens on the short end) styles. This is a great size for a larger greeting card, holiday card or announcement, and are commonly used to mail half size catalogs and booklets. The open side of booklet envelopes make them suitable for automatic inserting machines. Get Pricing
9 x 12 Booklet Envelopes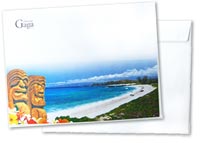 Double the size of a 6 x 9, the 9 x 12″ booklet envelope is a perfect medium to transport your glossy full color catalogs, product sheets and spec sheets. Sized at (you guessed it) 9 inches by 12 inches, your business can advertise at nearly the same size as the marketing materials contained in the envelope. Or, you may want to use that space to create a "teaser" and pique the interest of finding out what is inside. The opening flap can be on the short or long side, depending upon your preference or contents. We also carry the slightly larger 9 1/2 x 12 5/8″ Booklet that can accommodate 9 x 12″ catalogs and printed material. Learn more
A2 Envelopes

The smallest announcement envelope size. Measuring 4 3/8 x 5 3/4″ the A2 envelope is most commonly referred to as a "Note Card" sized envelope. All the A size announcement envelopes have square flaps. Get Pricing
A6 Envelopes
Measuring 4 3/4 x 6 1/2″ the A6 envelope is commonly referred to as an "Invitation" envelope. It may be used as an outer or inner envelope for invitation purposes and is spacious enough to accommodate multiple 4 x 6 cards or photos. Get Pricing
A7 Envelopes
Measuring 5 1/4 x 7 1/4″ the A7 envelope is another common size for an invitation or greeting card. You can also use it to send 5 x 7 photos or postcards. An A7 fits inside an A8, A9 or A10 envelope. Most people looking for a 5 x 7 envelope actually need this slightly larger size to accommodate a 5 x 7 folded greeting card. Get Pricing
A9 Envelopes
Measuring 5 3/4 x 8 3/4″ the A9 will fit a half folded sheet of paper with no trouble. This multi-purpose envelope is also great for announcements or 5 1/2 x 8 1/2″ greeting cards and may be used as an outer envelope for invitations. An A9 fits inside of an A10 envelope. Get Pricing
A10 Envelope
Measuring 6 x 9 1/2″, the A10 is sized well for larger greeting cards, holiday cards and announcements. Remember that last wedding announcement you received? It may have been in an A10 envelope. Get Pricing
Remittance Envelopes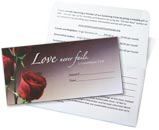 Whether used by a church, non-profit organization, fundraising group or your local bank, a remittance envelope is a great vehicle to reach out to a chosen group, and also easy to mail. Many remittance envelopes feature full "flaps" that, once sealed, cover all information of the contributor, ensuring privacy. The reverse side is typically set up to mail out with a minimum of extra work. The standard size #6 3/4 remittance envelope is 3 5/8 x 6 1/2″ when closed. Also available are the #9 remittance at 3 7/8 by 8 7/8″ closed and the #10 remittance at 4 1/8 x 9 1/2″ closed. Learn more

Offering Envelopes

Currency-sized offering, tithe or donation envelopes are perfect for religious services or organizational meetings and special events such as a memorial or capital drive.
These 3 1/8 x 6 1/4″ collection envelopes can be printed on one or two sides. Learn more
Envelopes are one of those things that everyone forgets about and takes for granted—they just cover and transport your stuff, right? Not so fast. Don't let the opportunity to advertise, inform and interest your customers slip away by designing and printing a lackluster envelope. Put some thought into the design, look and colors, grab their attention and make them want to open that envelope. It might be the difference between landing a new customer or your marketing materials ending up in the trash.
Explore your options by contacting one of our friendly print experts at
800-930-2423.