How to Choose the Best Paper for Your Printing Project
Paper choice is maybe the single most important decision you'll make when it comes to creating a great printed piece. It can have as much impact on the final product as ink and the design. It affects how, when, and where the printed piece can be used. It can also have a significant effect on price at higher quantities.
---
Essential Paper Knowledge for Ordering Print
The primary features that you need to know about when ordering standard printing papers are weight, finish and shininess.
In most cases, weight corresponds to thickness and stiffness. The higher the weight the thicker and stiffer the paper. Text stocks are regular paper and cover stocks are like thin cardboard. More details below.
Papers are either coated or uncoated. Uncoated paper is non-reflective like printer paper. Coated papers have dull/matte or gloss finishes. Dull/matte stocks are smoother and more refined than uncoated, but not shiny like gloss papers. The coated papers produce sharper and more vibrant printing. Learn more about these key paper attributes below.
If your print job is pretty standard and has no special effects or options, our standard house paper stocks will more than meet your needs. We use high quality papers and simply don't carry low quality paper stocks so you don't have to worry about getting burned with cheap paper.
However, if you want to stand out, just use something different, have special requirements or will be mailing your piece, please read on and learn the fundamentals of choosing the right paper stock, and let us work with you find the best paper for your project.
Usage: Picking the Right Paper
Don't just think about how you want the piece to look, also think about what you're going to use the final piece for, who's going to be handling it, if it will be mailed (because the weight of the paper can affect your postage costs), and if the paper will be exposed to water, chemicals or extreme temperatures.
Choosing the Right Paper Material
Paper isn't just made from wood. There are papers made from cloth, synthetic fibers and even plastics. These papers serve specialized purposes.
If you're worried about your impact on the environment, there are speciality green papers that are made from more environmentally friendly materials, are sourced from sustainable forests, and biodegrade faster. Though most of our standard papers are sustainably sourced, other options are available.
Picking the Right Paper for the Job
Most of the print jobs we see are part of a marketing campaign, no matter if that's a business card, a giant poster, a brochure or a postcard mailing campaign. Here are some things to consider when you're choosing the paper you'll need:
| | |
| --- | --- |
| Are you going to use a detailed die-cut? | If you're going with a detailed cut, usually a thicker paper will show finer details better. Thinner papers tend to lose the details or have frayed edges where they're cut. A premium paper would be benficial too. |
| Is the piece going to be mailed? | If you're going to mail the piece, keep the weight down because you'll pay more per each piece if certain weight limits are exceeded. |
| Where will you store it until you use it? | If you think the paper might be exposed to extreme temperatures, rain or dampness then you should use a paper that is resistant to these things. |
| Will you want to write on the paper? | Nothing beats uncoated paper when it comes to writing, so in most cases, don't use a coated, glossy, or heavily textured paper. |
| Will the paper be out in the elements? | If the paper might get wet, pick a type with built-in water resistance or apply a supplemental coating. |
| Do you need the paper perforated? | Thin, stiff paper works best for perforation. |
Picking an Affordable Paper
Paper can have an impact on the price of any printed piece. A more expensive paper can add quite a bit to the total cost of a printing project, especially if you are printing large quantities. Ultimately you will need to choose a paper that works for your budget.
Our advice: pick a paper for function first – it won't matter that your piece looks great if it doesn't perform, hold up, or hits you with hidden mailing or shipping costs because it's too heavy.
The standard papers available on our ordering pages are high quality and good value papers that print well for the majority of projects.
You can also dig deeper into this topic and see how paper choice affects specific printed products.
Paper Stock: Coated vs Uncoated
Paper stock is either coated or uncoated. There are a variety of coating finishes, and specialized uncoated papers, but all paper falls into one of these two categories.
Uncoated Paper
Uncoated paper has a non-glare surface and is absorbent. It has nothing covering the natural fibers and easily soaks up ink. Uncoated paper can be textured, for example, a linen finish, but it can also be very smooth, like printer or copy paper. Uncoated paper is the easiest to write on. Uncoated paper is generally used for things like:
stationery and standard envelopes
inexpensive flyers
newsletters
a final product you can write on
Coated Paper
Coated paper has been covered with a hardened clay material so that it will better display text and images with sharper detail and denser color. The coating can be a non-shiny matte, dull, gloss and cast coated (a mirror-finish high gloss), spanning the range from non to super glossy. Paper can be coated on one or both sides. Paper coated on one side is often used for low-cost postcards. Coated paper is more difficult to write on, especially with pencils or ballpoint pens. Coated paper is great for:
brochures
catalogs
postcards
packaging
a product that you won't be writing on
Specialty Paper Coatings
There are also specialty coatings that can be added after a piece is printed. These can help protect the entire piece or can be used to create eye-catching effects. Click on the links to learn more details about these options.
Aqueous coating provides a high-gloss or matte look and offers top-notch protection.
UV coating and Soft-Touch coating can dramatically change the look and tactile feel of a printed piece.
Varnish can be used to protect a piece or be used to highlight specific details.
Paper Thickness & Weight
You have to think about the thickness and weight of paper at the same time. Both measure how thick, sturdy and rugged the paper is. A higher weight, thicker paper will stand up to a beating better than a lower weight or thinner paper.
Cover and Text Stock
When you're talking about weight and thickness of paper, you can understand the difference with the terms cover and text stock. Cover stock is thicker paper that is often used as covers for books. We aren't talking hardcover books – but more like paperback or softcover books, greeting cards, and the like. Text stock is the paper you're used to seeing in desktop printers. Thinner, looser and more flexible, it is used as the paper inside a book.
Cover stock and text stock really have nothing to do with books although they use those terms. Cover stock is great for postcards, bookmarks, hang-tags, and anything that needs stiff, heavy paper. Text stock can be made into brochures, flyers, mailers and notepads.
What is Paper Thickness?
Paper thickness is usually mentioned when talking about cover stock, and it's simply a measurement of how many hundredths of an inch thick a single sheet of the paper is. The thickness of a paper is expressed by points, where a point is equal to one thousandth or .001 inches. Paper that is 10pt is 0.01 inches thick, 20pt is 0.02 inches thick, etc.
Business cards are great examples of different paper thicknesses. Most business cards are printed on 12 or 14pt cover stock, while extra thick cards are printed on 18pt or 24pt (or thicker) stock.
Other products usually printed on thick papers include hang tags, door hangers, bookmarks, packaging, and table tents.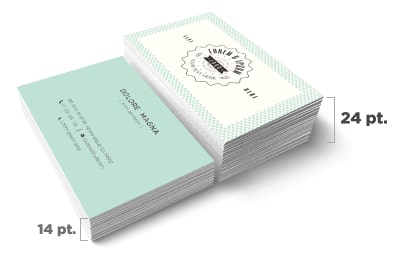 What is Paper Weight?
Paper weight is harder to define. Depending on what country you're in, the weight of paper can be specified differently. The measurement comes from how much a ream of paper of a particular size weighs.
Paper is weighed in stacks of 500 sheets, and the resulting weight in pounds is the weight designation for that paper. If 500 sheets of text weight paper weighs 60 pounds, the paper is called "60# text." If the sheets are cover stock that weighs 120 pounds, the paper is called "120# cover."
In most cases, the greater the weight the thicker the paper. Could you have a thin paper that is also higher weight? Sure, it would be very dense. But the inverse, a thick paper that isn't a higher weight, is uncommon. Here are some examples:
60# text: copy or printer paper, like the paper used for legal documents
80# text: heavier paper used for flyers, posters, or brochures
120# cover: basically thin cardboard, great for postcards, business cards, and note cards
Choosing the Right Thickness & Weight
Paper weight and thickness have a huge impact on your final piece and it can be confusing. You should talk to a printing professional before you choose a critical stock, but here are some things to keep in mind when you're picking paper thickness and weight.
Thicker paper produces better results for die-cutting, embossing and foil stamping.
Paper that's being mailed as a self-mailer may have to be a certain thickness to pass US postal regulations (the final thickness has to be at least 7 or 9 point, depending on the size).
You pay to mail paper by weight so keep paper that will be mailed the right weight for the size of the mailing piece.
Thinner paper is usually cheaper and uses less material, making it more environmentally friendly.
If you're printing a catalog or magazine-style piece, make sure the cover and interior paper stocks are the right thickness for your project, as there can be binding issues with some combinations and configurations.
Thicker paper is more rugged and can typically hold up to a beating better than thinner paper.
SmartFlex is a plastic paper that looks, feels, and acts just like paper but is water resistant and tear resistant.
Paper Brightness & Opacity
The quality and specifications of your paper can have a dramatic effect on the perception of the images and text printed on the paper.
Paper Brightness
Paper brightness is measured using a special blue light on a scale of 1 to 100, with 100 being the brightest. The brightness of the paper affects contrast and impacts how readable print appears – the brighter the paper the more readable it will be. Brighter papers also display ink colors more accurately, vibrantly and purely, as the less bright papers are yellower, muddying the colors somewhat. This makes brighter papers better suited for the best quality printing used in high-end advertising or fine art reproduction.
Paper that is brighter makes colors pop and just looks better. A darker paper could be used to make a certain type of image have a darker, more muted tone but in general, brighter paper works best for colorful designs.
Opacity
Opacity is a measure of transparency or how much print shows through from one side of the paper to the other. Paper that shows nothing from the other side is 100% opaque (greeting cards, postcards). Paper that shows everything is 0% opaque (tracing paper). Opacity is particularly important if you are printing on both sides of the paper, as it can be unsightly, distracting and hard to read if content from the other side is visible.
---
Aqueous Coating
Aqueous coating is a high-gloss or matte coating that offers excellent protection for printed pieces. It is added on top of the ink on coated paper stock and is often used on postcards, making them basically waterproof. Aqueous coating is water based, making it environmentally friendly. If you want to wrap your piece in the printing equivalent of armor, aqueous coating is for you. It is available at no cost on any product available in coated stocks. Learn even more.
UV Coating
UV coating uses ultraviolet light to quickly dry the coating, hardening it to a brilliant shine. UV coating blows all other coatings away when it comes to gloss, but is so hard it may crack when folded. UV coating is not a good idea for a piece that will be folded, scored, foil stamped or embossed.
It can be applied in small areas, termed spot UV, creating brilliant highlights on your piece. The high gloss has the effect of making colors appear even more vibrant and kinetic. If you want very high-gloss pieces with colors that explode off the page, UV coating is for you. Learn even more.
Soft-Touch Coating
This specialty coating changes the tactile feel of a piece. It creates a velvety coating that offers some protection while creating a soft feel to the paper. It is great on business cards or other pieces that will be held. In addition to making the paper feel soft, it also softens colors, creating a warm look to printed images. If you're interested in this, order a sample from us because you have to feel soft-touch coating to really understand what it can do. Learn even more.
Varnish
Varnish is a clear ink that can be applied over the whole printed piece or in selected areas to add an artistic effect. When it is applied in a small area, it is called spot varnish. The varnish creates a glossy, satin or matte area on the printed piece, useful for highlighting a logo, part of an image, or a call to action. Varnish is similar to aqueous coating, but is noticeably less glossy. The use of varnish has pretty much been superseded by aqueous and UV coatings, but is available as a custom option.
Premium Papers
When you hear the term premium paper know that it really just refers to paper stocks that have the best attributes of thickness, texture, opacity, brightness and coating. Premium papers offer nicer textures, better coatings, higher brightness and greater attention to detail. They make just about everything look better – from color reproduction to properly setting embossing stamps and taking metallic foil or metallic inks. We offer a wide variety of premium papers that are on par with really expensive designer papers. Premium papers cost more, so they may not be right for every project.
There's a ton of info on premium paper stocks here.
---
Paper FAQs
How does Matte compare to Uncoated stock?
A matte coating is still a coating on your paper. It may look matte, but it will resist smudges; and printing, especially images, will look sharper and more vibrant. Matte coated paper is usually ok to write on, but lacks the tactile feel of uncoated paper. Uncoated stock is naked paper – it's perfect for writing.
Why should I use a flood color instead of printing on colored paper?
Printing on colored stocks changes the color of your images in ways that can be unpredictable and can change their look, usually by muddying or darkening them. Flooding a color creates a perfectly applied, predictable background for your design in the exact shade that you want. Your piece looks better because you are able to print full color images on the white paper, and simulate the colored paper by flooding the rest of the page. Plus, there are only a very few shades of coated stock available, so flood coloring is your only option in most cases.
What's the difference between recycled vs sustainable paper stock?
Recycled paper is made from post-consumer waste and goes through a process to be turned back into paper or from pre-consumer waste like sawdust from lumber and furniture manufacturing. Either way it must be purified before it can be made into paper. Sustainable paper comes from carefully controlled forests that are replanted and renewed. Honestly, recycled paper could be considered a bigger burden on the environment because the process uses some pretty harsh chemicals. Before sustainable paper was your business card, it was cleaning the air.
What kinds of recycled paper do we have?
All of our house coated and uncoated papers have at least 10% recycled content. Most of that is pre-consumer content. We can order custom stocks with varying amounts of post-consumer recycled content up to and including 100% post-consumer recycled. Learn more about printing on recycled paper.
Why are custom stocks more expensive than house stocks?
We keep a lot of house stock… well, in house. We can offer a better deal on that stock because we buy huge amounts of it at a better price. But let's be clear: we buy lots of really great paper. Our house stock is better than many standard or custom ordered stocks.
I need to know more about weight versus thickness / pound versus point size.
Thickness indicates how thick the paper is and is usually referred to in point sizes or thousandths of an inch. The smaller the point, the thinner the paper. Some synthetic papers like our SmartFlex material, are sold in a 'mil' designation, also equal to one thousandth – these are all interchanged measurements.
Weight is how much the paper weighs, usually measured in pounds. In some cases, paper can be thin and heavy, or thick and light – but usually thicker paper weighs more.
What is the lightest stock you carry?
60# uncoated text is the lightest and thinnest we carry in an uncoated sheet, and 80# gloss text is the lightest coated sheet. Both are approximately 3.5 points thick.
What's a good paper stock to write on?
Any uncoated stock is best for writing. It's naked paper, and it lets you write with ink or pencil without a problem. It also soaks up water and other liquids so it's not a great choice if you're printing underwater post-it notes. If you have to have a coated stock for better print quality, matte stocks can sometimes be used with certain types of pens. You'll want to do testing to make sure you use a combination that works for you.
What kinds of paper are the most durable?
Generally speaking, the thicker the paper the more durable it is, but this can change quickly depending on how it is coated. Thick, heavy uncoated paper will turn into sludge if you drop it in water. Thin paper covered in a UV coating will brush the water right off. If you want the most durable paper of all, use the plastic-based SmartFlex. It feels like paper, acts like paper, and prints like paper but it is water resistant and tear-proof.