Die Cut Menus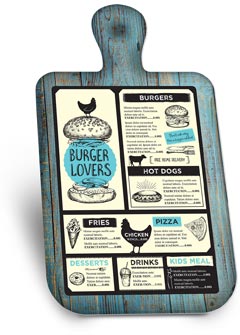 A menu is the first point of contact your customer will have with your food and beverages. It's also a powerful marketing tool that can give your patrons details about your dishes, specialties and prices.
Nothing says "would you like to start the evening off with a glass of wine" like a menu shaped as a wine bottle.
How Does Die Cutting Work?
Die cut menus are produced using a sharp steel cutting blade called a "die." The die is formed into a shape similar to a cookie cutter. The blade is then used to cut through the paper creating your desired shape.
---
Designing a Die Cut Menu
Die cuts allow you to create a one of a kind menu from curvy edges to sharp points, as well as contours. Shape your menu into a martini glass, pizza slice or hamburger. Anything is possible.
You can create the perfect bar menu with tabbed die cut menus. A flexible design allows you to create a distinct tab for beer, wine, or cocktails.
You can also create a menu with your restaurant theme in mind. Create a cow shaped menu for a steakhouse or a surfboard menu for a seaside diner. No matter what shape you have in mind, our design experts can turn your idea into printed paper.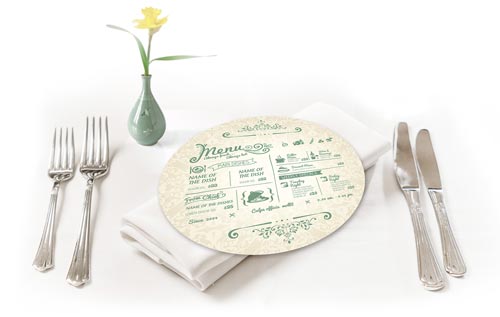 Paper Options
Ask about our numerous paper stocks that can be used to create your die cut. From gloss, matte, or recycled stock, we can create a unique design for your menu.
Standard Paper Stocks:
80# Coated Cover (Gloss or UV Coated)
120# – 14pt Coated Cover (Gloss or UV Coated)
SmartFlex®
We also offer Smartflex®, water resistant, tear-resistant paper. SmartFlex® is durable, feels better than lamination and lasts much longer. Learn more
Standards Stocks: 6pt, 8pt, 12pt, 15pt thickness
Other Options:
20pt Styrene Synthetic Board: Perfect for advertising signs and coasters
Recycled cover options
Many custom and premium papers
Have questions about using die cutting on your project?
Give our helpful experts a call at 800-930-6040.