Bumper Stickers Printing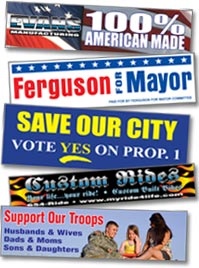 You've got a hot idea or brand and are ready to promote it with a bumper sticker! Great. A single sticker can travel a hundred miles and be seen by thousands on any given day. Printing for Less offers you quality, service, and custom options to make the most of your bumper sticker printing project. If this is your first custom bumper sticker, you are in good hands. We will help ensure you are happy every step of the way.
---
Printing Options Include:
Custom shapes and sizes. Ovals, Rectangles, Circles, Paw-Prints, Hearts
(Including standard sizes 2.75″ x 5″, 3″ x 9″, 3″ x 11″, & 4″ x 8″)
Vibrant Full Color Options
Vinyl all-weather material for excellent durability (2+ years)
Clear sticker printing (best used on windows)
Pre-cut, easy to distribute
We are capable of printing both large and small quantities
Design assistance
We also offer cling-on and magnetic printing
Artwork Specifications:
We can support almost any file type but recommend that you use a minimum 300 dpi and use full bleed guidelines (dependent on your size and shape). Text needs to be within specified dimensions for your size bumper sticker to avoid being cut off. Contact our print experts for assistance, 800-930-6040.
File Types:
Adobe Acrobat 9 Document (*.pdf) (Preferable)
Adobe Illustrator CS3 Artwork (*.ai) (Preferable)
Adobe Photoshop CS3 Image (*.psd) (Preferable)
Vector (.eps) (Preferable)
Quark Files
Bitmap Image (*.bmp)
GIF Image (*.gif)
JPEG Image (*.jpg,*.jpeg)
Microsoft PowerPoint 2010 Document (*.ppt)
Microsoft Publisher 2010 Document (*.pub)
Microsoft Word 2010 Document (*.doc)
PCX Image (*.pcx)
PICT Image (*.pic,*.pict,*.pct)
PNG Image (*.png)
PostScript Document (*.ps)
TIFF Image (*.tif,*.tiff)
Windows Enhanced Metafile (*.emf)
Windows Metafile (*.wmf)
Common uses:
Support your favorite Charity or Sports Team
Promote your Brand, Company, or Product
Campaign for your candidate
Express yourself with witty quotes and one-liners
Run a local contest involving the public's use of your bumper stickers
Advertise a special event (concerts, plays, festivals)
Celebrate Holidays or Accomplishments
Locker/ Backpack stickers
Bike stickers
As long as there are bumpers, there will be bumper stickers! Using this real estate to advertise your brand or idea is an excellent way to expand your reach, literally. Bumper stickers printing should be easy, affordable, and of the highest quality for lasting impact. At Printing for Less we will deliver on your expectations!
Call 800-930-6040 now for a custom printing quote!