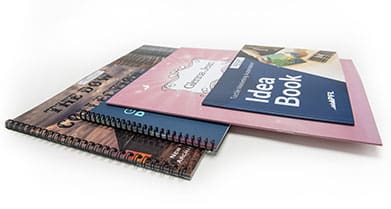 Coil Bound Booklet
Nothing says professional like a bound booklet. Give your catalog an upscale flair with a coil binding.
Coil Bound Booklet Printing Features
Full color or black and white on 1 or 2 sides
2 standard sizes plus unlimited custom sizes
Choice of cover and inside page paper stocks
Plastic coil or metal sprial binding delivers durability and ease of use
Standard Sizes:
5.5″ x 8.5″
8.5″ x 11″
Custom Sizes Available
Common Coil Bound Products:
Coil Catalogs
Coil Notebooks
Coil Booklets
Coil Manuals
Coil Annual Reports
Coil Flip Books
Spiral Bound Booklets
Find your options – Product Templates
Paper/Stock Options for the Cover:
80# gloss
100# gloss cover stock 12pt
120# gloss cover 14pt
120# dull/matte cover 14pt
100# uncoated cover stock 14pt
Recycled Papers Available
Clear poly cover for added durability
Paper/Stock Options for Inside Pages:
80# gloss
80# dull/matte text
100# gloss text
Find your options – Talk to a Printing Expert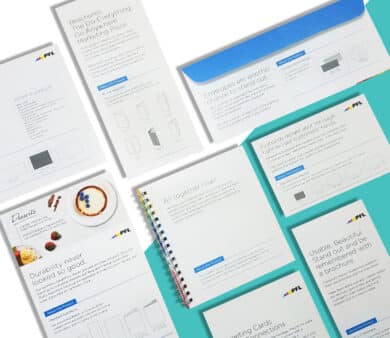 Paper Options
There is no substitute for seeing actual physical examples of what we can print.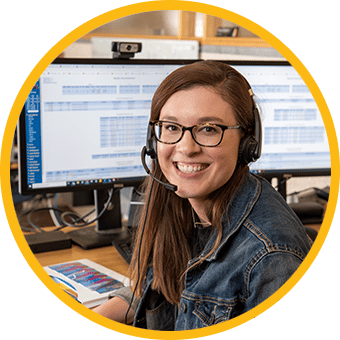 Want to Talk to a Real Person?
We've Got Those!
Want to talk about your project? Want to place an order? Want to know what the weather is like in Montana? (Spoiler: it's beautiful.)
Custom Coil Bound Booklet Printing Options
Custom options to meet your specialized needs or enhance your piece include tabbing, custom covers, 3-hole punching and more. Need a pocket on the back cover to store additional literature? No problem. Or choose a custom color for your coil binding to match your brand or logo color. Looking for something unique? Just ask us for suggestions.
A different custom binding option for booklets and catalogs is perfect binding, which makes your booklet or manual look more like a book. Coil bound booklets offer a wide range of opportunities for customization including; embossing, foil stamping, or die cutting covers to any shape or size.
Get attention-grabbing options for announcements such as: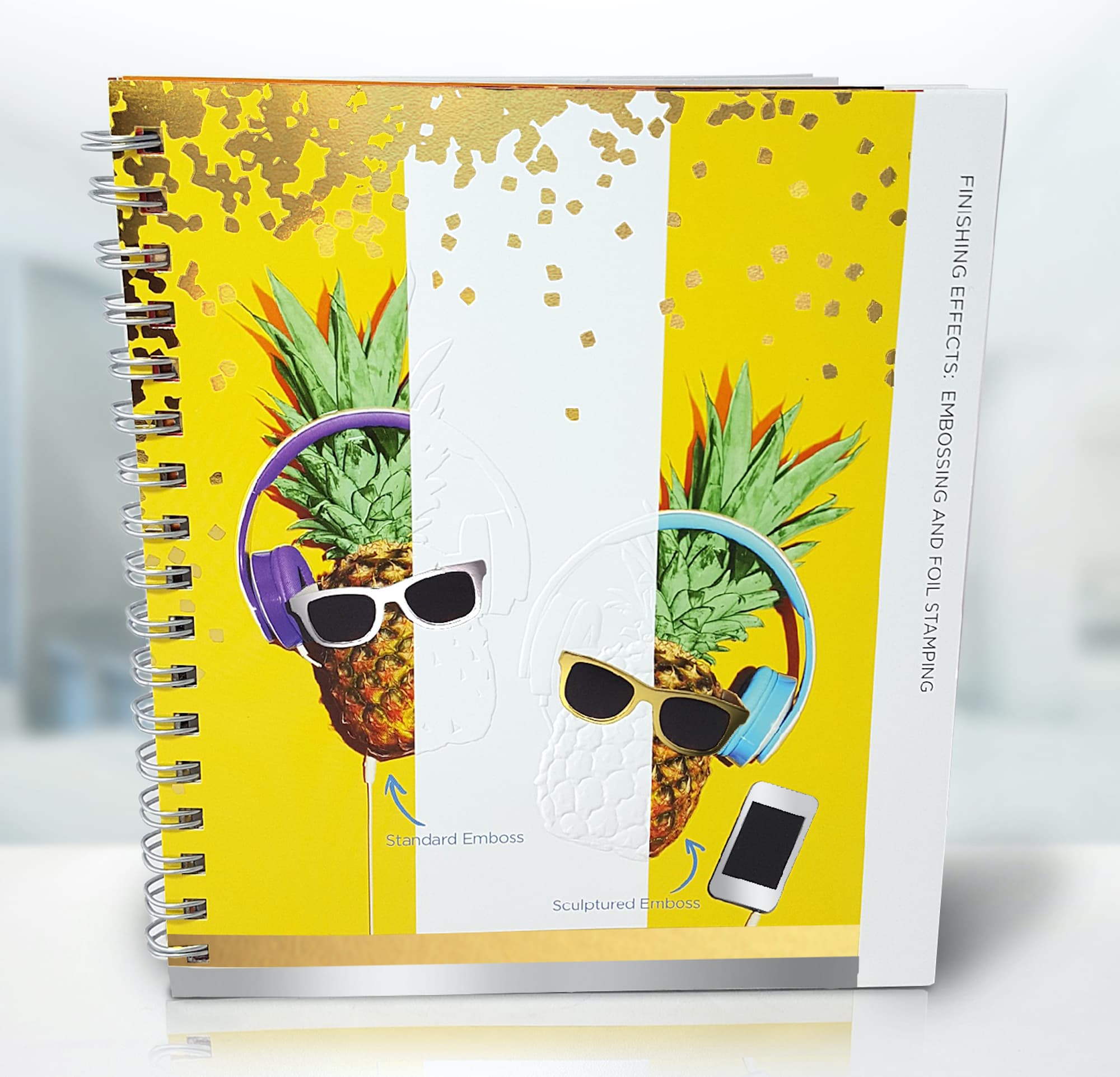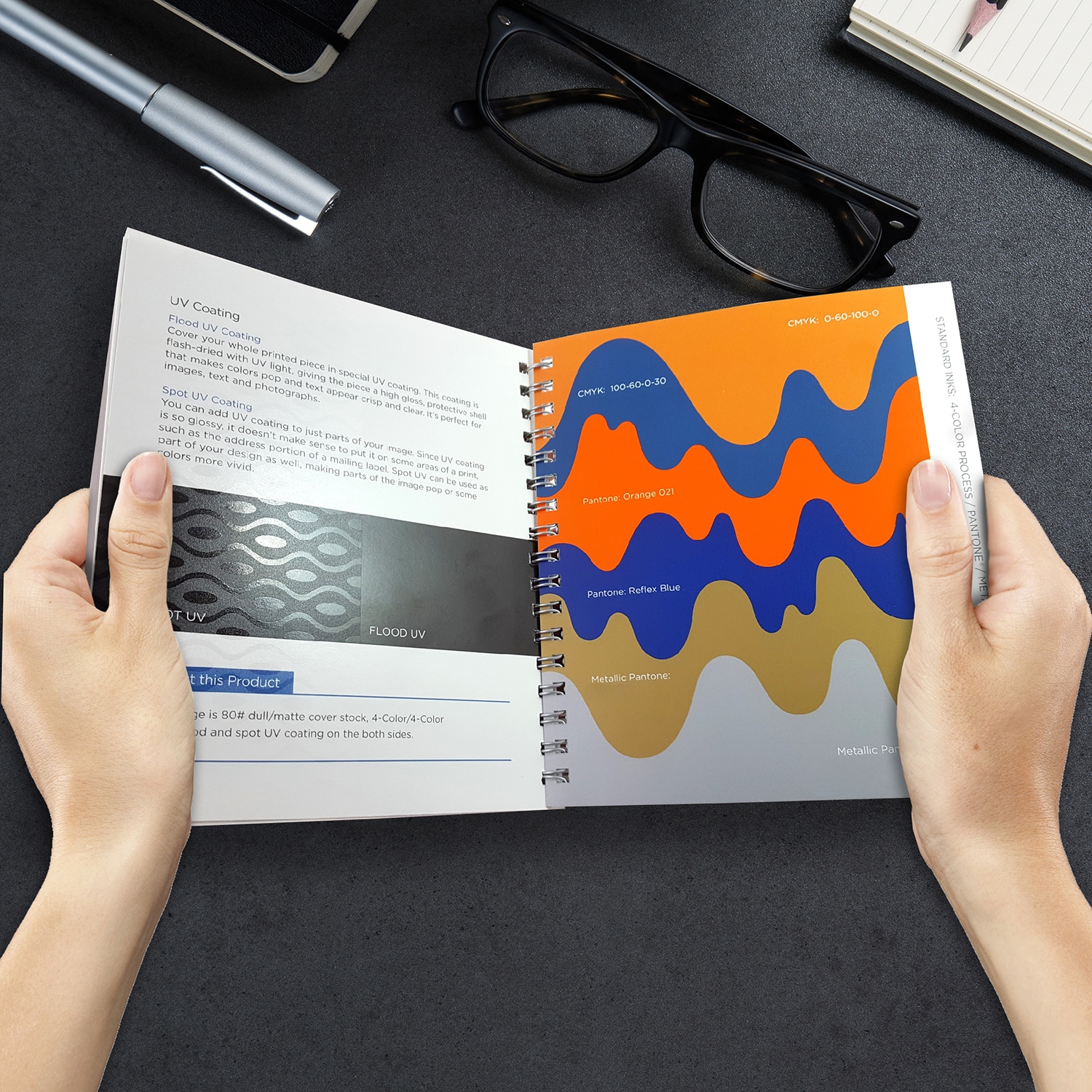 Coil Bound Booklet Design
Don't have a booklet designed and ready to print? You've got options!

There are lots of great options available to make your booklet special. Printing for Less's team of designers will help get your project completed. Let us do it for you with our fast and affordable Design Services.
Call 800-924-2041 to speak to a design professional.
Coil Bound Booklet Marketing
When you need a professional looking and durable catalog, booklet or manual, consider a coil bound booklet from Printing for Less. Coil binding offers flexibility, durability and ease of use as well as the ability to make your project truly special. From employee handbooks to glossy, full-color sales catalogs for prospective customers or technical manuals – coil binding is the professional's choice.
A professionally printed booklet or manual is an ideal way to convey useful information to employees, customers, prospects, or members. Popular examples include: training manuals, user manuals, employee manuals, owner manuals, software manuals, technical manuals, repair manuals, sales manuals, notebooks, workbooks and annual reports. Coil binding provides an upscale look to your documents while delivering durability and ease of use as the document will open and lay flat.
You can build your own booklet in two standard sizes, the handy 5 1/2 x 8 1/2 Booklet or the ever-popular 8 1/2 x 11 Booklet, or create your own custom specs.
Custom booklet covers, sizes, formats and papers as well as additional custom finishing can be used to create distinctive designs and shapes. In addition, with our full line of custom finishes like foil stamping and embossing your coil bound booklet can become a keepsake for your customers or users.
Call Printing for Less today at 800-924-2041 and talk to one of our Marketing Advisors so you can make coil bound booklets a key lever of future growth in your business!