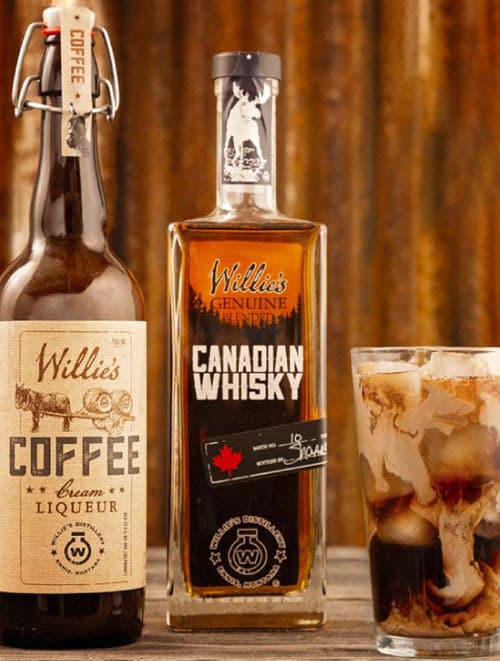 Standing in the liquor aisle, there is no shortage of options. So how does one decide what bottle to choose? Sure, some will head straight to the biggest brand names without looking twice. But many people scan the shelves for a label that catches their eye. If that particular bottle can further captivate its audience with a story, there's a good chance it will be leaving the store with the customer. All that to say, branding—and particularly print branding—is hugely important to drink producers.
Willie's Distillery, an independently owned business out of Montana, understands this better than most and has succeeded in building a strong client base not only through its high-quality spirits and liqueurs but also through its creative and highly narrative style of branding and advertising. Printing for Less is a close partner of Willie's Distillery, delivering a variety of printed brand products that help distinguish Willie's spirits from the competition and share its message with local markets.
Welcome to Willie's Distillery
Based out of Ennis, Montana, along the banks of the Madison River, Willie's Distillery has been producing high-quality liquor for over a decade. The company prides itself not only on its production methods, which rely on world-renowned stills, top-quality oak barrels, and choice local ingredients but on its small-town Montana roots as well. Willie's Distillery makes a point to infuse Montana culture and history into each of its products and is the state's premier destination distillery.
How Willie's Uses Drink Advertising
It goes without saying that much of Willie's success in Montana and the broader American West is due to its exceptionally smooth, rich spirits. But there is more to the story. Branding and drink advertising have played an important role in presenting Willie's Distillery to consumers and building a loyal client base.
It doesn't take long to identify a theme across Willie's products. While each bottle has a unique design that expresses its contents, they all have something in common. Something that is at the core of Willie's Distillery's brand: they all evoke the American West.
The blue, snowy mountainscape of Willie's Snowcrest Vodka matches the spirit's clear, smooth flavor and references the wild mountains of Southwest Montana.
The bottle of Montana Moonshine puts the distillery's hometown front and center, indicating the flow rate of the Madison River and the temperature in Ennis at the time of bottling.
The award-winning Choke Cherry Liqueur tells us it is made from wild-grown local fruits and ties the rich color of the drink into the label's design.
Willie's drink advertising also goes beyond bottle labels. Custom hang tags printed by Printing for Less have become a signature of the distillery. These small tags accompanying a selection of Willie's products provide customers with extra information about each bottle and feature drink recipes.
They have also proven to boost sales. "We have found that the Montana Moonshine sells better when we have the hang tag on the bottle," Shanna Mae Swanson, Willie's Distillery's Brand and Graphic Specialist says. "Our hang tags feature drink recipes and a little blurb about the spirit or a short story. With the Huckleberry and Coffee Creams, for example, a lot of people don't know how to make cocktails with these spirits, so it helps give them ideas on how to drink them."
The Evolution of Our Advertising
Another key element of Willie's drink advertising strategy is the Sales Sheet. Each spirit or liqueur has its own Sales Sheet—a one-pager that includes a visual of the bottle, social media details, pertinent legal info, and a selection of drink recipes. Willie's Distillery gives these out to bars, restaurants, and liquor stores that stock its products.
When the distillery tried to give these Sales Sheets out at tasting events, however, they were less successful. "We had people reject them because they were a full page," Swanson explains. But the Willie's team took the hurdle in stride and designed smaller, quarter-page sheets in cooperation with Printing for Less.
"We started making Quarter Sales Sheets because people at tastings are far more likely to grab a smaller sheet and put it in their pocket or purse," Swanson added. Now, the Quarter Sales Sheets are an integral part of its drink advertising and can be found next to Willie's products at select liquor stores.
Our Best Advice When it Comes to Drink Advertising
If Willie's Distillery has one piece of advice about drink advertising, it's to tell a story. "The most effective advertising I've seen is that which tells a story," Swanson shares. "If you can convey a narrative through a picture or short blurb, you have a better chance at making a sale." It makes sense: for many, spirits themselves are tied to experiences and personal stories, like celebrating a milestone over a glass of whiskey, or going out for a drink with a friend you haven't seen in a while.
Having a strong narrative attached to your product can therefore create more connections with the consumer and form a memorable experience. Willie's gold-medal-winning Devil's Brigade Whiskey is the perfect example. On the front label, the whiskey's name is emblazoned in a military-inspired font and behind it stands a devil with a knife in its teeth and a "USA/Canada" patch. The back label contextualizes the branding, telling the story of the real-life Devil's Brigade, an elite unit in WWII made up of 60% American and 40% Canadian men. Fittingly, the whiskey is made from a blend of 60% American Bourbon and 40% Canadian Whiskey.
The true story of the Devil's Brigade inspired the whiskey and each batch that Willie's makes is dedicated to an original member of the special military unit. For Willie Blazer, the distillery's co-founder and an armed forces veteran, having a product that pays homage to these men was important. "The story matters. It is a part of Montana history, United States military history, and, since we have added the names of the original members of the Brigade, familial history as well," Blazer says. In the end, having a strong story has had two results: Devil's Brigade Whiskey is one of the distiller's most talked about spirits, and more people are learning about a fascinating corner of American history that they can in turn tell their friends about over drinks.
How Printing for Less Has Helped Willie's
Printing for Less has worked alongside Willie's Distillery to bring its unique product stories to life. "Printing for Less has played a huge role in our drink advertising," Swanson concludes. Together, the Montana-based businesses have created high-impact advertising—including stickers, hang tags, and Sales Sheets—that not only help Willie's bottles stand out on the shelves but also share the distillery's unique story and vision with consumers.