Have you ever met someone you really liked….despite the fact that they are so amazing, they unintentionally make you look mediocre? We are sure this happens to Stella and Nebiyou's friends! It seems an understatement to dub these two innovators, "entrepreneurs". With talent to spare and unsurpassed dedication to productivity, this couple is a powerhouse.
World class designer Stella Vittorio, and her award-winning designer husband, Nebiyou Tekle are raising the standard for ambitious enterprise in America. Stella has a gorgeous line of hand-made designer bags that have been featured in InStyle, Luxury, and Woman Magazines. But that's not enough for the aspiring Stella; she is also a make-up artist with a growing line of beauty products.
Nebiyou is currently a Project Manager at Dakem & Associates, LLC in Las Vegas, Nevada but that does not even touch the surface of his accomplishments as an architectural designer. With a Masters In Architecture Concentration in Industrial Design from Virginia Polytechnic Institute and State University, he has won more awards than most of us have even competed for.
Merging their interests, these two super-achievers continue to grow both personally and professionally. Balancing the demands of a growing family and business, they are constantly looking for new ways to expand and improve. They are an excellent example of the spirit of American ingenuity.
You can shop for one of Stella's gorgeous hand-made purses or, contact her to have one custom designed, at http://www.stellavittorio.com/. You can also learn more about their Eyelash Card and beauty services at http://www.eyelashcard.com/.
Thank you for your business Stella and Nebiyou, we look forward to seeing what the new year brings for you!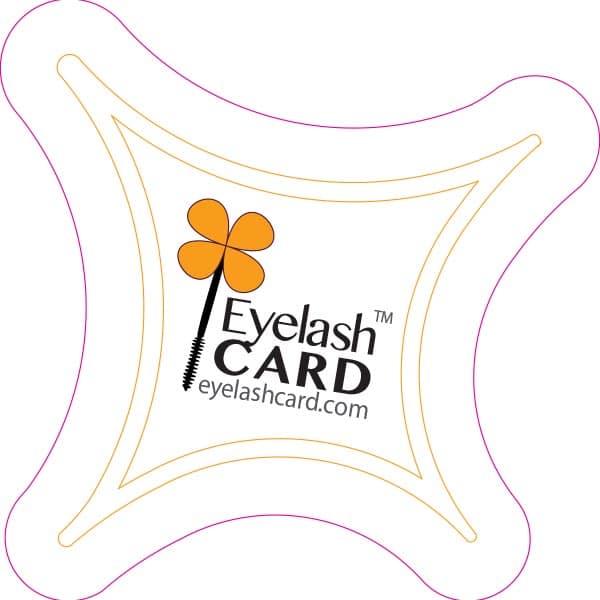 They hired Printing for Less to print this simple, practical piece for Stella's make-up line. It's a guard that protects your face when applying mascara and other thick substances. We excel in printing specialty items and will work with you to achieve the results you desire. Need help with your print? Talk to a live print expert today: 800-930-7978.