SmartFlex® Synthetic Paper
SmartFlex
®
helps your project venture into a new and exciting print world full of possibilities, sure to add life to any of your printed pieces. Even though it's a synthetic paper, the overall look and feel of SmartFlex
®
is just like regular wood fiber based paper, but with some amazing added benefits. Boasting a robust set of useful applications, synthetic SmartFlex
®
is a stand out in today's paper market. To the touch, this synthetic paper has a very high quality soft finished coating that's hard to keep your hands off of! SmartFlex
®
comes in three different thicknesses. We also have 20pt Styrene which is more rigid and not meant for folded pieces. Each have their own best suited uses, though they all share the same attributes and features. They are: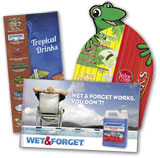 Waterproof
Tear-resistant
Extremely Durable with Enhanced Dimensional Stability
Heat, Chemical and Stain Resistant
Capable of being Folded, Die Cut, Embossed and Perforated
Tree Free and Pulp Free
100% Recyclable
When you need a waterproof paper with the best possible durability and tear resistance for your printed product, plastic or synthetic printing paper stocks are the best way to go. They are more lasting, functional, and look better than film lamination, a commonly used alternative. SmartFlex
®
paper is available in 6pt, 8pt, 15pt and Styrene is available in 20pt.
6pt & 8pt: Great For - Brochures, Map Printing, Travel Guides, Manuals, Bellybands, Product Labels and Packaging, Posters, Hang Tags, Door Hangers
15pt: Great For - Menus, Placemats, Business Cards, Identification Cards, Door Hangers, Parking, Vehicle and other Permits and Passes. Half folds only, no stitching.
20pt: Great For - Window Signs, Storefront Lightbox and Advertising Signs, Bus/Transit Shelter Signs, Trade Show/Event Graphics, Coasters. Cannot be folded.
Impart a lasting impression on your audience by using SmartFlex
®
on your next printing project!