This is the third posting about formats for saving images. We started a couple weeks ago with the Photoshop PSD format. EPS stands for Encapsulated PostScript because it was designed as a way of saving graphics to be used with PostScript printers. However, today the format is showing its age because it doesn't support a lot of the features which we can create in Adobe Photoshop –for example, layers, transparency, Smart Objects, etc.
Notice in the dialog box below that when I save a layered file with transparency, I see an alert icon in the Save As dialog box, and the notice that the "File must be saved as a copy with this selection" because data will be lost.
This is not a good format for non-PostScript printers (for example, inkjet printers) because these printers can only print the low-resolution preview.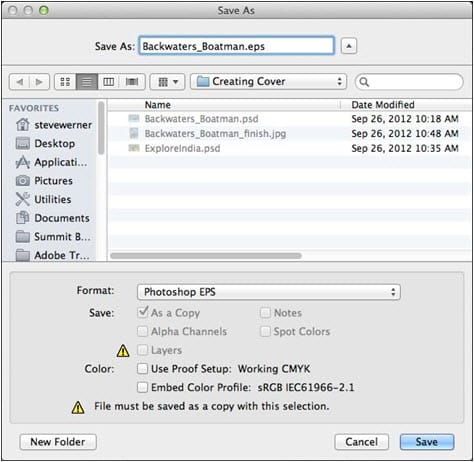 Traditionally, EPS was the format used to save silhouetted images with a clipping path, and was used to save multitone images (duotone, tritone, or quadtone). However, the native Photoshop format can save all of those things so there are generally no advantages in saving as EPS to do those things.
Photoshop EPS format can also save vector data like type or vector shape layers. The vector data will be sent with sharp edges to a PostScript printer. However, if you try to reopen the EPS file in Photoshop to data will be re-rasterized so will become soft, not sharp.
When you save as Photoshop EPS, you have the options shown below. The Preview option chooses how you create a low-resolution preview that is used for viewing or printing on non-PostScript printers. Encoding determines the way the data is delivered to the PostScript printer. (If your commercial printer asks for this format, ask which option works best with their PostScript processor.) The defaults work in most cases.
Need help with your print? Talk to a live print expert today: 800-930-7978.