Invitations & Cards
We offer more custom invitation & card printing options than anyone else on the web. Call for details or design help!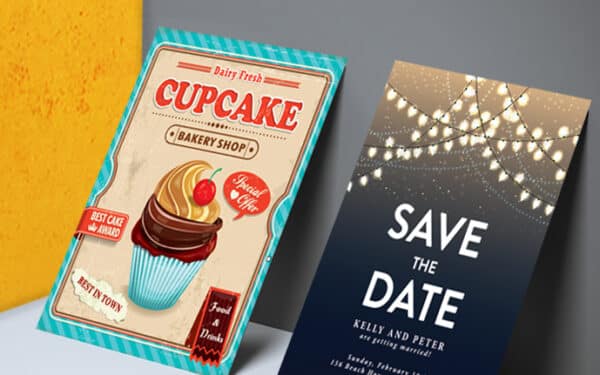 Shop by Industry
Cards Printed
PrintingForLess.com offers high quality printing of all types of cards, including postcards, rack cards, business cards and folded business cards, greeting cards and note cards, bookmarks, club cards and door hangers or any size custom cards. Design your own piece using virtually any graphic arts program, upload the file to us, and your cards will be on their way in no time at all.
Order your full-color card printing on your choice of our standard printing papers, 120# gloss cover 14pt, 120# dull/matte cover 14pt or 100# uncoated cover 14pt stock. Plus, we provide free aqueous coating and offer Gloss UV coating on our gloss cover. Aqueous coating adds dirt and scuff resistance and extra sheen, while UV coating gives your cards the ultimate shine and durability for a richer look and feel.
Door Hangers can also be printed on 100# gloss text. 30 mil magnet stock is available on business cards. Plastic, custom and other recycled papers are also available by request.
---

Bookmark Printing
Bookmarks or book markers are great for promoting your business – they have staying power so you'll be top of mind for months to come. We offer custom bookmark printing in one or two-sided, in two popular sizes, printed on any of our five cover stock options. And, with our high quality printing, your bookmarks will make a lasting impression. Ask about custom bookmark sizes and custom printing effects to make your bookmarks stand out. See samples of book mark designs.
Business Card Printing
Nothing sets you apart from the competition quite like brilliant Full Color Business Cards! We offer one-sided or two-sided cards, all printed on any of our three high quality cover stocks or recycled or custom paper options and plastic business card printing options.
Your business card can be your most effective marketing tool, so make it count. Instead of wasting money on run-of-the-mill 2-color cards, go for the professional look of full color. You can include your own picture, product images, or bright graphics. Either way, you don't have to worry about getting lost in the shuffle. For an even bigger impact, try folded business cards for double the real estate to market your business or promote your brand. Try magnetic business cards to stand out and stay in front of your prospects.
Business cards are ordered in increments of 500 cards. You pay one low price for the first 500, and even less for additional batches of 500. Plus, there is NO EXTRA CHARGE for different names. So go ahead and get cards for everyone in your company. Your staff will be proud to hand them out all over town. Read about creating and marketing with business cards.

Door Hanger Printing
Door Hangers are great for neighborhood marketing or political campaigns, for real estate or local businesses. We offer them one or two-sided, in two popular sizes; the standard 4.25 x 11 or 3.5 x 8.5. We offer these on your choice of our five cover stocks or the more economical 100# gloss text. Build awareness with door hangers produced by our high quality offset printing process. See some door hanger samples and get some door hanger design and marketing tips.
Greeting Card Printing and Note Card Printing
Greeting Cards (5 x 7 folded) and Note Cards (4.25 x 5.5 folded) are a perennial favorite, especially during holiday card season. To make the most of your color images, your cards can be printed on 14pt 120# dull matte cover or 14pt 100# uncoated cover stock, good for handwritten inscriptions, or on 14pt 120# gloss cover stock, glossy on both sides, or a variety of recycled or custom options. You can either leave the inside of your card blank, or have a message printed in black or color. All greeting and note cards come scored to make folding easy. We'll fold them for you for a small additional charge.
Plus, order premium #1 vellum blank envelopes to go with your greeting cards, either blank, or printed for slightly more, with free shipping.
Plastic Card Printing
Plastic Card printing is available in 3-1/2 x 2 (business card size), 3-3/8 x 2-1/8 (credit card size), 3 x 5 or 4 x 6 inch sizes. They are printed with 4 color process on the front and four color, black or left blank on the back. Standard 30 mil and a thinner 20 mil plastic thicknesses are available. Lanyard slots are an option on either edge. Contact us for other custom options.

Postcard Printing
Full Color Postcards are a great way to promote your business! Inexpensive to print and cheap to mail, they can form the core of a marketing campaign. We offer one-sided or two-sided cards, in six popular sizes and two additional club card printing sizes. Your postcards will be printed on your choice of our three different high-quality cover stocks or various recycled paper options. (Many printers use rough uncoated stock for the back side.) And, you have the option of brilliant four-color process printing on one side or both sides.
Postcard Mailing
We can mail your postcards directly to your customers and prospects. See our Mailing Services Guide page for details on how we can save you time and money on your direct mail postcard project and help you find new customers with customized mailing lists. We offer a choice of bulk mail (USPS Marketing Mail) or first class mail options. Call us with any questions on your mailing needs!
Rack Card Printing
Rack Cards are commonly used to promote tourism and travel-related businesses. We offer one-sided or two-sided rack cards, printed on your choice of our three sturdy cover stocks or recycled options. And, our clear, crisp offset printing will make your cards stand out from the crowd. You can also get custom rack card holders to compliment your cards. See some rack card samples and get some rack card marketing tips.
We're Committed to the Success of Your Project From Ideation to Implementation
From visualizing the first ideas of your project, all the way to the delivery, we're committed to the success of your project. That's why we're trusted by some of the biggest brands you know (and independent ones you should!)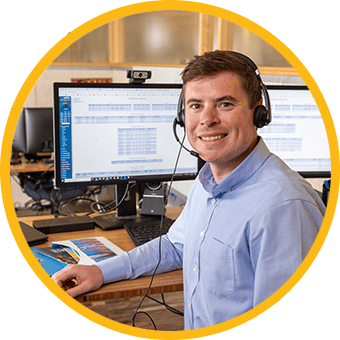 Want to Talk to a Real Person?
We've Got Those!
Want to talk about your project? Want to place an order? Want to know what the weather is like in Montana? (Spoiler: it's beautiful.)