It's Right. It's On Time. Or It's FREE!
Expert Help on all Your Projects
High Quality and Fast Turnaround
100% Satisfaction Guarantee!
Special Custom Printing Effects
While we're known for our high quality 4 color printing, PrintingForLess.com also offers a wide variety of distinctive printing and finishing options, such as the examples you see here. Please contact us for a consultation and print pricing on your next
custom printing
project.
Photos do not adequately represent these effects.
Request Samples
to see the true effects.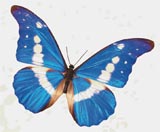 Click to enlarge
4 Color Process Printing
Also called full color printing, 4 color printing uses cyan, magenta, yellow and black inks (CMYK) to produce a crisp, accurate printed image. This is the standard printing process you find in publications and marketing materials. At PFL, our highly skilled experts use top-of-the-line Heidelberg printing presses for the highest quality results.
How process printing works.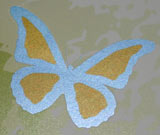 Click to enlarge
Metallic Ink
Special inks with fine reflective metallic particles create a shine and luster you won't see in standard inks. Silver and gold metallics are most common, but metallic inks also come in bright blues, hot reds and burnished coppers. Metallic inks are a brilliant way to add pizzazz to your design or highlight a logo or headline. In this example, we created the butterfly using silver/blue and gold metallic inks. Learn more about
printing with metallic inks
.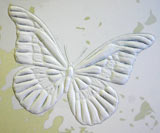 Click to enlarge
Embossing
Embossing uses a specially-made die under high pressure to form a raised three-dimensional impression that allows you to literally feel the design. It is a graceful effect that brings a touch of class to your piece. Embossing can be used on its own or in combination with 4-color printing or foil stamping (as we did for the words "Special Printing Effects" below.) Learn more about using
custom embossing
options.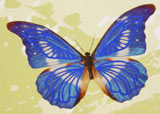 Click to enlarge
Foil Stamping
A heated die fuses the foil onto the paper, bonding the design to the surface. Hot foil stamping adds shimmer and texture to highlight specific text or images. Gold, silver, and other metallic colors can be used, as well as clear and holographic foils. In this sample we have used a blue foil to accent the 4-color image.
See more samples and learn more about
using hot foil stamping
.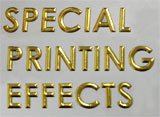 Click to enlarge
Embossing and Foil Stamping
A heated die fuses the foil onto the paper, bonding the design to the surface. The same area is then embossed with a die to create a raised three three-dimensional image. On the left, the words "Special Printing Effects" were gold foil stamped and then embossed to create the raised type.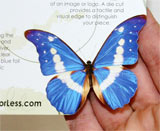 Click to enlarge
Die Cut
Die cutting lets you create a limitless range of contours - from unconventional corners to perfect circles to the outline of an image or logo. A die cut provides a tactile and visual edge to distinguish your piece and enhance your presentation. Watch a die cutting video, see more samples and learn more about
using custom die cutting
.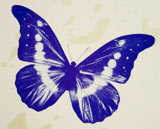 Click to enlarge
Pantone Spot Color Inks
The Pantone Matching System® (PMS) is the most widely known and trusted brand of spot colors available. Pantone colors encompass a wide color gamut, allowing you to print hues that can't be perfectly reproduced using 4-color process inks. The butterfly was printed with PMS 286. Learn more about
using spot colors
.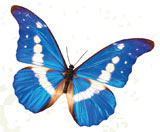 Click to enlarge
Spot Varnish
Varnish comes in gloss, satin, and dull finishes. One interesting use of spot varnish is to put dull varnish on a 4 color image, giving it contrast against a gloss background. Or do the reverse: here we used gloss varnish to make the 4 color butterfly pop off the dull/matte paper. You can also add varnish to create a subtle rendering of images or larger text.
Learn more about
varnish and press coating options
.
Or, Request Standard Samples
Need creative or technical advice on incorporating any of these special effects into your next printing project? Give our helpful experts a call at
800-­930-6040
, or
Request a Print Quote
. We'll get your quote to you within one business day, usually in just a few hours.

See examples of Custom Printing Effects in this video