It's Right. It's On Time. Or It's FREE!
Expert Help on all Your Projects
High Quality and Fast Turnaround
100% Satisfaction Guarantee!
Custom Presentation Folder Printing
Showcase Your Company with a Custom Presentation Folder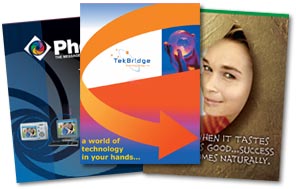 You've worked hard to develop your company, brand, and products. You've developed sell sheets, brochures, business cards, and maybe a catalog. Now it's time to get it in front of your prospective clients and customers. Or perhaps your department has developed a training program or orientation package that you need to deliver to your employees. What better way to professionally present your program than a custom printed presentation folder. Customized presentation folders let you present your materials in a well organized, complete package that is easy for the customer or intended target to review, store, and refer to.
Popular Custom Presentation Folder Options
Foil Stamping and Embossing
Die Cutting
Metallic Inks
Pantone Spot Colors
Premium and Custom Papers
UV Coating or Spot UV
Custom Sizes and Shapes
Extended Capacity Folders
Special Pocket Configurations
Stapled Inserts
Business Card Slits
CD or DVD Slits
Custom Finishing Options to Set Your Folders Apart
There are a wide range of
custom finishing options
available that can enhance or reinforce your brand or company identity. For an elegant, upscale look, try embossing or foil stamping your logo on the cover of the folder. Other interesting design options are die cutting a window in the cover to reveal messaging or printed materials inside. You can even bind printed pages into the folder for a mini-catalog with pockets for samples, DVDs or other inserts. Increased capacity folders can be created by adding a spine that can accommodate a larger amount of included materials. For a truly impressive sales kit you can add an additional panel to your folder that wraps over the front cover and tabs closed to become, in effect, a portfolio.
Presentation Folder Design and Printing Options
Versatile design options are available to meet your marketing needs. The standard size for a presentation or pocket folder is 9 x 12 inches, but just about any custom size is possible. 6 x 9 folders and 4 x 9 folders are popular mini folder sizes, and legal size folders are commonly used in some industries. Your folders can be printed on the outside with the inside either left blank or printed. Pocket folders have pockets on one or both sides to hold and organize your other printed marketing materials. The pockets can have either horizontal or vertical business card slits or slits to hold a mini-CD or DVD on one or both pockets. Special Pantone PMS or metallic inks with a dull or gloss spot varnish or
UV coating
can make your folder really stand out. Get
presentation folder templates
and
design and layout instructions
to help you or your designer layout your artwork in their favorite graphic arts design program. Custom printed presentation folders have many marketing uses both externally with new and existing customers and internally with employees or shareholders. These include:
New product launches
Business proposals
New customer welcome packages
New employee orientation kits
Conference presentation materials
Trade show materials
Real estate presentations
Investment proposals
Customer service agreements
Training materials
Get $100 off your first Presentation Folder order!
Use coupon code NC100PF
Need help with your next folder project?
Call our helpful experts now at 800-930-2423.
Learn more about how to create and use folders:
PFL is a marketing technology company that provides printing, mailing, fulfillment, and marketing automation services to over 200,000 businesses from startups to the Fortune 500. Our 100,000 sq. ft. state-of-the-art facility provides a one-stop shop for all your company's needs, from marketing advice, design services, sustainable print and mailing solutions since 1996. Our highly qualified team of 300+ employees deliver exceptional print quality with award-winning customer service backed by our A+ BBB rating and 100% satisfaction guarantee.