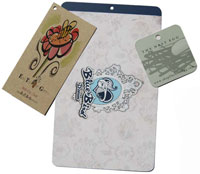 Don't just tag it, brand it! When you can't be there to sell your product personally, hang tags are the next best thing.
Like a hanging business card or tiny brochure, retail packaging hang tags tell volumes about you and your product. Whether you're a manufacturer, retailer or distributor, those little tags may be worth a thousand words. As attractive product packaging, they're perfect to tie on to gifts with purchase. Quality, eco-friendly, hi-tech or hip, use creative hang tag printing to convey who you are and what's special about your product.
A full-color hang tag can enhance the perception of your product and brand at the point-of-purchase. Hang tags are ideal for attracting customers to your clothing line or other retail products. Display your product and logo on the front of your hang tag and highlight your features and benefits on the back. Hang tags are available in a wide range of sizes. Don't see the hang tag size you need? Just call us.
The right type of product tag can differentiate your product, store or service. So let it all hang out and make your hang tags count. For ideas on how to use hang tags to grow your business, contact PFL's Marketing Advisors at 800-­930-6040. Or place an order online now.