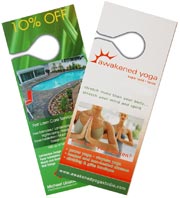 Picture this. Your prospect arrives home and gets out of the car. She checks the mail and absentmindedly rifles through a stack of uninviting junk mail. Then she goes to the front door, and slowly starts to turn the handle. But wait...something stops her in her tracks. Hanging on the door is the full color, professional-quality, eye-catching door hanger your company has strategically placed on the knob.
Sounds like a marketer's dream, right? Door hangers are full of untapped marketing potential. They are the perfect vehicle for marketing your business locally and are one of the most inexpensive ways to get the word out to a large group of potential customers. Full color, professionally-printed door hangers are easy to distribute and are effective because they are the first advertisement a consumer sees when he or she arrives home.
We have multiple sizes to choose from, and can do die-cut custom jobs with accuracy and ease. In addition to the popular 120# glossy stock, we have a variety of other weights and finishes to enhance your message. The complementary aqueous coating enhances quality while also providing an eye-catching shine, but you can upgrade that with a UV coating for a sleek look and added protection.
As always, our high-quality products and low pricing will surpass your expectations, and you'll find that our turnaround time is amazing.
Contact a PFL Marketing Advisor today at 800-930-2423 to receive a custom quote or to request free samples. Or place an order online now.