The real estate on a #10 Envelope allows more room than you think to get a message across. Whether your envelope is part of your corporate stationery or an element of your direct mail campaign, give it some character with PFL.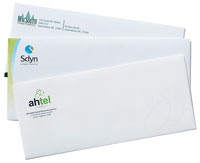 Think color, backgrounds and images to reflect your company's personality. Custom envelopes are an option, too. Your design can wrap around the envelope, or you can inject visual appeal by contrasting the back or flap. Our custom, exact dye cutting and full-color printing means if you can dream it, we can print it!
To draw special attention or create a sense of urgency, use bursts of texts such as "Our Gift to You", "Urgent Time-dated Materials" or "Limited Space - Act Now!" Consider a windowed or embossed envelope to really attract some attention. Just don't overdo it, the envelope is the teaser - the contents of your envelope should do the selling.
Call us now at 800-­930-2423 to speak live with one of PFL's Marketing Advisors. Receive a custom quote and/or free samples of our standard, ultra smooth 70# Opaque Accent Text stock-a much higher quality than you can get elsewhere. Or place an order online now.
It's time to rethink the #10 envelope.
PFL is a marketing technology company that provides printing, mailing, fulfillment, and marketing automation services to over 200,000 businesses from startups to the Fortune 500. Our 100,000 sq. ft. state-of-the-art facility provides a one-stop shop for all your company's needs, from marketing advice, design services, sustainable print and mailing solutions since 1996. Our highly qualified team of 300+ employees deliver exceptional print quality with award-winning customer service backed by our A+ BBB rating and 100% satisfaction guarantee.